How to detect the browser language preference using JavaScript ?
Detecting the language preference of users can be very important for Websites or Web Apps for increasing user interaction. By using JavaScript, this task can be easily done by using:
Languages property is available for the navigator interface, which returns the most preferred / user preferred language set in the web browser. This property is read-only.
Syntax:
navigator.languages 

// Or

navigator.language

Return Value:
The navigator.languages property will return an array which stores the languages in an order in which language most preferred by the user will be the first element.
The navigator.language property will return the first element of the array which is returned by the navigator.languages property i.e. the most preferred user language.
Note: Language property is a read-only property, thus it is only possible for us to get the value, we cannot make changes to the user preferred language.
Example 1: Getting the most preferred language.
HTML
<!DOCTYPE html>
<html>
<body>
<h1 align="left">GeekforGeeks</h1>
<script>
var usrlang = navigator.language
|| navigator.userLanguage;
document.write(
"User's preferred language is: "
+ usrlang);
</script>
</body>
</html>
Output: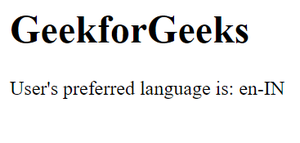 Example 2: Getting the preferred language array.
HTML
<!DOCTYPE html>
<html>
<body>
<h1 align="left">GeekforGeeks</h1>
<script>
var usrlang = navigator.languages;
console.log(usrlang);
</script>
</body>
</html>
Output:
Supported Browsers:
Google Chrome
Mozilla Firefox
Edge
Opera
Internet Explorer

My Personal Notes
arrow_drop_up