How to Deal With Layoffs During Coronavirus Pandemic?
At present, the world is facing one of the worst pandemics, COVID-19, that leading us into many unwanted situations in both – personal and professional ways. Meanwhile, every industrial sector whether it be IT, Automobile, Hospitality, or any other has been impacted majorly due to this outbreak and if things don't recover rapidly, we can see a majority of employees losing their jobs in the coming months or more specifically we can say it as a Massive Job Layoffs!! And forget about the upcoming months, employees working in the smaller firms are already facing the layoff situation.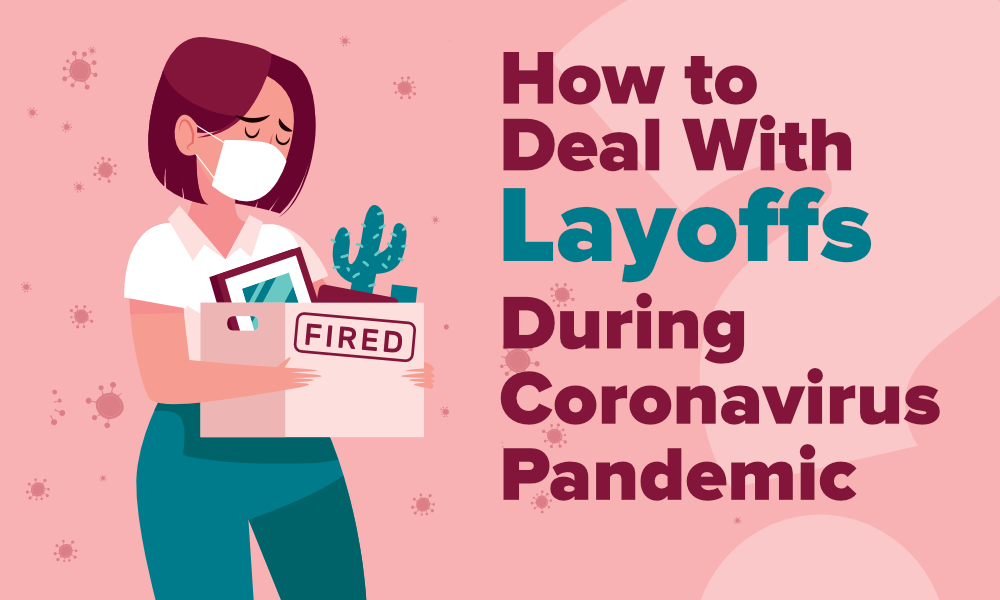 As per the reports, millions of employees have already seemed to be fired from their jobs in just the last two or three months. Moreover, various corporate giants such as Uber, Zomato, BookMyShow, etc. are downsizing their workforce. Although, you are not required to get panic in this situation instead you need to get yourself prepared to manage the layoff situation effectively. You are expected to take this time as a blessing in disguise and revive your career with more enthusiasm and ambitions. Here in this article, we'll let you know about several strategies following which you can deal with the layoff situation more efficiently and can make a strong comeback from this unwanted situation.
1. Time & Financial Management
This is the first and foremost task you need to do in such unpredicted job loss or layoff situations. You are required to get an approximate idea about the period in which you must need to get a job to meet your financial needs. This scenario can vary from person to person such as there may be a person who has to grab a job at the earliest to manage his expenditures or there may be a person who can survive without a job for few months or even a year in accordance with his savings or other privileges. Also, you can reduce some extra or unnecessary expenditures to somehow compensate for the job loss. Meanwhile, apart from financial management, this analysis will also help you to figure out how much time you can spend to enhance your skills or learn new things for better job opportunities.
2. Do Self-Assessment
Okay, once you'll get done with all your time management and financial plannings now it's time to do self-assessment and evaluate yourself. You need to identify your skills, area of expertise, etc. with the perspectives of your previous job roles. When you'll identify what you are best at and what you need to improve & learn, you are required to work on those aspects to bounce back into the corporate world at better places than the previous ones. Moreover, you are required to define your goals and create an action plan accordingly as per the self-assessment report. And it's not only about getting a job but you may also find several unnoticed skills of yours that can land you some better career opportunities or may come up with various business ideas or projects to start something on your own.
3. Upgrade Your SkillSet
Now, it's time to expand your skillset to achieve your career goals. Moreover, if you're working in a particular industry for many years or having a substantial experience even that must not lead you to stop the learning process and upgrade yourself anyhow. You can opt for learning a Programming Language like Python, Java, C, etc. or Data Structures Concepts or any other trending skill as per the industry's requirements. There are various resources like online tutorials, webinars, etc. that can make your learning process more effective. You are also recommended to go for various Placement Preparation Courses that can help you to land up a demanding job. Meanwhile, you can consider your project or startup ideas and can start to work upon these as well. Once, you upgrade your skillset, you'll find yourself in a much stronger position to grab better job opportunities.
4. Reconnect With Your Network
As said by Porter Gale – "Your network is your net worth." Indeed, one can fire you from your job but a network is something that no one can take over from you. Now, you are required to get reconnect with your professional network, reach out to them, and make them aware of your situation (job loss or layoff). You must keep in mind that the more people will know about your situation or requirements, the better chances are of yours to get a relevant and worthwhile career opportunity. You can reconnect with your professional contacts through various online platforms like LinkedIn, Meetup, etc. and offline platforms like seminars, conferences, or other related events. You can ask them for the referrals, industries demands, information about the job opportunities, or several other relevant things. Additionally, you are advised to keep in touch with your connections after landing up a job or other career opportunities as well.
5. Look Out for Better Opportunities
As this pandemic situation has impacted almost every organization (whether it be small or large), you are strongly recommended to not rush into the job market instead take your time and look out for several better and stable opportunities to prevent yourself from situations like layoffs, salary cuts, etc. in future. You are required to do some homework and research about the company from your side. Also, you are recommended to keep an eye on emerging companies, work profiles, etc. to find some ravishing career opportunities. Meanwhile, you can compile a list of several companies (or job roles as well) accordingly for further process. Needless to say, it is worth spending some extra time while looking out for career opportunities as the right job profile in the right company will reward you with endless opportunities in the future.
So, these are the major strategies that you can follow after being laid off from your organization. However, there are some additionals tips as well that can be considered to deal with the layoff situation more effectively and can help you to bounce back into the corporate world.
Keep a positive and healthy mindset.
Do not try to hide the situation and take it as an opportunity to reinvent yourself.
Update your Resume and Cover Letter precisely and mention the layoff reason as well.
Know your worth and don't get indulged in any unworthy career opportunity.
Set your goals and use your time wisely.
Indeed, facing a layoff can be a stressful situation for anyone, however, if you follow the above-mentioned strategies and prepare yourself for the situation, you'll come up with some better career opportunities.
My Personal Notes
arrow_drop_up