This article shows how to set-up a shared folder between two local users in Linux. The shared directory/folder will be accessible to both the users, they will be able to read/write each other's file.
Let us create shared directory /home/shareFolder for user Bob and Alice and add them to a common group named projectA.
Note: You can create the uses Bob and Alice using following commands:

$ sudo useradd Bob
$ sudo passwd Bob
$ sudo useradd Alice
$ sudo passwd Alice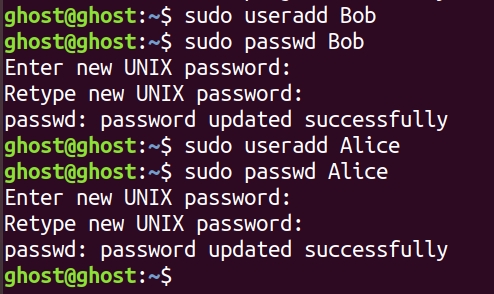 Now /home/sharedFolder is accessible to both the user Bob and Alice. But others can't access this directory. This directory will be accessible to only members of projectA group.
My Personal Notes
arrow_drop_up
---
---
If you like GeeksforGeeks and would like to contribute, you can also write an article using contribute.geeksforgeeks.org or mail your article to contribute@geeksforgeeks.org. See your article appearing on the GeeksforGeeks main page and help other Geeks.
Please Improve this article if you find anything incorrect by clicking on the "Improve Article" button below.