How to Create a Gauge Chart in Excel?
Gauge chart is also known as a speedometer or dial chart, which use a pointer to show the readings on a dial. It is just like a speedometer with a needle, where the needle tells you a number by pointing it out on the gauge chart with different ranges.
It is a Single point chart that tracks a single data point against its target.
Steps to Create a Gauge Chart
Follow the below steps to create a Gauge chart:
Step 1: First enter the data points and values.
Step 2: Doughnut chart(with First table values).
Select the range B2:B7
Then press shortcut keys [Alt + N + Q and select the Doughnut] or Go to Insert -> Charts -> Doughnut (With these steps you will get a blank chart).
Step 3: Delete or hide the left portion of the Doughnut chart.
Select the chart (left click on the chart) & double click on the left portion.
Then right click -> format Data point… -> paint -> fill -> select "No fill".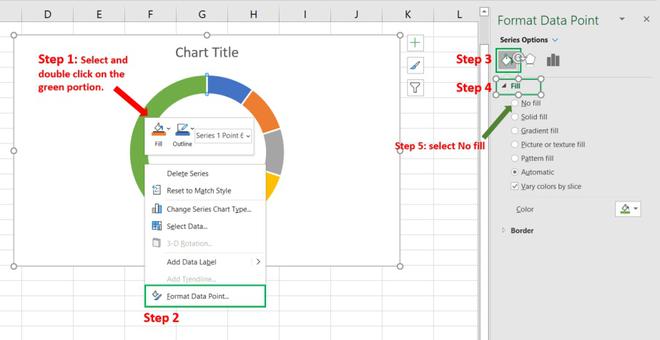 Step 4: Change the Angle
Select the legend Icon & Change the angle to 271.
Then you can change the doughnut hole size.
Step 5: Set the Border & color
Go to fill and line -> border -> No line.
You can also change the colors of each data point.
Step 6: Creating a pointer
Click on the chart -> Chart Design -> Select Data -> Add
Series name as a Pointer or Thickness(for this first select first box and A11)
Then for "Series values" select the values, here, selected 36, 5 & 153.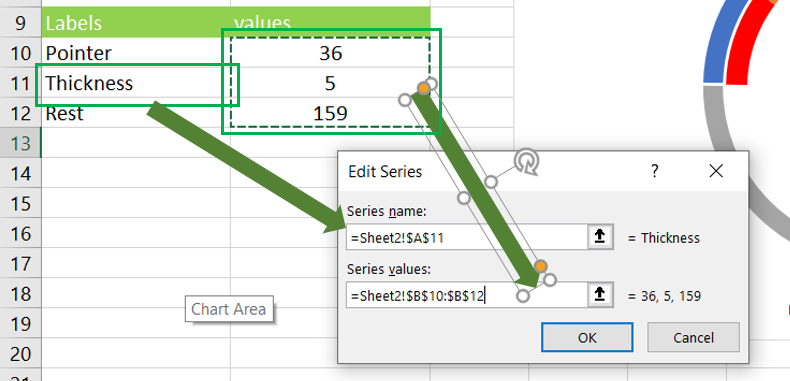 Now select the new chart and make it "No Fill" except the pointer(The smaller data point).
Step 7: Change chart type.
Select chart -> chart Design -> change chart type -> combo. Then for series chart select Doughnut.
Same as series select pie chart Type for "thickness" Then Select "Ok".
Now the last Step is to change the angle of the chart as 271.
Give Data Labels.
My Personal Notes
arrow_drop_up