How to Crack Off-Campus Placements as a Fresher in 2022?
The wake of the COVID-19 pandemic has brought forth challenges that the 20th-century humans have never faced before. While the economy went down and small businesses took a massive hit amid continuous lockdown. Campus hiring was severely hit in 2020, with 82 percent of colleges in the country struggling to place their students. However, this issue only boosted students to hunt for jobs through off-campus placements where companies are welcoming freshers with open hands and giving opportunities to talented students.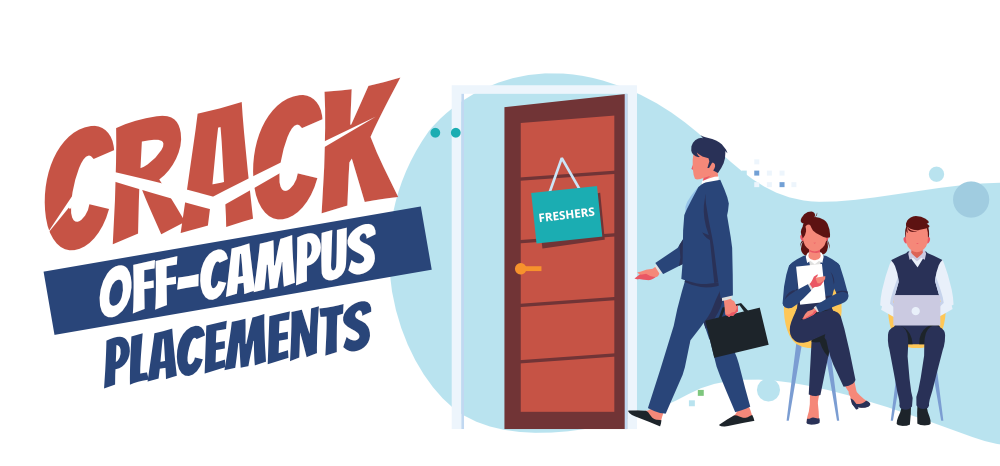 Especially for IT students from Tier-3 colleges who are competing with crème-de-la-crème students of Tier 1 in terms of getting a job in their dream company, off-campus placement provides them with greater exposure, diverse career options, and a chance to be self-sufficient. It's not an easy task to compete against vast competitors in off-campus placement when you don't know where to apply, how to prepare, how to prepare an ideal resume and other important information. Don't sweat as we've got you covered with our 7 Tips to Crack Off-Campus Placements as a Fresher.
1. Create an Effective Resume
As per a survey, HRs spend just 6 -7 seconds reviewing your resume. In this short glance, they will check whether you possess specific skills or not. So you need to create an impactful resume to enhance your chances of selection. A resume is the first contact that you make with the recruiter to ensure that it's perfect to show your skills. Mentioned below are some of the points that you can consider while creating your resume:
Use appropriate keywords as per the job requirement.
Create a separate section for your technical skills and categorize them according to proficiency.
Tailor your resume as per the job requirements.
Use the concise format and make it visually appealing.
Ensure to keep it to the point and make it to one page only.
You can create your ATS-friendly resume within 5 minutes or less with our FREE online resume builder tool.
Read More: 7 Resume Mistakes Made By Software Engineers as a Fresher
2. Build a Strong Foundation
Now when you have prepared an effective resume the second step is to have an in-depth knowledge of the core fundamental subject that could be asked during your technical interview round to crack your off-campus placement. You need to have knowledge of the programming language mentioned in your resume. Some important topics that you need to cover are:
Data Structure concepts like Array, Linked List, Binary Tree, Hashing, Queue, Stack, Matrix, Trees, etc. If you are confused about the right source to study Data Structure then we are here to rescue you. Check out our DSA Self Paced Course.
Algorithms like Analysis of Algorithms, Dynamic Programming, Sorting/Searching, Geometrical algorithms, Mathematical Algorithms, Divide and Conquer, Branch and Bound, etc.
Core CS subjects like DBMS, Operating Systems, and Computer Networks.
3. Practice Frequently Asked Questions in Interviews
There are some common questions that you will surely face in the interview which include:
Tell Something About Yourself – Answer this question in an extremely compelling and concise manner that manifests you are fit for the particular role.
Why do you want to work with our organization? – Don't be generic while answering this question. Do proper research and find something unique about the company that appeals to you and mentions it while answering.
What are your greatest strengths? – Answer this question in terms of quality, not quantity. Your answer should include your strengths which are important as per the job profile.
Why should we hire you? – Answer this question in such a way that proves that you cannot only do this job but also deliver great results. Further, explain that you are fit for the team and culture of the company.
What is your greatest accomplishment? – Answer this question by using the STAR method. The main idea here behind the STAR method is that every answer should cover the following topics:

(S) Situation – Explain the situation and context in which the event happened.
(T) Task – Discuss the tasks you had to complete (i.e. your challenge or responsibility).
(A) Action – Describe how you handled the previous challenges or responsibilities.
(R) Results – Describe the type of results you achieved. If possible, include numbers and quantifiable facts when describing the outcome.

Why did you decide to leave your previous/current job? – Answer this question by mentioning that you wanted growth and gain a new perspective in your career. Don't be too honest by saying something negative about your previous/current organization and job.
Give an example of how you have handled a challenge in the workplace before – Answer this question in terms of describing a challenge that you've overcome during your tenure that helped you grow.
Give an example of when you performed well under pressure – Answer this question in terms of describing a time when you were given a tough task that you managed to complete within the deadline.
Give an example of when you showed leadership qualities – Answer this question in terms of describing an event where you lead your team and showed exemplary leadership qualities.
4. Improve Your Aptitude Skills and English
To get a job in Product Based Companies (Amazon, Meta, Microsoft, etc.) and Service-Based Companies(TCS, Accenture, Wipro, Infosys, Cognizant, etc.), three rounds are conducted mostly including Aptitude and English, Technical interview, and HR interview. Get a good grip on these two so well, and also develop your logic-building skills by solving puzzles, and watching YouTube videos and tutorials. Build a habit of solving a maximum number of questions within a short period of time.
Practice aptitude topics like time and work, age problems, profits and loss, percentages, pipes and cisterns, mixture and allegations, permutations, and combinations. So practice these topics consistently to enhance your chances of off-campus placement selection. Also, have a clear idea of English grammar and solve as many questions on grammar as possible. Work on synonyms, prepositions, error detection, etc. After your first round gets cleared, work on the Technical round and HR round where the interviewer will ask topics related to what is mentioned in your resume and some general questions respectively.
5. Optimize Your LinkedIn Profile
If you want to apply for an off-campus placement, stay active on LinkedIn. It will help you to stay updated with the latest hiring trends of different companies. An updated LinkedIn profile automatically appears in Google search so it enhances your chances of selection to a greater extent. Here are some tips to optimize your LinkedIn Profile:
Choose a professional profile picture.
Use relevant keywords in your headline that you want to be searched for.
Turn your summary into your story and use numbers and add a CTA in the summary.
Remove buzzwords like 'specialized', 'leadership', 'focused', 'strategic', 'experienced', 'passionate', 'expert', etc. from your summary and work section.
List your relevant skills.
Ask for referrals and endorsements and request recommendations from your 1st connection.
Once you complete your profile with the right choice of content and keywords it will be visible globally beyond country barriers. So optimizing your LinkedIn profile is the best way to stay updated about the placements trends and getting hired.
READ MORE: 7 Best Practices to Build a Better LinkedIn Profile
6. Create a Strong Network
When you are applying for off-campus placements it is really crucial to have a strong network to stay updated with the latest hiring trends. You should connect with your friends, teachers, and college seniors to open the door for more career opportunities. Building a strong network also will also help you to ask for job referrals, by which 30% of the hiring takes place.
If you've little to less idea about how to request a job referral, you can read our article How to Ask For a Referral For a Job?
7. Get Help From Experts
Taking guidance from people who have already cracked the code of off-campus placements, is one of the best ways to get hired. You can use social media accounts to connect with such professionals in order to get details about their journey and learn from their experiences. GeeksforGeeks has prepared a list of company-wise interview experiences that you can go through and prepare yourself for interviews. To get this list for FREE, head over to GFG Company Interview Corner. Also, for the latest interview experience refer to our Interview experience archive.
My Personal Notes
arrow_drop_up