Shell scripting is really a powerful and dynamic way to automate your tasks. To test if a directory or file already exists in the system or not we can use shell scripting for the same along with test command. To proceed with the test script lets first check the test manual. To open a manual use the man command as follows:
man test
Right now we will be covering these two highlighted arguments in your script, further, you can use and test all of them. First, create a shell script file like test.sh using any editor of your choice like nano, vim or sublime and give it executable permissions(chmod +x).
In the below example we are checking if /usr/games directory is present or not.
#!/bin/bash
if [ -d /usr/games ];
then
echo "The Directory Exists"
else
echo "The Directory is not present"
fi
chevron_right
filter_none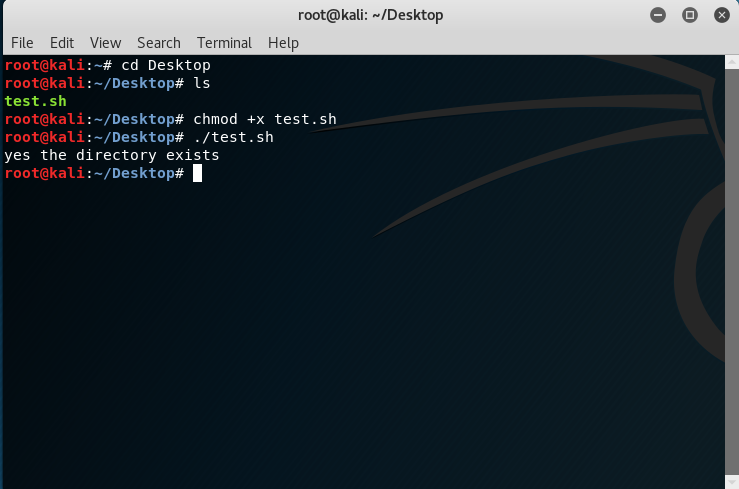 Let's see another example where we have deleted a file from the directory and let's check what happens.
#!/bin/bash
if [ -e /usr/games/master.txt ];
then
echo "The file Exists"
else
echo "The file is not present"
fi
chevron_right
filter_none
Now we used -e argument to check for the file and we got the message that file is not present as we had deleted it. Like this, you can play with the shell script, refer to the test manual and test more awesome stuff with this.
My Personal Notes
arrow_drop_up
---
---
If you like GeeksforGeeks and would like to contribute, you can also write an article using contribute.geeksforgeeks.org or mail your article to contribute@geeksforgeeks.org. See your article appearing on the GeeksforGeeks main page and help other Geeks.
Please Improve this article if you find anything incorrect by clicking on the "Improve Article" button below.