How to Boost Performance in Windows 10?
We all have encountered the problem of computer slow down, due to many reasons, and sometimes it becomes so frustrating. So, what to do in this scenario. In this article, we will be talking about how to get the best out of your existing PC without spending even a single penny. While there are many options for increasing the speed like increasing the amount of RAM and getting a better CPU, but all of these solutions require money and we don't want that.
The very first thing to do is to disable the animations. As these are there for just an appealing look to the eyes and eat a significant amount of RAM which can be utilized to boost the performance of the PC rather than just having an appealing look. Secondly, there are many other elements to this which can be disabled very easily, Disabling those elements will free up the ram, therefore giving a boost to the performance.
Step 1: Right-click on the "This PC" icon and go to properties. After clicking you will get a box as given below in the image.

Step 2: Click on Advanced system settings.
Step 3: In the setting box click on "Advanced".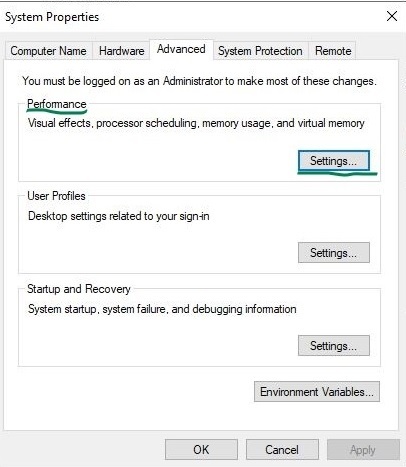 Step 4: Under the performance, box click on settings and in the Visual effects box select "Custom" and uncheck all the options except "Smooth edges of screen fonts".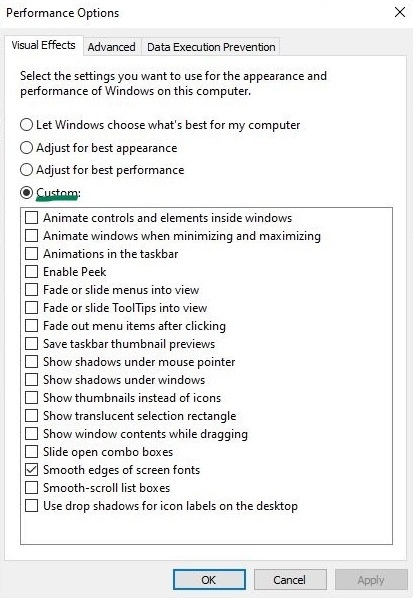 Now the PC will be running at its best. If you are an advanced user you can also play with other options available in the box, but if you want a performance boost, we will recommend doing up to step 4 only.

2. Update Windows and Device drivers:
Updates in windows make the current features more performant and also brings new functionalities. To update your current version of windows follows the steps below.
Step 1: Open search Search (CTRL+s).
Step 2: Search for Settings.
Step 3: Click on Updated and Security, and press on the Windows Update tab.
Step 4: Now click on Check for Updates button and download if available.
Device Drivers are important software programs that let the operating system communicate with the hardware of the computer system. There comes a need to update these device drivers because a better version results in the effective and efficient performance of the system. To update device drivers follow the steps below.
Step 1: Go to Start.
Step 2: Search for Device Manager.
Step 3: One by one select the branch of the device driver you would want to update, do a right-click and select Update Drivers.
My Personal Notes
arrow_drop_up