How to Become a Network Engineer?
Network Engineering is always in high demand and a very rapidly growing field to work in. In India, the average salary of Network Engineers is around 6-8 Lakhs Per Annum whereas, across the world, the figure is around $50,000 to $60,000. There are many other reasons too to become a network engineer such as onsite opportunities, working with trending technologies, etc. Once you enter into the Networking field, there are endless opportunities!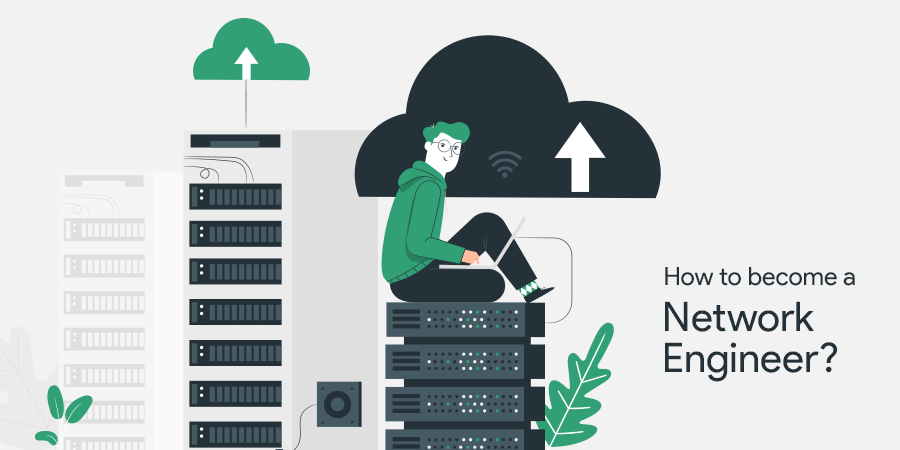 There is generally a doubt among people about what work Network Engineers do? Let us clear it to you that Network Engineers are responsible for designing and managing the groups of computers networked together. Also, the installation and configuration of network devices, troubleshooting processes and technical support & assistance operations linked with their job profile. In this article, we will let you know about the pathway and strategies to Become a Network Engineer.
However, there are as such not any specific educational criteria but yes, most of the companies prefer that candidates should have at least a bachelor's degree or master's degree as per the position level. Also, you can go for the vendor certifications like CCNA, CCNP, etc. for better opportunities. If you are looking for a career switch and want to be a skillful Network Engineer, you have to follow the right pathway (as given below)
1. Get to Know About the Basics of Networking
There is a very famous quote, "Rome wasn't built in a day"., it also fits here. You can't expect to master the Networking skills from Day-1. The first thing you have to do is understand the fundamentals of Networking Concepts. You have to understand how things actually work such as "How two systems are connected?" or "What is the purpose behind using different types of cables", etc. Some of the Basic Concepts of Networking are listed below:
LANs/WANs
Topologies
Router/Switches / Hubs
OSI Model
Transmission Modes
Firewalls
Application Protocols
IP Addresses
Network Security, etc
2. Gear Up to the Advance Level
Once you've done with the Basic Networking Concepts, now you have to look out for the advanced knowledge of this field. You have to put more effort and dedication here. You can opt for various Live Training Sessions by the Experts, Recommended Books, Research Papers, Journals, Blogs, etc. Along with the core networking concepts, gain knowledge of other related stuff like – Operating Systems (Linux, Unix, etc.), latest trends in Networking, etc.
Try to do everything that enhances your knowledge about the Networking domain. You can set up your lab for practice, customize your computer, attend the seminars and workshops, etc. You can also solve various coding assignments and projects to enhance your knowledge and be familiar with various networking tools as it will be very beneficial. Some important virtual lab tools for practice purpose are listed below:
CISCO Packet Tracer
VIRL (Virtual Internet Routing Lab)
Boson NetSim
Eve-NG
Graphical Network Simulator-3
3. Be Certified!
You can go for the various networking certifications offered by the reputed vendors like CISCO, Juniper, etc. These certifications will provide you a lot more exposure and confidence. Also, companies prefer to hire those candidates who have earned these kinds of certificates. Below we have listed some popular Networking Certifications:
Cisco Certification – Cisco is a hardware and software networking multinational company. It offers various level of network certifications such as Cisco Certified Network Associate (CCNA), Cisco Certified Network Professional (CCNP), Cisco Certified Internetwork Expert (CCIE)
Juniper Certification – It is provided by the Juniper Networks Company at various levels – JNCIA (Associate Level), JNCIS (Specialist Level), JNCIP (Professional Level) and JNCIE (Expert Level).
CompTIA Certification – The Computing Technology Industry Association (CompTIA) provides Networking Certifications in four areas – Core Certifications, Infrastructure Certifications, Cyber Security Certifications and Additional Professional Certifications.
Wireshark WCNA Certification – The Wireshark Certified Network Analyst (WCNA) Certification program concerns with analyzing of packets and protocols for the network troubleshooting, optimization and security purpose. The topics covered in this certification are – Wireshark Functionality, TCP/IP Network Communications, Network Troubleshooting and Network Security.
SolarWinds Certified Professional Certification – It is offered by the SolarWinds Company. This certification exam concerns with the ability to handle network and system management products.
4. Get Some Hands-on Experience
Since the best way to learn networking is by doing it, so after getting appropriate knowledge of the Networking Domain, now what you have to do is some real-time implementation. Network Engineers are generally hired with having some experience as companies do not want to take the risks by hiring freshers to maintain their active network systems. So it's better to start with an entry-level job or internship to gain a fair amount of experience. Here you can learn about the installation and setup of network systems and various operations under the guidance of a more experienced network engineer. Some of the entry-level networking jobs are listed below:
Network Analyst
Network Technician
Technical Support Engineer
Network Operations Associate, etc.
5. Apply for the Networking Giants!!
Okay, so now having adequate knowledge about Networking, relevant certification and some hands-on experience, you're all set to look out for Network Engineer jobs. You can start it by preparing a list of Networking Companies and visit their official websites to view their eligibility criteria and other requirements. You can also apply for the job from there as per the relevancy. Keep in mind that becoming a Network Engineer in a better company is not the final destination, you can reach on various higher positions such as – Network Manager, Chief Technology Officer, etc. The top networking companies across the globe are Microsoft, Cisco Systems, Juniper, Intel, IBM, Sophos, etc.
My Personal Notes
arrow_drop_up