How to Become a Microsoft Student Partner (MSP)?
Student Partners are a global group of on-campus ambassadors who are eager to help fellow students, lead in their local tech community, and develop technical and career skills for the future. The MSP (Microsoft Student Partner) program enhances students' employability by offering training in skills not usually taught in academia, including knowledge of Microsoft technologies.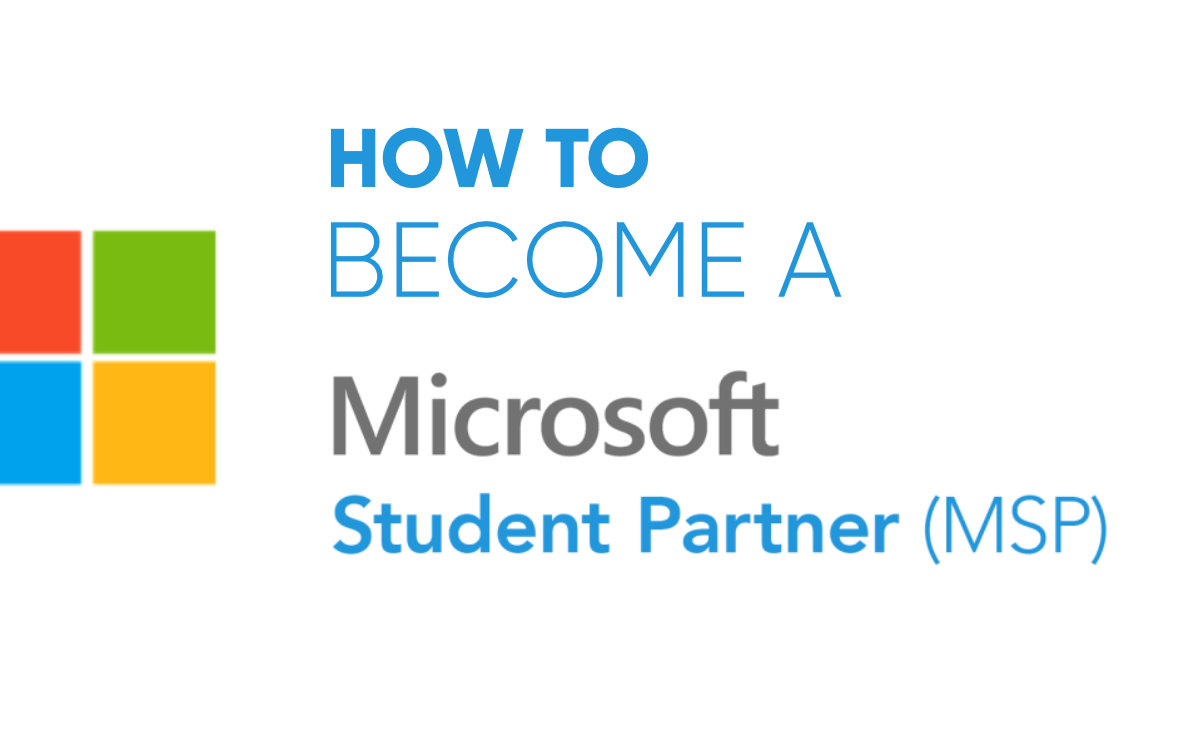 This article will let you know the whole application procedure and requirements for becoming an MSP. So, let's start the journey.
Eligibility: The applicant should be a minimum of 16 years at the time of submission and enrolled full-time in an accredited academic institution like a college or university.
Responsibility: Being an on-campus leader, you'll be responsible to build a strong technical community in your campus through hosting workshops, meetups, hackathons and mentoring fellow students.
Benefits
Free access to Microsoft Certification Exams and MSDN Subscription
Fully funded travelling opportunities
Awesome goodies like T-Shirt, backpacks, pen drive, hoodies and many more
Network opportunity with other Student across the Globe
Chance to improve soft skills like public speaking skills, presentation skills and writing skills along with technical skills.
How To Apply?
You'll have to just submit an application form https://studentpartners.microsoft.com/en-us. Below are the Application Form Submission Guidelines and steps for applying.
Step 1: Read the notification. This'll give you information about when your application will be reviewed.


Step 2: Carefully read the given information, accept the Privacy and Terms and click on next.

Step 3: Fill the info carefully.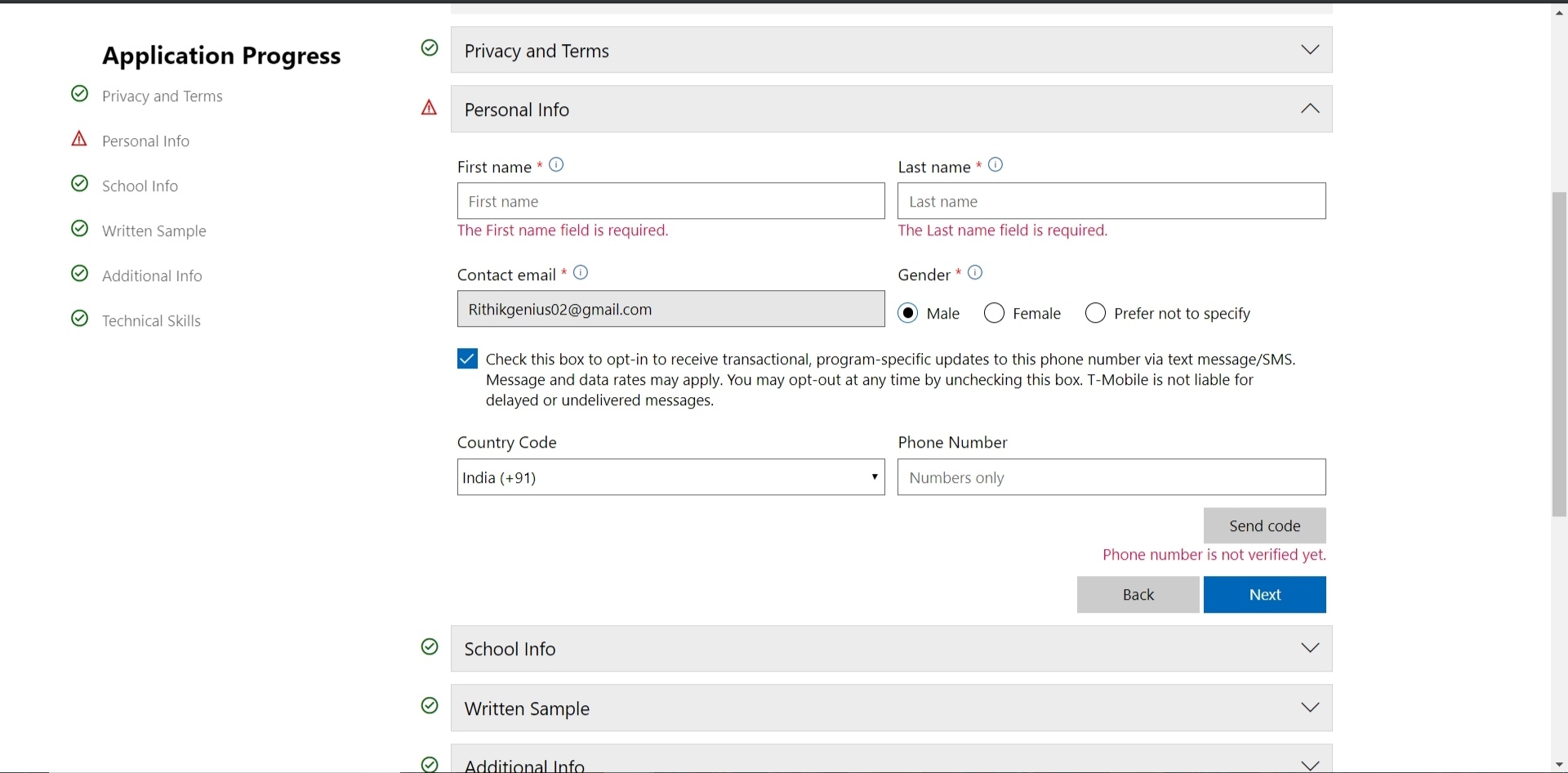 Step 4: Fill the school/college info.

Step 5: Now you're in the most important part of the application. If you're already a MSP, then only select Yes option otherwise select no option. You'll observe that you'll have to answer the three questions with video or written example. Please make sure that you have submitted at least one video. Upload it to YouTube and paste it into the box.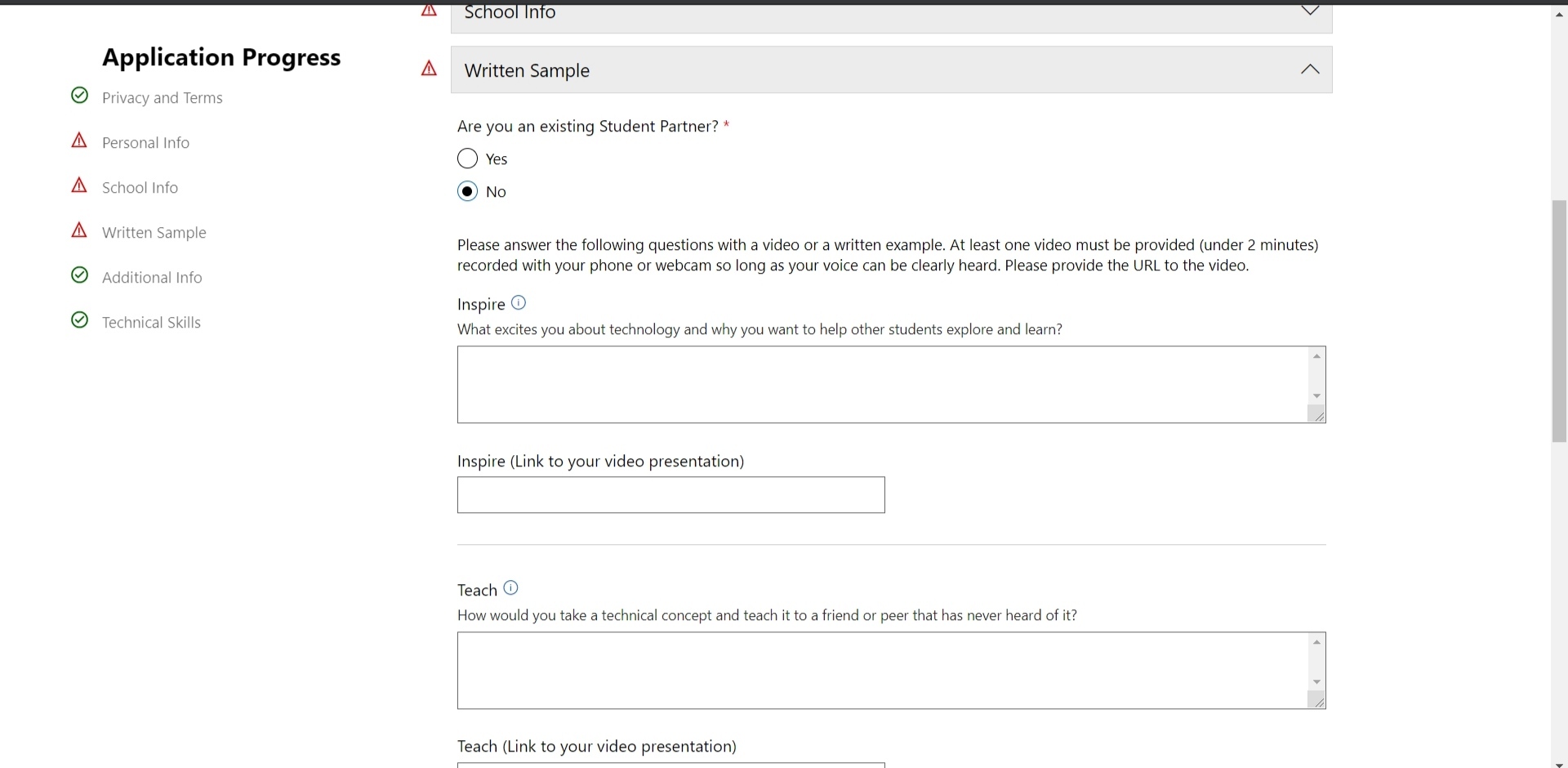 Sort Video (max 2 min) Demonstrating Your Passion for Technology: This is the most important part. While answering this, be very realistic. Think, when did you first start using technologies and what inspired you to deep dive into it. This'll help you to make a video script. You can also take an idea from selected MSP videos available on YouTube. They're simply testing your passion for technology and your soft skills.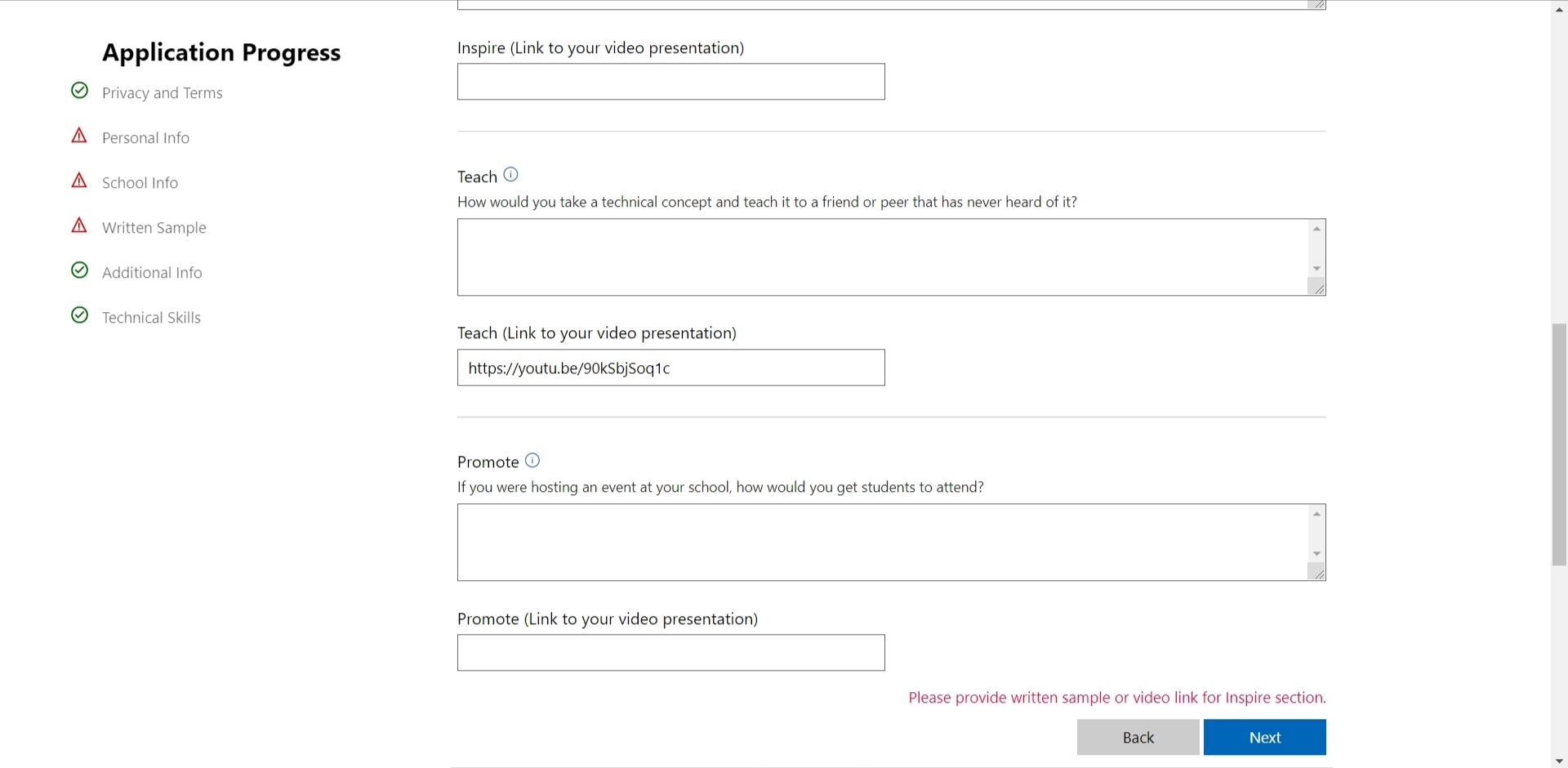 Written Sample on Teaching a Basic Coding Concept: Be specific, choose any simple topic related to programming like variables or data types and answer in such a way that you're teaching a noob, who haven't heard this topic before. They will be testing your mentorship skills which you'll be using while conducting workshops. Written sample on the different ways you will reach to your student community to make the students attend an event. In this part, they're looking to see, what marketing strategy, you'll be using for publicizing your event.
Step 6: In this part you'll have to show them your online presence.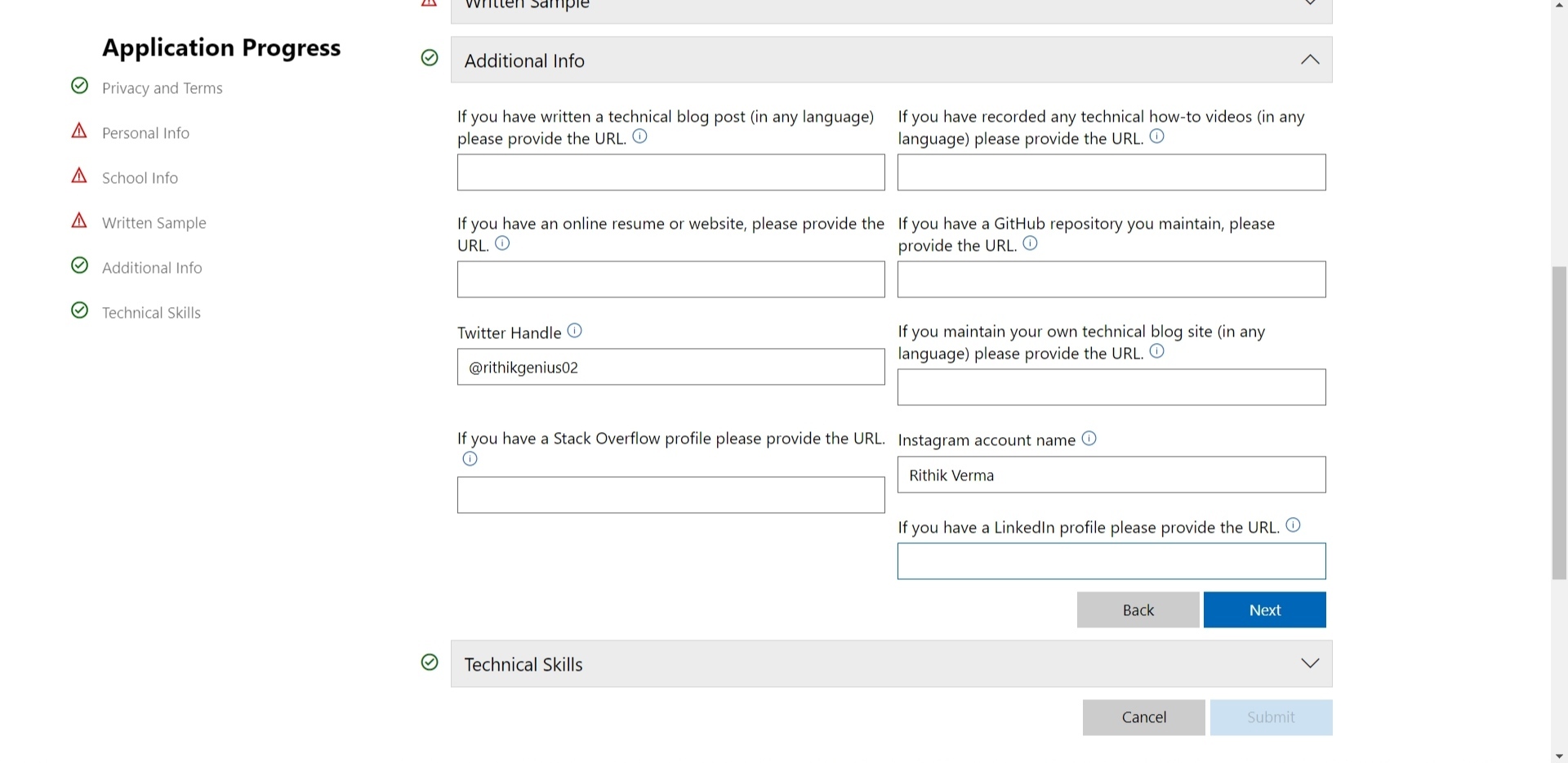 Step 7: Choose the technologies in which you want to peruse your career. You'll see, here's a optional sections, more often people omit this but this section can also be utilized. So, utilize it to share more about yourself which will also increase the chance to get in.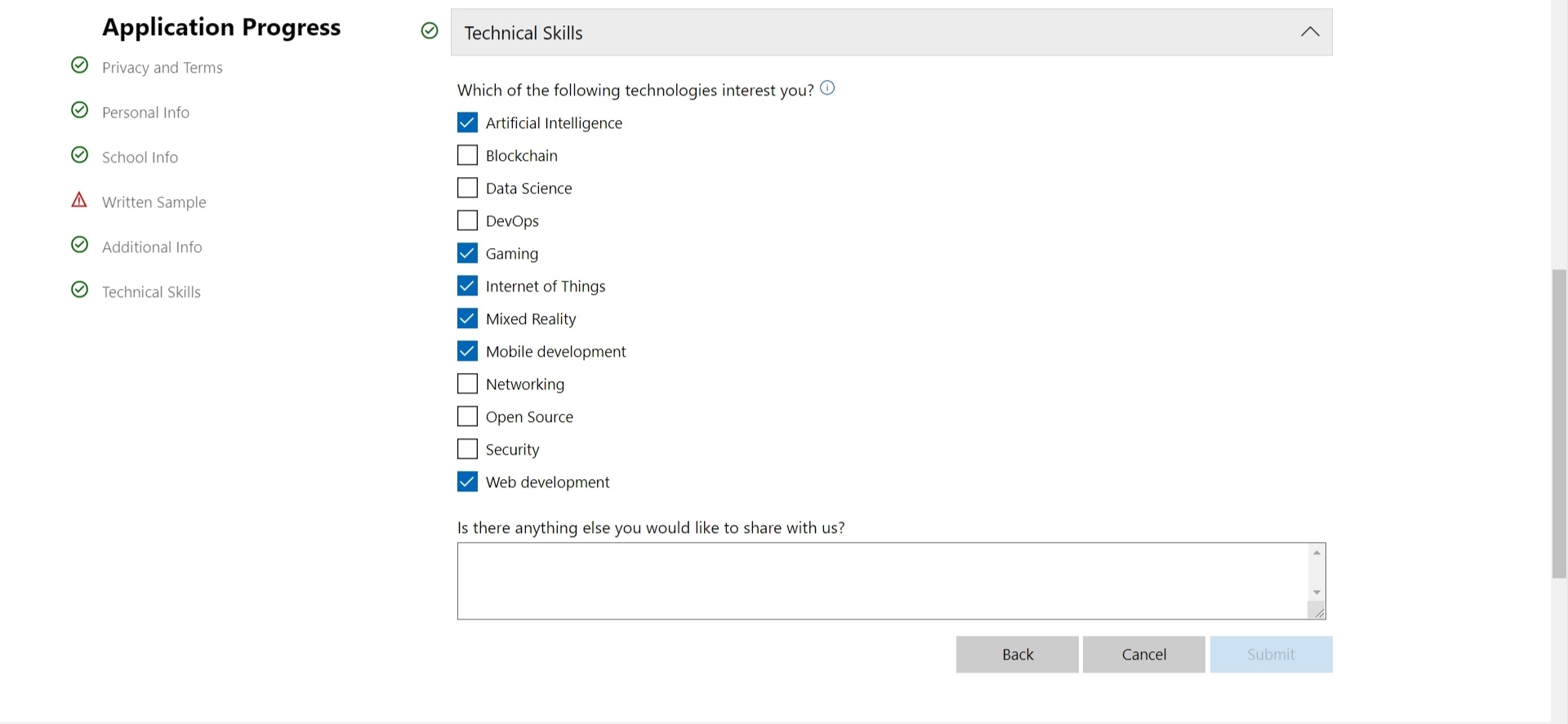 It'll require sufficient time to answer these three questions, so don't think of submitting it in a single day. Think deeply, collect the relevant points, summarize it and make sure your answer is in word limit. This part has strong contribution in your application decision. Apart from these, you must have a decent profile on GitHub, Stack Overflow and LinkedIn. Having a personal website and technical blogs or videos will give you edge over other candidates.


My Personal Notes
arrow_drop_up