How to Become a Freelance Programmer in 2020?
What could be better than being your boss? You could work at a time that is convenient for you and work with people that you want to work with. You could also take holidays whenever you wanted to or even work 24/7 to expand your career. Whatever you want to do, you can do it as a freelance programmer. However, you should also keep in mind that while freelancing provides you total freedom to shape your career, you also need to be disciplined, hardworking, and invest a substantial amount of time before you see great results. But you WILL see great results in the long term if you keep working!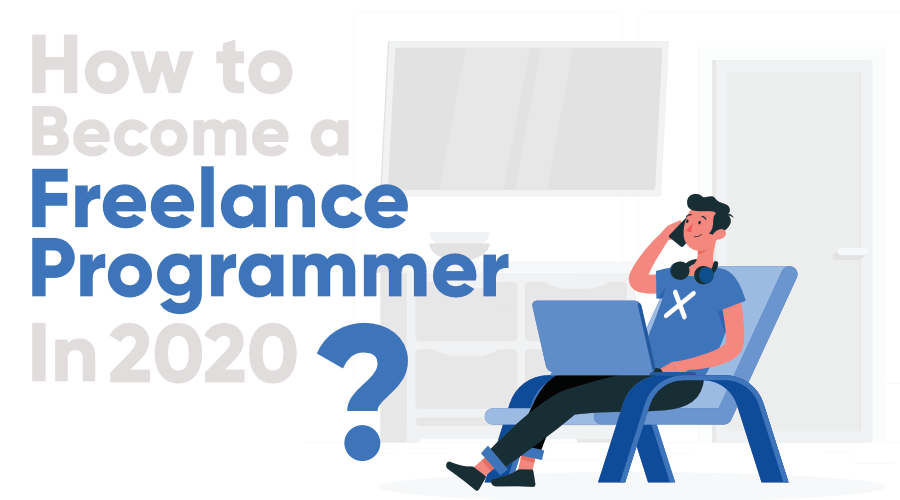 Now the question that might come into your mind is "How to start freelance programming"? Fear not! This article aims to answer your question so that by the end of it, you can get started on your freelancing journey and build a great career in the future. So let's get started.
1. Learn the required Programming Languages
What is the most important thing you need to know to become a freelance programmer in 2020? It's programming languages of course! How can you offer your services as a freelance programmer if you are not an expert in at least one programming language? That is the fundamental requirement for becoming a successful freelance programmer. Currently, some of the popular programming languages are Python, Java, PHP, JavaScript, Swift, C#, C, C++, Ruby, etc. with Python leading the group in popularity! You can also learn multiple programming languages as they will help in taking on multiple projects and increase your reach among prospective clients. Now the important question is "How to learn programming languages?" Well, if you are studying Bachelors or Masters of Computer Science in college, then you should learn to program there. Otherwise, you can always sign up for online programming courses GeeksforGeeks.
2. Focus on a Niche
As they say, it is always better to be a specialist than a generalist! You will be paid a lot more as a freelance programmer if you specialize in a niche. So after you have learned programming in any language, decide a niche that appeals to you and learn all you can about that. You can do more research by looking at freelancer sites or job sites to understand which skills are in demand for freelancers in 2020 and which will help you succeed in your freelancing career! For example, Data Science and Machine Learning in-demand technology these days and you can learn Python, R, SQL, etc. to succeed in that. You could also work on developing your Statistical and Machine Learning skills as they would provide an edge in Data Science.
3. Set basic Working Rules
You are your boss when you work as a freelancer. Chances are that this can make you lazy or complacent. So some basic working rules are required to become a successful freelance programmer. The most important thing you need as a freelance programmer is discipline. So the first rule is to have a fixed schedule that is strictly adhered to. You should also set a fixed basic pay rate for your clients which can later be adjusted on a case by case basis. Moreover, you should also fic a rough schedule of meetings, updates, deadlines, etc. with the clients before the commencement of the project so that all the parties concerned know what is happening at all times and you are also motivated to work and deliver best results!
4. Build your online portfolio
How do you introduce yourself to prospective clients? How do you convince them that you are as good as you say and perfect for the job? You don't have to do anything as all this will be done by your online portfolio! It is an extremely necessary tool in your arsenal as it is your introduction to prospective clients. It can be used to showcase your past projects as well as the testimonials you got for them. This will increase the confidence that prospective clients have in your abilities and also you to secure more freelancing gigs. Moreover, your online portfolio should include interaction opportunities such as links to your social networking accounts so that clients can easily contact you if required. You could even use your GitHub profile to host your programmer portfolio and make connections with other programmers that would increase your visibility.
5. Have an Online Presence
How would you attract online clients if they don't know you exist? It's almost impossible! So you need to have a strong online presence and actively market yourself so that prospective clients are attracted to your programming services. And that's where Content marketing comes in! Content marketing is extremely helpful in finding prospective clients. Online content marketing involves creating an online presence. This may include creating a portfolio website, a blog where you share your experiences in freelance programming, a professional account on LinkedIn, an Instagram account with programming pics, a YouTube channel that teaches how to become a freelance programmer, etc. To make sure that you are successful in Content Marketing, ensure that all your online accounts have the same name. This will create a uniform brand identity for you and also ensure that your clients can easily find you on various online platforms.
6. Have an Offline Presence
It is great to have online connections but you cannot neglect the real world! You should also make offline connections with other freelancers and tech experts who can guide you in your career as a freelancer and also refer you to clients if you are good enough. After all, you never know when or where opportunity knocks on your door! You can attend tech community events in your city or state to meet like-minded people in your profession in real life and make connections who might be useful in the future. Check out online sites such as Meetup or Eventbrite as they organize meetings for people with similar interests in different cities. Find out a freelancing event in your field that is happening in your city and attend it to create valuable new offline connections. And maybe even new friends!
7. Know your Target Audience
Who are your clients? Who are the people you aim to impress with your programming skills? Well, that depends on your talents. If you are a Python and Machine Learning expert, chances are you want to be hired by a company that is working on Artificial Intelligence and Data Science. Similarly, it is very important to establish your target audience in the beginning and get to know them very well. This involves understanding the location, industry, age, gender, etc. of the target audience. Then you can create a direct connection with the target audience using various services such as blogging, Email, YouTube, etc. that cater directly to what your audience might need.
8. Expand your Communication Skills
What would you do if you had all the technical knowledge but you couldn't communicate with your clients? You would fail as a freelancer! So always remember that communication skills are an essential part of freelance programming. It is very important to communicate with clients to get a sense of what they require and deliver that as per specifications. If you cannot ever understand what your client wants, how are you going to deliver? Also, communication skills are essential in forming professional ties to retain clients in the long-term. In case you are not the best at this, don't worry, you can polish your communication skills through various methods! If you are in university, you can take public speaking or writing classes to help you out. Otherwise, you could access online professional communication courses but always remember that practice makes perfect!
9. Contribute to Open Source Projects
Suppose you are a newbie in freelancing and don't have a vast portfolio. You don't have much experience that you can show to future clients as an indication of your skills. What do you do then? Contribution to open-source projects can be used to build credibility for prospective clients. Open-source projects are those that have their source code publicly available so you can contribute to improving the code. You can work on the issues of already existing open source projects or even create your open-source projects. Either way, open-source projects provide credibility and are an excellent booster for your portfolio. Which can provide freelancing opportunities in the future!
10. Stay abreast of Current Technologies and Languages
Programming is a constantly changing field where trends come and go. Therefore it is necessary to stay abreast of current technologies and languages if you want to remain relevant. You can do this by subscribing to publications such as VentureBeat, The Verge, WIRED, etc. You can also join online courses to learn new skills that help you remain relevant in the market. Also, follow popular tech leaders in the world such as Mark Zuckerberg, Jeff Bezos, Satya Nadellaetc. to know what's new in the industry! All of this will help you in obtaining industry-relevant skills which will, in turn, leads to more clients and increased potential for earning in the future.
Finally, you should know that to become a successful freelance programmer requires a lot of patience, a great work ethic, and a strong network of clients. But this is not impossible to obtain! You can achieve all this with continued growth and it will eventually lead to insane growth in your freelancing career.
My Personal Notes
arrow_drop_up