Can you imagine a situation that one fine morning you just wake up and find all your Social Media Accounts hacked?? (Quite Awful, Right…??).
Imagine all those IT giants such as Facebook, Amazon, etc. that are majorly relying upon user data identifies unauthorized access to their data server or may lose all their data (Yes, nothing can be more frightened for them than this situation).
Most probably, that would be enough to make you understand the importance of Cyber Security in today's Digital World. Indeed, from an individual level to the MNC's perspectives, Cyber Security has become an essential aspect for everyone to protect themselves from any kind of cyber-attack such as security breach, data loss, etc. And with the same concern, almost every company (whether it be a startup or a big tech giant) is offering numerous career opportunities for Cyber Security Professionals. Thus, if you're looking forward to making a career as a Cyber Security Engineer, it will be a great career move for you!!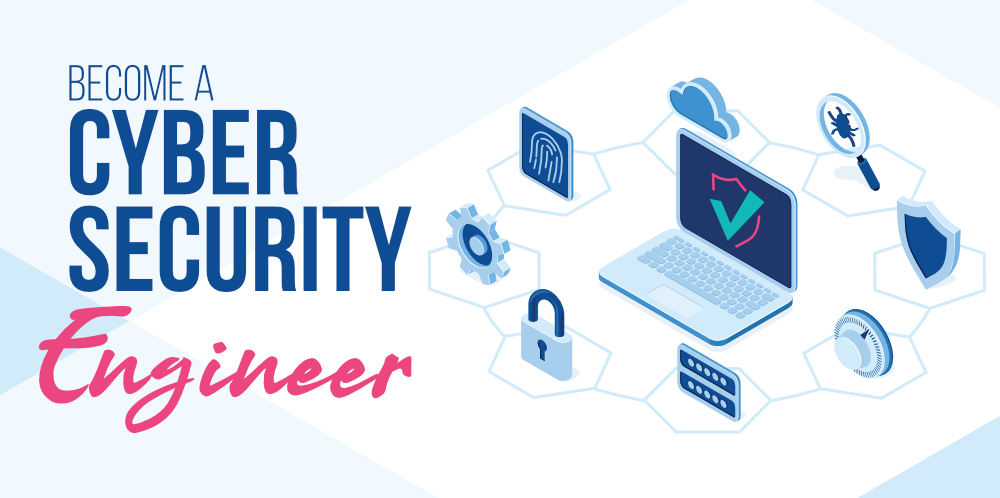 As per the reports, the demand for Cyber Security Engineers seems to be rising exponentially in the upcoming times and there will be around 3 million new job opportunities for Cyber Security Professionals by the year 2021. Now, let's take a look at the question – Who is a Cyber Security Engineer? In general, a Cyber Security Engineer is an IT professional who is responsible for maintaining the security aspects of computer & network systems and perform various tasks such as designing and implementation of secured network solutions, monitoring, troubleshooting, and many more to avoid any kind of cyber-attacks or threats. Furthermore, several major roles and responsibilities of a Cyber Security Engineer in an organization are mentioned below that can help you to get a more clear picture of the particular job profile:
Planning, designing & implementation of data & network security measures
Responsible for upgrading the security measures accordingly
Conducts penetration testing regularly to find any vulnerabilities
Troubleshoots security and network issues in the organization
Responsible for various daily administrative tasks, etc.
So, as of now, you must have known about the Cyber Security Engineer job profile in detail, now let's move further and discuss the complete career path that you need to follow to become a worthwhile Cyber Security Engineer:
1. Have a Relevant Academic Background
Indeed, having a relevant academic background should be the first and foremost step taken by you to start your journey of becoming a Cyber Security Engineer. You can opt for completing your graduation in the concerned field such as Computer Science / Information Technology, etc with emphasizing more on the Cyber Security domain. It will help you to get familiar with the fundamentals of Cyber Security such as Computer Networks, Cryptography, and many more. Moreover, having a relevant academic background with a decent knowledge of fundamental cybersecurity skills can directly land you up several ravishing entry-level career opportunities in the Cyber Security field such as Security Analyst, Systems Admin, etc that'll pave the way for you to become a Cyber Security Engineer. Furthermore, you're recommended to go for some Master's Degree program as well in the Cyber Security stream for some advanced exposure.
2. Be Proficient with Prerequisites Technical Skills
Now, you're required to take a step forward and become proficient with several crucial technical skills essential for becoming a Cyber Security Engineer. You can enhance these technical skills from various online or offline resources such as tutorials, online courses, YouTube videos, etc. Let's take a look at these prerequisites technical skills:
Sound knowledge of Required Languages & Tools: Firstly, you need to become proficient with several renowned programming or scripting languages such as C/C++, JAVA, Python, Node, Ruby, etc. Moreover, you're also recommended to become familiar with several tools such as Power Shell, OpenSSH, and various others. A thorough understanding of these languages and tools will help you further for various crucial tasks such as designing security solutions, task automation, etc. in the Cyber Security domain.
Familiarity with Various Operating Systems: Furthermore, you need to have a fundamental knowledge of Operating Systems such as Linux, UNIX, Windows, etc. You need to have an understanding of the architecture and underlying mechanism of these Operating Systems along with the respective commands & tools.
Extensive Understanding of CyberSecurity Concepts: This is the core part of becoming a Cyber Security Engineer and you need to allot a dedicated time as well as hard work for this particular aspect. However, you'll get your basics of Cyber Security clear in the particular degree program, etc. but here you'll be required to dive deeper into the ocean of Cyber Security and cover various in-depth and crucial topics. Some of these topics are provided below:
Firewalls | Network Architecture
TCP/IP | OSI Model
Penetration Testing
Vulnerability Assessment
Intrusion Detection, and many more.
Moreover, you're recommended to cover several additional topics also such as Computer Forensics, SIEM Management, etc for some in-depth knowledge. Meanwhile, you can join several advanced training sessions, etc. to make your learning journey more convenient and effective.
3. Gain Some Hands-On Experience
Once you'll get done with all these required skills, now it's time to do the practical implementation and gain some hands-on experience in this particular field. You can opt for several internships or training programs to get the opportunities of working on live projects real-time environment. Furthermore, you can apply for some entry-level jobs as well in the Cyber Security domain such as Cyber Security Analyst, Network Analyst, etc. to gain the utmost exposure. Meanwhile, this professional experience will not only allow you to understand the core functioning of the Cyber Security field such as the design & implementation of secure network systems, monitoring, and troubleshooting, risk management, etc. but is also crucial for building a successful career as a Cyber Security Engineer as almost every company requires a professional experience of around 2-3 years while hiring for the Cyber Security Engineers.
4. Possess the Relevant Certifications
Here comes one of the most prominent parts of this journey – Certifications!! Now, there is a question that often arises in the minds of individuals that if a person is having an appropriate skill set along with the required experience then why would he need to go for such certifications? However, there may be multiple reasons for this – firstly, these certifications help you to analyze & validate your skills and knowledge in a particular field. Secondly, there are several prominent certifications (especially in the Cyber Security domain) that are preferred by the organizations as a prerequisite or eligibility criteria while hiring for the Cyber Security Professionals. Hence, you're required to pass the exams and earn the certifications respectively to showcase your expertise. Meanwhile, several most-recommended certifications are mentioned below that you can take into consideration:
Certified Ethical Hacker (CEH)
Certified Information Systems Security Professional (CISSP)
Cisco Certified Network Professional (CCNP) Security
Global Information Assurance Certification (GIAC) Certification, etc.
5. Apply For the Cyber Security Engineer Jobs
Okay, so after having sound knowledge of the Cyber Security domain, possessing all the required skills, having some hands-on experience with relevant certifications – now what you're supposed to do? Right, now you need to go for your end-goal and apply for the Cyber Security Engineer job roles in various tech giants. You can start it by shortlisting the companies based on your preferences and then visit their career portals to get aware of the job openings and other useful insights such as eligibility criteria, experience, etc. You can also use various online platforms such as LinkedIn, CutShort, etc. to connect with the industry professionals and get referrals. There are numerous renowned companies that offer various ravishing career opportunities to Cyber Security Engineers such as, IBM, Cisco, Sophos, Palo Alto Networks, Intel, and many more.
So, this is a complete career path that you need to follow to become a successful Cyber Security Engineer. Meanwhile, we've compiled a set of few soft skills as well that you're strongly recommended to take into consideration in your journey of becoming a Cyber Security Engineer – Presentation and Communications skills, Problem-Solving, Project Management, Collaboration, and Time Management. Furthermore, below we've mentioned several most-recommended books also that can help you to get your concepts more clear during the preparation for certifications exams:
Cybersecurity for Beginners by Raef Meeuwisse
The Ethics of Cyber Security by Michele Loi
Penetration Testing: A Hands-on Introduction to Hacking
All-In-One CEH Certified Ethical Hacker
Now what else you need?? Moreover, if we talk about the average salary of a Cyber Security Engineer in India, it is around 7-9 LPA, and considering the growth rate of the Cyber Security domain, the demands for Cyber Security Professionals seems to be rising exponentially. Now, what are you waiting for? Follow the above-mentioned approaches and make a rewarding career for yourself as a Cyber Security Engineer!!
My Personal Notes
arrow_drop_up
---
---
If you like GeeksforGeeks and would like to contribute, you can also write an article using contribute.geeksforgeeks.org or mail your article to contribute@geeksforgeeks.org. See your article appearing on the GeeksforGeeks main page and help other Geeks.
Please Improve this article if you find anything incorrect by clicking on the "Improve Article" button below.