How To Apply For Service-Based Companies in India?
Students who are looking for jobs through on-campus placement or off-campus placement always have this doubt about which companies to target – product-based companies or service-based companies? Given the recent recession happening worldwide in the IT tech sector and the mass layoffs going on, it'd be safe to say that not one top service-based company like Wipro, TCS, IBM, Infosys, Cognizant, HCL, and many others has fired employees during the recession. Though the perks are a notch higher in product-based companies, service-based companies in India provide a safety net when it comes to employment and is also well-known in both domestic and international IT spheres. This article will explain how you can apply for service-based companies in India.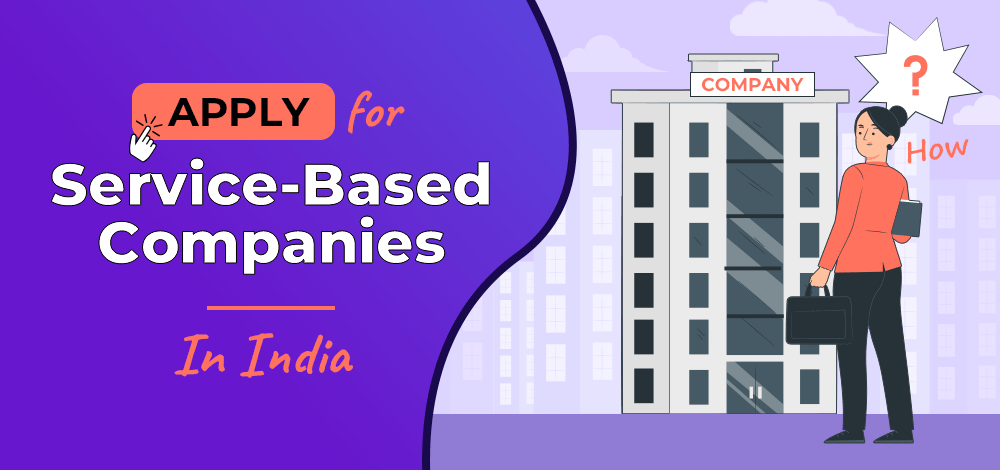 What is a Service-Based Company?
A service-based company does not produce products to sell directly to end users; rather, these organizations focus on establishing and maintaining specialized services for their clients. TCS, Wipro, IBM, Infosys, Cognizant, HCL, and other service-oriented companies provide Software as a Service, IT as a Service, CRM, IT maintenance, IT development, and other business process outsourcing services.
Companies like Cognizant, TCS, and Wipro often design processes centered on their customers and provide IT services to support these processes. These companies also engage in business process outsourcing and provide IT infrastructure, technical support, and specialized manpower to help enterprises run smoothly.
Companies like TCS, Infosys, and IBM place a high value on collaboration and expect their recruits to work effectively in groups and have a consistent attitude, making it less likely that they would move. So, when it comes to applying to these companies, one must keep the fundamental aims of these companies in mind.
If you're confused about service-based companies and product-based companies, you can clear your confusion through this article – Difference Between Product-Based Company and Service-Based Company.
How to Get Into Service-Based Companies?
Landing a job in a service-based company is not as tough as getting into a product-based one. Service-based companies are known as mass recruiters and they employ students for support projects usually. Freshers are generally not allowed to pick their field; however, if you pass recruiting examinations such as TCS National Qualifier Test, Wipro Elite National Talent Hunt, or TCS GenC Elevate, you may be able to choose your domain and job position of choice.
If you're from a Tier-3 college and wondering "Is joining a service-based company worth IT?" because top product-based companies are not coming to your college. The answer is yes, it's totally worth it.
There's always a perception about service-based companies; that there are fewer job opportunities, less pay, and more working hours. However, it also brings many benefits that you'll also gain if you choose a service-based company. Here are a few reasons you should consider working for service-based companies:
Creativity will be your constant companion. You will have to figure out on a daily basis different approaches for your clientele. This will help you in enhancing your creative output under unique situations.
The future of serviced-based firms is bright as the IT Industry has revolutionized so much in these last two-three years. With emerging technologies like Artificial Intelligence, Cloud, and Automation, every other industry wants to incorporate technology to make their product/services up-to-date and better.
The growth graph for you here will reach greater heights as you work on various dimensions for different clientele. You get exposure to work with other teams and communicate different perspectives.
Last but not least, work with the best in the industry. Working with them would mean, a good pay scale, amazing employee benefits and perks, exposure to scalable opportunities, and leading projects. All of this could have a positive influence on your resume and career roadmap by working with such an experienced and innovative team.
Most service-based companies have the same interview pattern:
Aptitude round
Coding round
Technical Interview
HR Interview
Check how you can prepare for the interview for a service-based company in detail by checking this article, "Interview Experiences of Service Based Company as a Fresher", where you can read how you can prepare for the aptitude round, coding round, technical interview, and HR interview. However, before jumping onto the interview preparation rounds, you need to write your resume with all the necessary details that can get you through the gates of top service-based companies.
To know more on how you can format your resume for top tech companies, read our most-loved articles:

Want us to help you format your resume just the way tech companies want, then start creating your resume here on GFG Free Resume Builder right now!
Now let's check how to prepare to get into the top service-based companies in India.
How To Prepare for Service-Based Companies?
Even if you are just starting out in your career as a fresher, you can pick go for a service-based company with your eyes closed. This is due to the fact that the market for service-oriented businesses is already established. It is not anything fresh that requires trial and error. As a result, there are alternatives for a better community for peer discussions and assessment; a reputable sector to work in, and increased job prospects and demand. To get into a service-based company, you need to do a thorough interview preparation and you can do that with the help of one of the most-popular GFG online courses – Complete Test Series for Service-Based Companies.
This is the one course you'll need to crack service-based company recruitment drives and examinations such as TCS NQT or Wipro's ENTH with ease. Besides improving coding skills, the course also helps you prepare for numerical aptitude and logical reasoning tests.
With this course, you'll also get mock tests of companies like Accenture, Capgemini, Cognizant, TCS, IBM, and Wipro so that you can prepare for the recruitment examination in a detailed and structured manner. Prepare For Top Service-Based Companies with GeeksforGeeks Complete Test Series!
However, in addition to learning and practicing the course material, you may undertake the following to get your chosen employment role at a business like IBM, TCS, Capgemini, Infosys, or Cognizant:
Work on your business communication, grammar, and verbal abilities.
Practice logical problems and other aptitude questions.
Examine past questions or test patterns for service-based companies.
Learn everything you can about the organization, including its business processes and IT services.
Practice as many code issues as you possibly can.
Strengthen your fundamentals in CS like Operating Systems, DBMS, Data Structure and Algorithms, and OOPs with the help of the above-mentioned GFG course.
Read more about how you can land a job in a service based company with the help of these articles – How to Land a Job in Service-Based Companies? and Prepare For Top Service Based Companies with GeeksforGeeks Complete Test Series!
Conclusion
In recent years, service-based companies have been important contributors to economic growth. Furthermore, with the solid need for services in areas such as banking, finance, insurance, and information technology, every service-based organization has shifted its pace to become a fast-growing corporation with cutting-edge technologies and techniques.
As a result, service-based companies in India have a vast pool of qualified individuals inside their market and will continue to grow to their full potential. Switching or considering your career in service-based ones is a great choice to start with.
Frequently Asked Questions on Service-Based Company
Q1. Is TCS a service-based company?
Ans. Yes, TCS is a service-based company. Tata Consultancy Service (TCS) is an integrated enterprise that offers consulting, engineering, and business solutions to India's leading corporations. This firm, which was founded in 1968, is today the largest multinational IT Indian company, with a market value of $169.2 billion.
Q2. Which service-based company is best for freshers?
Ans. This is a bit tricky question but we can recommend that Infosys is the best service-based company if you want to start your career as a fresher. Some sources also say that IBM is the largest and greatest service-based firm in the world, with over 300 offices and 3,45,000 workers. TCS, on the other hand, has a vast workforce of over 5Lac employees. Accenture is now one of the greatest service-based IT organizations in the world in terms of income from projects and project count.
Q3. What are some service-based companies in India?
Ans. To name some service-based companies, they're mentioned as follows:
Q4. How to switch from Wipro to a product-based company?
Ans. You can switch from a service-based to a product-based company but the road is quite tough to say. GFG has compiled a brief roadmap for you here – How To Switch From Service-Based To Product Based Company which you can refer to know the process.
My Personal Notes
arrow_drop_up