How Mobile Applications Have Made Our Lives Easier?
We live in an era where there is an app or a website for pretty much everything. You don't think so? Now, let's try to answer a few questions then:
Which app do you use to order commodities online?
Which app do you use to prepare for competitive exams?
Which app do you use to pay your bills?
Most of you would definitely reminiscent one or even multiple apps for each purpose, wouldn't you?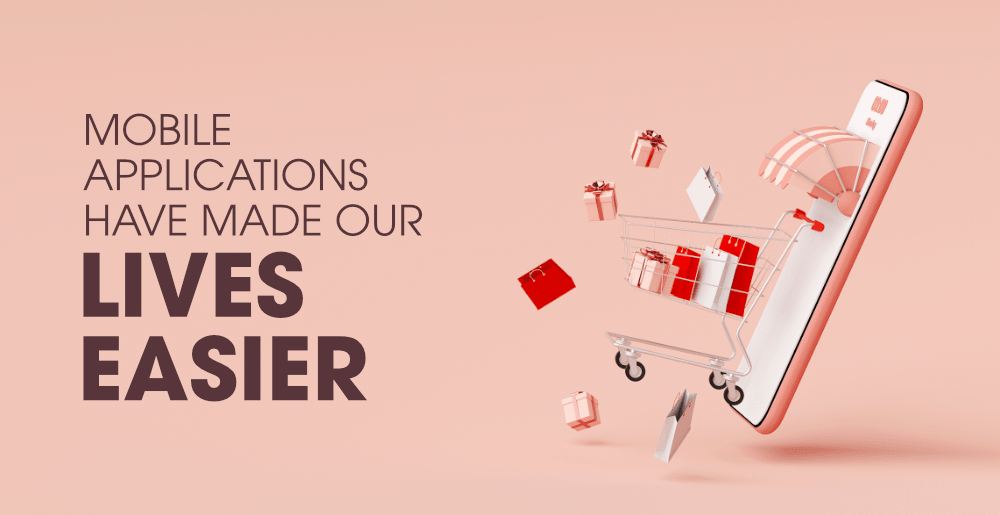 The world has seen many revolutionary apps serving different purposes in their own ways. These apps have not only speeded up our day-to-day activities but have also gained immense popularity amongst us. In this article, we will cover 5 kinds of apps that are serving as perfect catalysts for time-consuming tasks and making our lives a bit easier:
1. Electronic Commerce
Many years ago, if we were to purchase our daily requirements like clothes, furniture, fitness equipment, food products, etc, we would definitely spend a whole day roaming around different shops gathering different items in each step. But, what about now? Of course, we have popular apps like Amazon, Flipkart and E-Bay downloaded by hundreds of millions of users, which serve as the one and only solution for everything. E-Commerce apps put almost everything we need in one place to find, evaluate and add to the cart and this is not restricted to all-purpose alone. For instance, If we wish to specifically explore clothing, we have apps like Myntra and AJIO whereas if we wish to explore the products of a specific brand, there are brand-specific apps like the ones for Van Heusen, Tommy Hilfiger, Raymond, etc.
The recently popularized domain of E-Commerce turns out to be Pharmacy, which is increasing in popularity amongst the netizens. Apps like 1mg, PharmEasy, and MedLife are being downloaded by millions of users to get a variety of medicines delivered directly to their homes. There is still a lot of scope for this field considering the variety of domains that are to be covered by a variety of apps in the near future and thus simplify our shopping experience.
2. Online Meetings
Meeting and communicating with people from far-away places was a tedious job to do long ago but not anymore. The face-to-face communication which we target the most these days is being provided for by virtual means. Many apps provide the interfaces we need to communicate face-to-face online, using the microphone and camera on our devices and even written communication in the form of chat if we need to and thus address hundreds of virtual audience. Some of the examples of popular meeting apps include the most popular app – Skype, which has been downloaded by over a billion users. Other apps are Zoom Meetings, Cisco-Webex Meetings, Google Meeting, Microsoft Teams, Go-To Webinar, etc, all of which have been downloaded by tens to hundreds of millions of users.
3. Travel
This is also another industry that has saved us from the hassle of visiting the airports, train stations, bus stations, and other travel agencies. There are apps specializing in specific means of transport to cover any of our commuting needs. Many websites were originally created to make flight bookings on our desired dates and times with other specific requirements much easier. These websites were extended in the form of apps to personalize user experience and have been helping out millions of travelers worldwide. Some of the most popular ones include Goibibo, MakeMyTrip, and Yatra. Many of these apps were also extended to book hotel rooms simultaneously. Nowadays, apps for road transport such as RedBus and AbhiBus are also available. Needless to say, apps to book taxis or cabs such as Uber Ride, Ola and Rapido have gained the most popularity with Uber alone being downloaded by over 500 million users.
4. Food Ordering
Another popular industry that has resolved the problem of lack of delivery personnel in many hotels and restaurants. Many fast-food restaurants such as KFC, Dominos, McDonald's, and Subway have created their own apps with the objective of personalizing food ordering and delivering experience, user experience, and feedback. However, many other restaurants still have a major problem of not having the required manpower to deliver the food to the customers and are forced to reject many orders in the end. So, what if there was a third party that they could trust to get the job done? This is where apps like Swiggy, Zomato, Uber Eats, and Dunzo come into the picture. These apps serve as a one-stop solution to find and book orders in the restaurants of the users' dreams. Not only do they help recommend the best restaurants based on average customer ratings, but they also take user-specific requirements for each order into consideration which is a dream come true for both the restaurants and the customers.
5. Payment Apps
Last but not the least, we have the one and only revolution in digital payments. To understand and appreciate this even better, let's consider the following questions from our past:
Where would you go to pay the monthly electricity bill?
Where would you go to book a gas cylinder?
How long did you wait at the cinema theatre to buy your ticket?
How often did you visit the bank?
The answers to most of these would have involved traveling distant places numerous times and frequently realizing that the required places are closed for some purpose or the other. Such are the problems that online payment apps such as Paytm, PhonePe, Google Pay, and Amazon Pay tend to solve. These are the most popular apps being downloaded by over a hundred million users to date. While apps such as Amazon Pay and Google Pay help in paying any bill directly and securely from your respective bank account with the provision of Unified Payments Interface (UPI), apps such as Paytm and PhonePe provide an additional virtual account in the form of a virtual wallet which acts as temporary storage for a fixed amount of money resolving the issues of poor bank server coordination. Many banks have also realized the need for virtualized bank accounts and the numerous benefits they provide, especially in terms of promoting their banking services, and have started their own Net-Banking apps. Some of which include Yono SBI, Axis Mobile, HDFC, and U-mobile.
And with that being said, we wrap up the discussion! Now we know the variety of apps and the specific human needs which they targeted. Apart from these, there are many other apps in on-demand fields such as E-Learning, Exam Preparation, Job Searching, Daily News, Health Care, Trading, and whatnot. This is the era in which we find apps to accomplish our own unique requirements or create one as young entrepreneurs to accomplish another!!
My Personal Notes
arrow_drop_up