How Does Netflix Use Machine Learning?
What do you do when you want to watch the latest movies or series? Chances are you open Netflix of course! Whether you want to check out the latest season of the Crown or binge-watch all the seasons of Friends, everything is possible on Netflix. There is such a wide variety of shows and movies that everyone can find something they like. But when there are more than 14,000 options, how do you choose something to watch? Well, machine learning can be a big help in that. There are many applications of Machine Learning used by Netflix among which the most popular is their content recommendation system that tells you what you might like.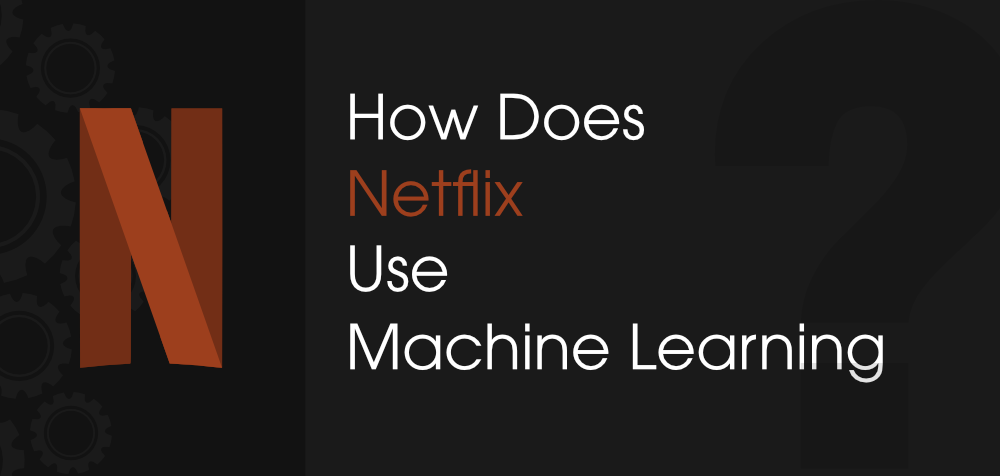 But that's not all! Netflix uses machine learning in almost all the facets of its working to provide a seamless experience for users. After all, the data collected by Netflix is huge which includes both the explicit data such as thumbs up or thumbs down for a movie and even implicit data such as data and location where users watch a particular content, the time they watch it for, what device they use, whether they binge-watch it or not, their content choices, online behavior, etc. All this data can be used for machine learning that ultimately improves the bottom line i.e. gets more subscribers for Netflix! So let's check out the different ways Netflix uses Machine Learning.
1. Content Recommendations
Go to Netflix and check your movie recommendations! Are they the same as your friends? No, your movie recommendations are totally personalized to your tastes and based on what you might want to want. So if you are a fan of horror movies, you might see more of the Witchy and Ghostly options while your friend may see cute love story options if they are a fan of rom-coms. But how does Netflix decide this? They use their recommendations system that is based on a machine-learning algorithm that takes into account your past choices in movies, the types of genres you like, and what moves were watched by users that had similar tastes like yours. This movie recommendation algorithm is very important for Netflix, as they have thousands of options of all types and users, are more likely to get confused in choosing what to watch next than actually watching anything. Here the movie recommendation algorithm can provide a clear guideline and help in what to watch. And it's your choice to follow it or not. If you are in the mood for watching Silence of the Lambs after Pride and Prejudice, then go for it!
2. Auto-generated Thumbnails
Thumbnails can make a lot of difference in whether a user will watch a movie or not. Just imagine you are browsing through Netflix and you see a very interesting thumbnail for a movie or series you've never watched. You will definitely click on the thumbnail and check out that movie (whether you light it or not is a different matter!) So the images on the thumbnail can make a big difference for the traffic to a particular movie or series for Netflix. That is why they have personalized auto-generated thumbnail images that are created according to the individual user's tastes in movies. Netflix uses machine learning to analyze your movie and series choices and understand what sort of thumbnail you are most likely to click. For example, the series Riverdale can have two different thumbnails, a sweet romantic version or a serious mystery version and you will see the one depending on your tastes. While Riverdale has both these aspects, the thumbnail according to your preferences will push you in at least checking out these series, and then you can decide if you want to stick or not!
3. Streaming Quality
What the worst thing that can happen when you are watching a movie? It's buffering of course! Buffering or low video quality takes you out of the movie totally and is very irritating. Netflix knows this, and they have tried their hardest to ensure that there is no buffering or loss of streaming quality when viewers are watching movies or shows. After all, those things can be killer and result in people switching to rival services like Amazon Prime or Hulu. But how does Netflix ensure the best streaming quality so that there are no glitches even during peak times? It cannot be easy since they have around 200 million subscribers all over the world. Netflix uses machine learning algorithms to predict the viewer patterns and understand when there will be general increases and decreases in viewers of spikes in viewing a certain movie or show. Then they can cache the regional servers that are much closer to the viewers so that there is no log in streaming or loading times even during peak popularity periods.
4. Locations for Shooting
Netflix is not just a streaming platform that showcases different movies and series. It is also a production company that creates and produces many fantastic movies and series! If you are interested, then check out Delhi Crime, Orange is the new Black, The Crown, Queen's Gambit, etc. which are all Netflix originals (and pretty good)! Anyway, Netflix needs to decide on the locations of shooting all these movies and series. There are many factors in choosing a particular location such as the cost and budget factors, scheduling conflicts for actors and crew, specific shooting requirements (like a desert, or coastal city, or night-time shooting), weather situation for a location, the possibility of gaining the permits from the local administration, etc. All these factors need to be considered by the production team before deciding on a location and machine learning can be a big help in this. A machine learning algorithm can be used to find a list of optimal locations in the world based on all the constraints that need to be satisfied.
5. Content Quality
Why is Netflix so popular? That's because it's not just a streaming platform but also an experience for all its users. The beautiful user interface, the personalized recommendations, the variety of subtitle options in each language, the creative original productions, all of these make Netflix what it is! Just think, would you be addicted to Netflix if their quality were not so good? No. That's why managing content quality is such an important part of Netflix. And they use Machine Learning for this as well! Netflix has created a supervised quality control algorithm that passes or fails the content such as audio, video, subtitle text, etc. based on the data it was trained on. If any content is failed, then it is further checked by manually quality control to ensure that only the best quality reached the users. After all, you probably wouldn't watch Stranger Things on Netflix if the subtitles were wrong or the audio was lagging behind the video.
Conclusion
As you can see, there are many ways in which Netflix uses Machine Learning. All you see on the site, including your main page and even the recommendations, are all personalized according to your tastes. And this is just the starting! All the facets of your user experience including the seamless video quality, thumbnails you see, the subtitle and audio quality, etc. have some part of machine learning. So the next time you are watching Stranger Things on Netflix, remember that you are not just watching a series but a blending of entertainment and cutting edge technology to provide you this experience.
My Personal Notes
arrow_drop_up