How are Tech Companies Helping Fight COVID-19?
COVID-19 has done something that was considered impossible until now. It has brought the whole world to a standstill and confined people to their homes in all parts of the world. In such a difficult situation, the only way forward is to work together to limit the negative impacts of COVID-19 so that the maximum number of people can survive this epidemic with minimal impact on the economy so that people still have jobs when this is over.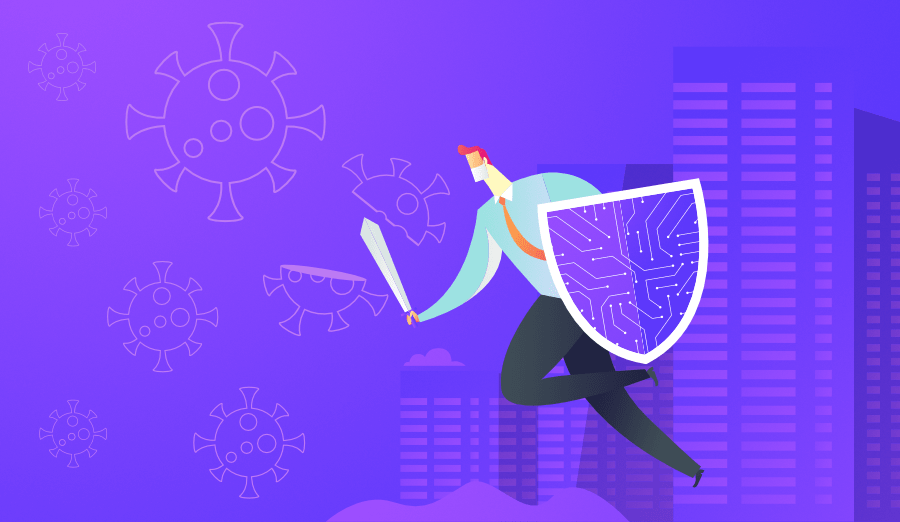 Thankfully, many tech companies are working together and with various central governments to help in reducing the damage caused by COVID-19 as much as possible. There are mainly two ways companies can go about this, one is to provide their technical resources in helping to diagnose the virus, creating a vaccine, preventing the spread of misinformation, etc. The other way is to provide financial help by supporting their employees so that they don't lose their jobs, providing aid to many people who have lost their jobs and other humanitarian efforts. Tech companies are helping people using both these ways by using all the resources at their disposal. So let's see how five very popular tech companies, in particular, are dealing with this epidemic and helping fight COVID-19.
1. Google
Google is the biggest and most famous tech company ever! So it stands to reason that it can help in this fight against COVID-19 by providing the correct information to the people and also supporting the government using technology. And Google is trying it's best! It is working with the US government to create a website that provides all the resources and information about COVID-19 in one place. In the meantime, all Google products like YouTube, Google Search, etc. are providing updated information about COVID-19 to people so that there is less panic due to misinformation.
Google is also contributing in more direct ways by trying to identify the working of COVID-19 so that scientists can develop a vaccine. AlphaFold system is a neural network that is designed to predict the protein structure of any given compound. As you may have guessed, Google is using AlphaFold to predict the protein structure of SARS-CoV-2 which is the particular virus that causes COVID-19. If Google is able to manage this, it will be extremely helpful to the scientific community in developing a vaccine as soon as possible.
Verily Life Sciences, a sister company of Google is also working to detect COVID-19 in people. It has developed mobile centers where all registered users can get free tests to see if they have COVID-19 or not. While this is an experimental initiative only in California and Pennsylvania, if it is successful it may expand to other states in the USA or maybe beyond the country.
2. Microsoft
Microsoft was the first company that initiated work from home for its employees following the outbreak of COVID-19. They have also provided other relief measures to their employees like paying freelancers their hourly wages, paid leave for employees with young children who can't work from home, etc. All in all, the productivity of Microsoft employees hasn't decreased with working from home, proving that it can be done without issues!
Microsoft has also partnered with the U.S. Center for Disease Control (CDC) to create a chatbot called the COVID-19 Self-Checker which is available on their website. This chatbot allows people to analyze their symptoms to check if they have COVID-19. If they do, then it also helps in checking the severity of their symptoms and provides access to medical professionals in extreme cases. This COVID-19 Self-Checker chatbot is based on Artificial Intelligence and built using Microsoft's Azure public cloud service.
Microsoft is also helping to manage the spread of misinformation about COVID-19 by creating a real-time interactive map of the regions affected by COVID-19 on their Bing dashboard. This map uses data collected and approved by the World Health Organisation, the U.S. Centers for Disease Control and Prevention, and the European Centre for Diseases Prevention and then displays information about the number of infected and recovered people all over the world.
3. IBM
Just like other tech companies, IBM is also doing all it can to help in fighting the COVID-19. To fight the spread of misinformation, IBM has trained its Watson Assistant to answer any questions people may have about COVID 19. The IBM Watson Assistant is a conversational Artificial Intelligence platform that has been trained using the U.S. Center for Disease Control (CDC) data guidance about COVID-19.
IBM is also a part of the COVID-19 High-Performance Computing Consortium which is created by a combination of the White House Office of Science and Technology Policy, the U.S. Department of Energy and IBM. This consortium aims to provide some of the world's most powerful and advanced computers (such as those that IBM has) to scientists so that they can complete research and computations in areas like bioinformatics, molecular modeling, etc. much faster. Carrying out these computations on normal computers would take months compared to hours on supercomputers and this will help in developing a vaccine quickly so that COVID 19 can be stopped.
IBM is also providing detailed tracking data about COVID-19 on the Weather Channel by using data collected from various governments, the World Health Organisation, the U.S. Center for Disease Control and Prevention, etc.
4. Apple
The outbreak of COVID-19 has hit Apple pretty hard as most of their production occurs in China and a lot of their customer base is also in China. However, Apple has recovered and is doing a lot to manage the impact of COVID-19 on the world. Apple has updated Siri to answer any questions people may have about COVID 19. Siri also allows people to check if they have COVID-19 by answering YES or NO questions related to their symptoms.
Apple has also partnered with Google to enable Contact Tracing so that people can identify if they ever came in contact with someone who has COVID-19. This will be done using third-party apps that users can download using the iOS and Android app stores. These apps will allow contact tracing using Bluetooth so that people will get an alert if they ever came into contact with someone who afterward tested positive for COVID-19 and then they can exercise precaution so that they don't spread it further if they have it.
In addition to these measures, Apple is also helping its employees as much as possible. They are still providing hourly wages to their employees who are unable to work as their job is not possible under work from home conditions, such as retail employees. Apple has also matched its employee donations two-to-one on a national and international level and donated around 10 million masks to the hospitals in the US.
5. Amazon
Amazon is also working to protect it's employees as much as possible. While they have not provided work from home everywhere as it is not possible for delivery people and Amazon warehouse workers, they have provided masks for their employees and implemented temperature checks to reduce the spread of COVID-19 as much as possible. They have also increased the pay rates of their hourly employees by $2/hour in the U.S and €2/hour in many of the European countries. Amazon has also opened up 100, 000 new jobs to manage delivery demand and also support people who may have lost their jobs because of COVID-19.
Amazon Web Services has also launched the Diagnostic Development Initiative that will help scientists using AWS to conduct research on the accurate and fast diagnosis of COVID-19 as a diagnosis is the first step in eradicating this crisis. Moreover, diagnosis is often underfunded and so AWS is providing scientists with reliable and scalable computational power along with services like machine learning so that they can process and analyze data much faster in order to reduce the time taken for COVID-19 diagnosis. To fund this project, Amazon is providing an initial investment of $20 million that will help in increasing the speed of diagnosis for COVID-19 and other infectious disease outbreaks in the future.
Amazon is also using Alexa which is an artificial intelligence virtual assistant to provide information about COVID-19 and answer any questions people may have. Alexa uses data from credible institutions like the Center for Disease Control in the USA, Indian Council for Medical Research in India, etc.
My Personal Notes
arrow_drop_up