GRE 2021 Preparation Test Series – Boost Your Preparation
Graduate Record Examination (GRE) is a computer-based test conducted in a consistent and administered manner for the aspirants having admission requirements in Post-Graduation courses like MS, MBA, Ph.D., etc. in the colleges or universities of Canada, The United States, and other foreign countries. In general, this test is conducted in two modes – First is GRE General Test and the second one is GRE Subject Test. The first one measures your skills i.e reasoning and writing which you have developed in a certain period, while the second one is an achievement test emphasizing more on your knowledge about a particular field of study.
To clear all the tests of GRE, you must be proficient in solving the questions of Analytical Writing, Verbal Reasoning, and Quantitative Reasoning. And such proficiency while solving problems demands higher efficiency as well. For achieving that, it becomes essential to create a roadmap that appreciates competent preparation strategies consisting of quality study material and proper guidance.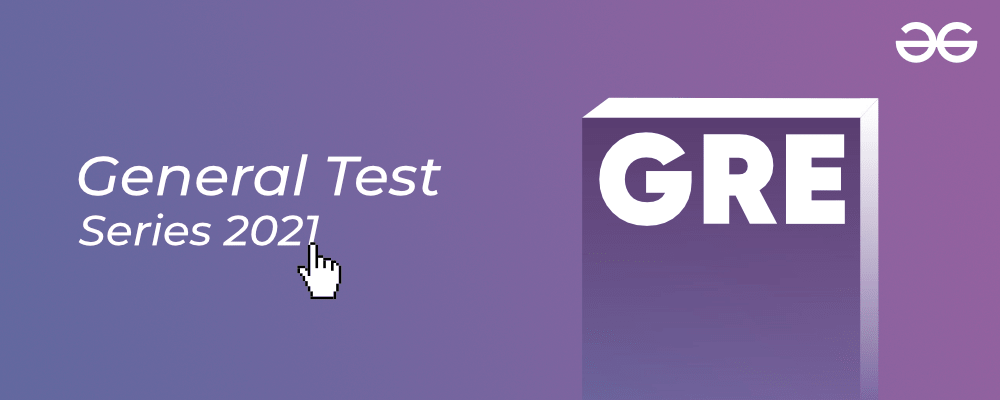 No doubt, you would want to follow those preparation strategies that can get you a perfect GRE Score (320+). Keeping this in mind, GeeksforGeeks introduces you to its GRE 2021 General Test Series through which you can adapt well the GRE preparation strategies and boost your preparation to score outstandingly in the actual exam. This test series will help you to level up your GRE preparation game by providing you with quality learning content and resources.
Course Details
This GRE 2021 General Test Series is extensively designed considering the latest pattern of GRE and ensures to resemble the standard of GRE. The course consists of Practice Tracks, Mock Tests, Important Articles on GRE 2021, etc. Also, the Question Papers in this GRE Test Series are designed by experts as per the revised syllabus of GRE 2021, and you will be provided with detailed explanations as well for the complex questions after the test completion. It will surely help you in clearing the doubts and improving your problem-solving skills.
Some of the additional benefits of GRE – General Test Series 2021 are:
Weekly Assessment Tests
Track-Based Learning
Though the actual price of this course is Rs. 999/-, we're providing it to you at a discounted price of Rs. 499/- Before you purchase the course, take a look at the registration process divided into these steps: –
Step 1: Visit GRE 2021 General Test Series.
Step 2: Below the Course Description, there is a green-colored Sign-Up Now Button. Click that. Then, you need to fill in your details like Full Name, Country, Phone Number, Email ID, College/University Name, and Year Of Graduation.
Step 3: You must now click the Save-and-Next button. This will direct you to the last step i.e. Payment. Here, you can select options like PhonePe, Amazon Pay, UPI, or any other for paying the course's amount.
Step 4: Start your preparation journey after making the payment as you are all ready to access the content.
Course Content
The content for the GRE – General Test Series 2021 is as follows:
1. Important Articles on GRE 2021
Introduction of Graduate Record Examinations
How to Prepare for the GRE General Test
Important Tips on How One Should Prepare for the GRE
Analytical Writing Section in GRE General
Verbal Section in GRE General
Quantitative Reasoning in GRE General
Experimental Section in GRE General
How to Prepare a Word List for the GRE General Test
2. Verbal Section
Verbal Section – I
Verbal Section – II
3. Quantitative Reasoning
Quantitative Reasoning – I
Quantitative Reasoning – II
4. MOCK Tests
GRE Full Mock Test 1
GRE Full Mock Test 2
GRE Full Mock Test 3
GRE Full Mock Test 4
GRE Full Mock Test 5
Note: The questions included in the content are thoroughly researched and adhere to the 2021 GRE Pattern.
Frequently Asked Questions (FAQs)
1. How should I register for GRE General Test Series?
All you should do is visit this link for registering for GRE Course – GRE 2021 General Test Series. If in case you haven't registered yourself with GeeksforGeeks, then create your account for free at our portal. You can also SignIn using Google/Facebook. Then you can pay the required amount and start practicing the course.
2. What should I be paying for these Test series?
The actual price of this course is INR 999/- but it is being provided to you at a discounted price of INR 499/-
3. What are Section-wise practice Tracks?
Since there are two – two sections on Verbal Section and Numerical Section, so we will provide you a total of 4 tracks/sections (i.e., section-I and section-II of Verbal and section-I and section-II of Quantitative Reasoning. Each section has a total of 20 questions with their explanations). Questions in the Tracks will be arranged based on the topic and complexity, which will very useful while solving. These tracks/sections can be attempted before Practice Mock GRE Tests by GeeksforGeeks.
4. Will I be getting solution/solutions after attempting the Test?
Yes, we will be providing a detailed explanation after the test is completed for the given complex questions. This will surely be helping you and the other aspirants clear the doubts [side-by-side] thereby improving the problem-solving skills.
5. What can be the expected time duration of individual tests?
Actually, there is no time limit for those individual tests like Test-I, II, III, And IV. However, any of the Full-length mock tests have a duration of 150 mins.
6. What are the contents of the course?
The course includes Practice Tracks, Notes & Blogs, and Mock Tests.
In case of any further query and doubt, please contact us at geeks.classes@geeksforgeeks.org
My Personal Notes
arrow_drop_up