Get Hired With GeeksforGeeks and Win Exciting Rewards!
Imagine a situation of visiting a game parlor or adventure park, having ultimate fun there, and coming back home without paying a single penny there and in fact, receiving some exciting rewards or cash benefits from them.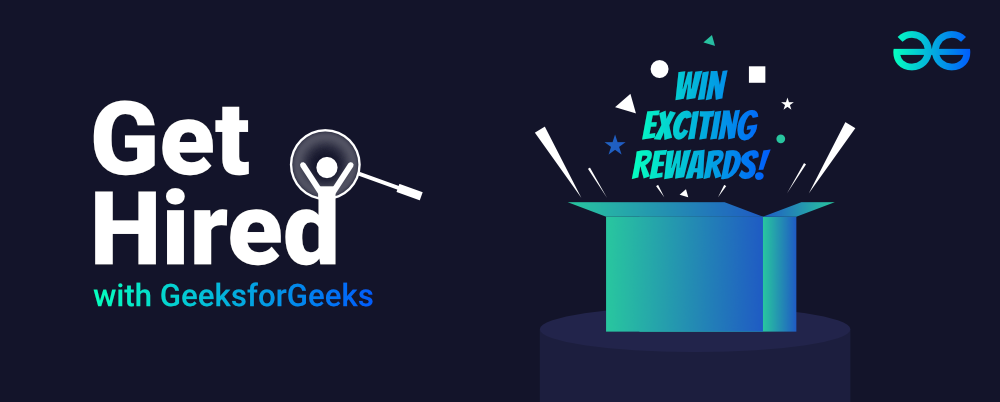 Sounds unreal, right…??
Okay, let's make it real at GeeksforGeeks! Most probably, you would've heard about 'Get Hired With GeeksforGeeks – GFG Job Portal'. Those who don't know let us tell you it is basically concerned with a job portal that helps you to find genuine, well-paying, and worthwhile job opportunities without any hassle or charges.
At GFG Job Portal, you can search and explore plenty of job opportunities by applying various enriching filters including job location, salary, work experience, etc. Further on, you can apply for these jobs from anywhere and anytime without any cost. Not only this, but the GFG Job Portal is also helping out the recruiters to find the ideal workforce for their respective organizations, and many leading companies like Amazon, One Plus, Rapido, Milkbasket, Hike, Wiley, etc. have already teamed up and get benefited from the portal.
Also, there is the GeeksforGeeks Jobathon, which falls under the GFG Job Portal's features & initiatives. GeeksforGeeks Jobathon is a 2-hour long hiring challenge for freshers that is conducted by GeeksforGeeks on monthly basis to provide all the individuals with remarkable job opportunities or to connect suitable candidates to leading tech companies.

Here, what you need to do is – first, visit the official page of GeeksforGeeks Jobathon, register yourself for the ongoing contest then go through the job descriptions of all the respective companies and subsequently register for 1 or more companies that you are interested in. The job descriptions of the openings can be visited through the contest page itself. You must remember that your profile will only be considered for a company if you have registered for it.

Visit this link to get the detailed information regarding GeeksforGeeks Jobathon.
Now, coming back to the point, GeeksforGeeks has planned something more exciting under GFG Job Portal – basically, Amazon vouchers would be given to all the candidates who got the placement through the Job Portal or Jobathon, after they join the organization. Yes, you heard it right! You'll get rewarded for getting the desired job using GFG Job Portal.
The breakup of the vouchers is as follows:
If the candidate got the placement and joined as an intern – then he would get an INR 1000 Amazon voucher.
If the candidate got the placement and he's fresher – then he would be getting the voucher for INR 2000.
If the candidate is placed and joined as experience range between 6 months to 3 years – then he would be getting the Amazon voucher of INR 3000.
If a candidate is placed in an opening with more than 3 years of experience – then he would be getting an Amazon voucher of INR 5000
Note: All the above rewards would be only valid when the candidate joins the organization.
This initiative is actually being taken by GeeksforGeeks to appreciate the efforts of the candidates and celebrate their success in getting into their targeted job. So, if you've got placed in the targeted company using GFG Job Portal then don't forget to get these amazing rewards and if you've still not visited or used the GFG portal, then what are you waiting for – go and make the most out of the GFG Job Portal!
My Personal Notes
arrow_drop_up