GeeksforGeeks Student Chapter
GeeksforGeeks Student Chapters are university-based community chapters creating a coding culture for students interested in Computer Science and other core technical competencies. By joining the GeeksforGeeks student Chapters, students will have the opportunity to:
Get an internship at GeeksforGeeks.
Grow their knowledge in a peer-to-peer learning environment.
Learn to build effective and optimized solutions for local businesses and their community as per the latest technology trends.
Great learning and networking experience.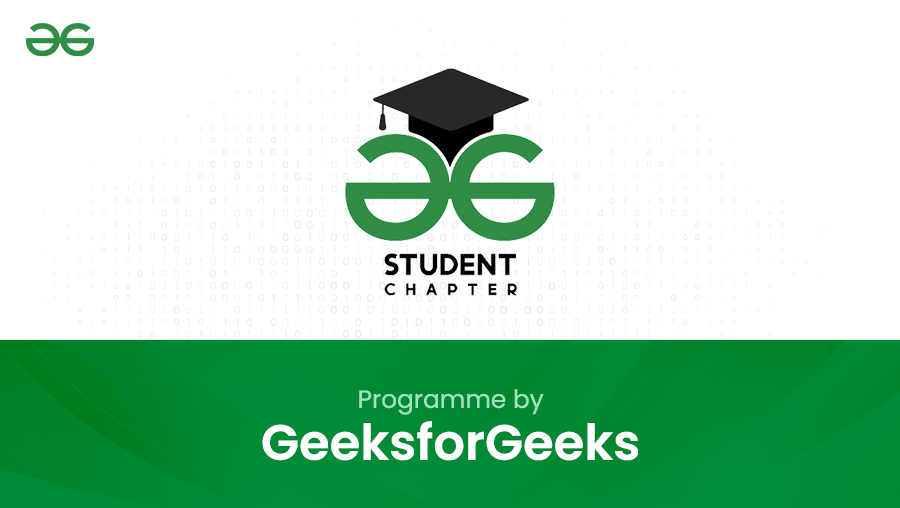 Establishing a GeeksforGeeks student chapter is not a single-day task. It requires true leadership skills as well as honest dedication or zeal to work for the betterment of the student community. Your vision will decide the future and impactfulness of your chapter.
Note: Don't forget to mention the scope, your first initial steps and vision for the chapter, and how it's going to add value to the student's life with the help of GeeksforGeeks.
As per the official procedure, you are suggested to write an official mail to your respective DEAN and HOD of your department that you want to establish a GeeksforGeeks student chapter with your mentioned vision. After receiving their approval, Kindly Forward the acceptance mail to student-chapters@geeksforgeeks.org.
Community Guidelines to remember: Remember you're the torchbearer of your respective student chapter, always stay humble and be confident.
Though we have a lot of confidence in you to have complete sync with you, it is very important for you to report every event or project development that your chapter organizes.
You need to submit a report about the events that are done and the progress status.
The Core team you select should not exceed the length of more than 7-8 members, and after that, you can recruit more students who are willing to be part of the student chapter as per the requirement and response.
You should organize a proper systematic recruitment Drive to select the Core team Committee members and volunteer team members. Selection should be done unbiasedly not based on references but based on their skill assessment and how they will bedding to the GeeksforGeeks students Chapter.

Certification Policy: Certification will be only provided to Chapter Lead and Seven to Ten Core Committee members.
CORE TEAM MEMBER'S RESPONSIBILITIES:
Vice-Chairperson: He/she will be responsible for overseeing the activities of chapters and the progress of various departments. He/she may act as a temporary chairperson in the absence of the chairperson. His/her responsibilities will be to keep a track of all the meetings and events. His/her main focus will be to maintain all records properly for future officers to look and follow in the same footsteps and come up with the best events possible.
Technical Head: He/she will be helping the Society in Tech-related events. His main focus will be to build and maintain an app/website for the GeeksforGeeks Student chapter where we will be sharing all the Scheduled events, facts, articles, etc. They will guide the juniors regarding technical stuff, and teach them the fundamentals of programming and core latest trends in technologies.
Events Head: He/She will organize a smooth event for students to gain maximum knowledge of it with utmost ease, and provide hospitality to others involved in the process as well by arranging and managing all the required resources wisely. Be it the booking of venues, making sure that all required amenities are working properly.
Design/Branding Head: He/She will be responsible to make all graphics and audio/video edits related to promotion and marketing and other purposes.
Public Relations & Outreach Head: He/She will communicate and invite learned speakers for educational sessions. They will be responsible for collaborating with other chapters for major events.
Marketing Head: He/She will target to spread awareness regarding the upcoming technologies and the upcoming events and work in the sole collaboration of the PR team.
Social Media Head: He/She will be responsible to create and maintain a platform wherein interaction and communication with students becomes more efficient and effective. He/She will plan to engage more and more students with the chapter's social media platform in the upcoming time.
Note: The lead should be in the third year of graduation and should serve for 6 months.
Guidelines for Social Media accounts:
First Step: There are chances that someone from your college has previously opened a page on insta and FB in the name of GeeksforGeeks as they might have represented GeeksforGeeks earlier from your campus. So first identify such information and if the page/account exists then let us know we can help you to get access to that as we might have rights to that page/account with us or we can connect you with the page/account owner.
Second Step: If you don't find any page/account then you can create a new one with "Username – GeeksforGeeks-College Name" and if you already have one it will be great if your team can rename it. So that we will have a generic way and people can find your official page easily.
Procedure to organize an event in your society:
You can plan any event which includes all the creativity and knowledge to students and also that particular event should add value to the students participating in it.
Draft the event properly and make a detailed document regarding what you guys are organizing and what will be the features and what value you guys will be providing to the students participating in your event.
You have to fill the form that describes the event information to us. (This will be an information form that an event is planned in the name of geeks for geeks and we will provide you with our feedback and changes required if ensure the smooth running of the event.) We will be also listing that event on our website to get you a good amount of participants as well.
In case you need some sponsorship for the event you can inform GeeksforGeeks regarding this. You may also approach other sponsors as well by building good proposals inclusive of event details to grab their attention.
Frequently Asked Questions related to GeeksforGeeks student Chapters (Because intelligent people always have doubts before understanding anything)
How will GeeksforGeeks student Chapters help students?

GeeksforGeeks student Chapters will provide students with various events and webinars on coding or placements.
Students may get internship opportunities at GeeksforGeeks.
Along with all these students can get exclusive discounts on GFG courses
You will get an opportunity to organize your competition on a PAN India level.
It will help students to grow a network among 145+ colleges.

Is this a kind of promotional marketing scheme?

No, it aims at building a community in every college that can produce the best techno-crates and industry-ready professionals.

Can I choose my teammates?

Yes, it's your GeeksforGeeks Student Chapters at the end, so you are free to take anyone on your team and it depends upon you or you can release a vacancy notification among your college students so that interested ones can apply.

What perks will me and my team get from GFG?

You and your team will get Certified by GeeksforGeeks
When you organize an event with GFG as a sponsor, then also your organizing team will get appreciation rewards from GFG.
You may get an internship opportunity at GeeksforGeeks.

How will GFG support us?

You will get expert mentors for webinars/workshop sessions through GFG.
You will get your events sponsored by GFG.
You can interact and seek help from experts at GFG.

How is it beneficial for my college?

If you have a GeeksforGeeks student Chapters on your campus, your campus will be in direct contact with Geeksforgeeks hence in the future it college may get offers from GFG or other companies for placement drives and other available opportunities.

Role of the Faculty Coordinator?

The faculty advisor will be a link between the GeeksforGeeks student Chapters and the College Management to whom the GeeksforGeeks student Chapters will report their progress.

What are the minimum requirements to start a GeeksforGeeks student Chapter at my college?

Consult the faculty coordinator for your GeeksforGeeks student Chapters.
Get your GeeksforGeeks student Chapters approved by the college
Forward the acceptance mail to student-chapters@geeksforgeeks.org

How to proceed after completing the requirements?

Once you completed all the requirements and approvals. Start with a WhatsApp community and ask people to join the same.
Plan some webinars on your level or with GFG in the initial week or two.
Plan a competition or event with GFG or on your own.

What are some of the events we can organize?

You can have Coding Events through GFG IDE.
You can have a webinar session through GFG.
You can organize a webinar with someone from your network who is good at the domain you are interested in.
Rest, It is open to your creative imagination.

Are all the events organized by GFG?

No, GFG won't organize and sponsor all the events, you have to come up with new ideas and approaches for every new event and webinar.

Can I collaborate with other clubs?

Yes, you can collaborate with other clubs to organize events.

What benefits as a GeeksforGeeks student Chapter lead?

You will be titled President of the reputed GeeksforGeeks student Chapter of your respective college certified by GFG.
You will have all veto powers related to the GeeksforGeeks student Chapter president.
You will Improve your Leadership, communication skills, and management skills.
You may have a chance to grab an internship opportunity at GeeksforGeeks.

There are many other clubs as well in my college. Why should I make a new one?

There might be other clubs but this one will be backed by GFG, which separates it from the rest, as GeeksforGeeks is famous for placement preparation and will extend the support to all the students associated with the student chapter.
My Personal Notes
arrow_drop_up