GeeksforGeeks Skill-Dependence Days 2020 – A Battle Against Unemployment
Though it's been more than 70 years of Independence (and yes, we're very proud & grateful for it), still we're fighting with one of the major stumbling blocks i.e., Unemployment which is refraining us from getting into the real context of freedom. But…now, it's time to liberate yourself from the shackles of unemployment, and in this battle, GeeksforGeeks is standing up with all geeks in all possible ways. And with the same concern, GeeksforGeeks is coming up with Skill-Dependence Days – A Fight For You. A Fight With Unemployment. Isn't it exciting enough?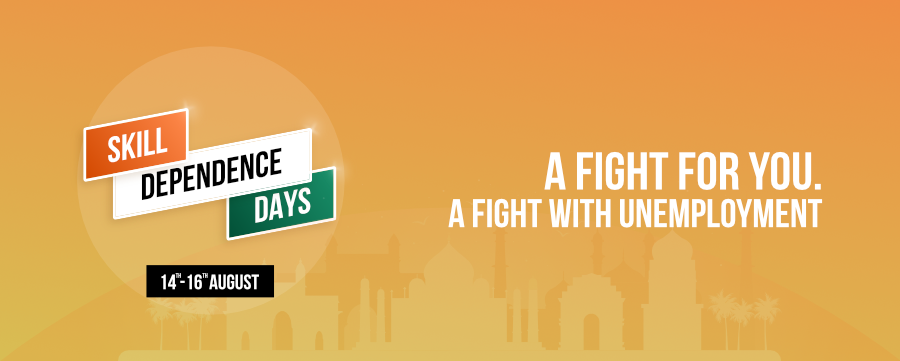 GeeksforGeeks Skill-Dependence Days will not only help you to enhance your skills & fight against unemployment but will also give you the utmost exposure and enriching experience. Moreover, whether you're a student or a working professional, everyone is welcome to become a part of this absolute journey of Skill-Dependence Days!!
* The GeeksforGeeks Skill-Dependence Days are scheduled from 14th to 16th August 2020. Do Register Yourself!!*
What are Skill-Dependence Days?
Now, you must be curious to know about Skill-Dependence Days, right? Okay, GeeksforGeeks Skill-Dependence Days is a 3-day march against unemployment where you can come and explore all the opportunities we have for you to develop your skills. You'll get various prestigious GeeksforGeeks courses on a heavy discount, live sessions from industry experts, exciting coding challenge, and many more. Meanwhile, you're strongly recommended to free your schedule for these 3 days, so that you can actively participate in Skill-Dependence Days, and take a step forward towards achieving your career goals.

Now, let's take a look at all the amazing & worthwhile features of Skill-Dependence Days:
1. INR 90 Lakh Cashback Pool Offer
Yes, you heard it right!! GeeksforGeeks is coming up with its most-awaited new course Complete Interview Preparation With Doubt Assistance. The course consists of pretty much everything you could ask for to get into your dream job!! The first 3000 users to enroll in this course will receive an INR 3000 GeeksforGeeks Voucher upon successful enrollment. And the voucher will be provided to you in course enrollment confirmation mail. Moreover, you can use this cashback to enroll in other courses at GeeksforGeeks and upgrade your skills to land your dream job. Now, what else you need?
2. Skill Dependent Courses
Let's start with one of the most demanding and recommended attributes of Skill-Dependence Days – Skill Dependent Courses. Yes, we know that sometimes it becomes quite unaffordable for the students to pay huge prices for online courses. And that's why GeeksforGeeks is offering a special discount on all its courses on Skill-Dependence Days so that you can get all the required courses on astonishingly low prices. Moreover, there are several new courses as well that are ready to be launched on Skill-Dependence days with a special discount. Indeed, you can grab the best deal on prestigious GeeksforGeeks courses to enhance your skills with just a single click. Some of these courses are mentioned below:
Upcoming Courses:
Heavily Discounted Courses:
3. Seminar Section
Here comes another interesting facet of Skill-Dependence Days – Seminar Sections!! Here you'll be provided the opportunity to attend the seminars that will be offered by various industry experts and top speakers to guide you for achieving your career goals. Indeed, the effective & constructive guidance (and that too from the experts!!) can take you a long way. Meanwhile, you'll get 9 seminars in these 3 days i.e. 14th-16th August 2020. Let's take a look at the seminar details:
4. Skill-Dependent Coding Challenge
Needless to say, any battle for freedom is incomplete without facing the challenges. No worries, in Skill-Dependence Days, we've designed a coding challenge for you that is going to test your skills and knowledge of programming. The contest will be based on the TCS NQT exam and the contest will consist of aptitude, verbal, programming logic, and one coding question.
Moreover, the top 10 performers in this coding challenge will get the TCS Interview Preparation course at zero cost i.e. FREE! Also, the other participants will get various discount offers applicable to this course.
Note: The programming languages supported for the contest are: C++, Java, Python.
5. Today's Freedom Fighters
For each day of Skill-dependence Days, we've set up various stalls to give you some worthwhile and exciting offerings. You must come and check them out to see what we have in store for you and to grab the best opportunities. Meanwhile, we're offering various offers on our courses, etc. to our geeks, (or you can say freedom fighters!!) to make it more feasible for them. The offer will be valid on a particular course for that day.
6. Spin The Wheel
Last but not least, GeeksforGeeks Skill-Dependence Days brings you – Spin The Wheel. You're required to spin the wheel to see what fate has in store for you. Meanwhile, you can get special discount offers on various GeeksforGeeks courses by spinning the wheel. All you have to do is enter the required details such as name, email, etc. and Spin the Wheel.
With this Skill-dependence Days opportunity, we at GeeksforGeeks want to let you know that we care about our geeks who are daily raging a fight against unemployment. And yes, we stand by you to hold your back to make you achieve your career goals. Though you're just one more step away from freedom, so be a part of GeeksforGeeks Skill-dependence Days, grab some worthwhile opportunities to enhance your skills, and become the best version of you this Independence Day!!
My Personal Notes
arrow_drop_up