The core vision behind the GeeksforGeeks School initiative is to provide school students with quality learning resources and to make the learning process better than ever for them. From free coding courses for kids to beginner-level online courses for numerous tech skills to concepts, exercises & solutions of various subjects for Classes 8 to 12 – there's almost everything for school students! Here, we will introduce various technological advancements such as animated videos, live-streaming, campus programs, etc. for a more engaging and worthwhile learning experience for students.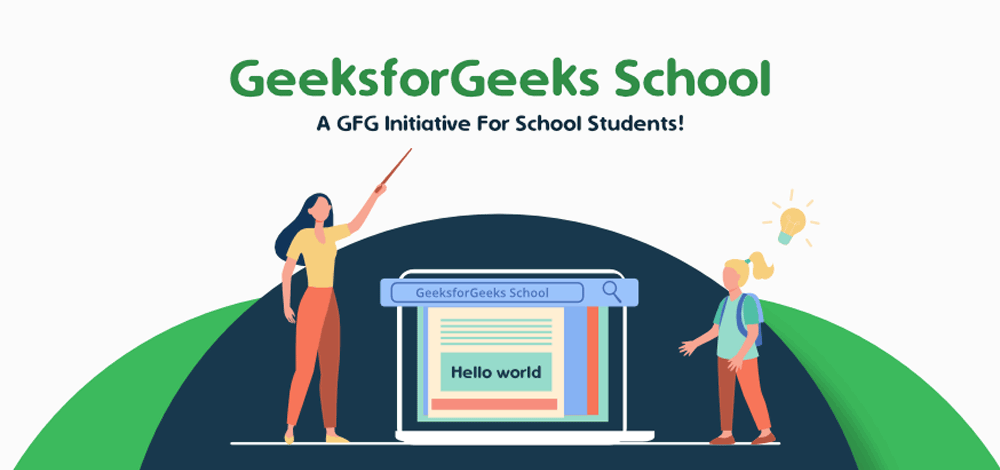 You will get quality notes, video lectures, articles, and practice tracks on various subjects without any cost or at very much affordable prices! We have categorized GeeksforGeeks School into the following parts:
CBSE Class 8 to 12 Syllabus, NCERT Solutions, Notes, Previous Year Papers
CBSE Board Previous Year Paper 2022
CBSE Board Exam Syllabus
NCERT Solutions
RD Sharma Solutions
CBSE Notes for Class 8
CBSE Notes for Class 9
CBSE Notes for Class 10
CBSE Notes for Class 11
CBSE Notes for Class 12
GeeksforGeeks Beginner-Level Courses for Students
GeeksforGeeks is providing amazing courses to all young ones or school students. These specifically and carefully crafted interactive courses will surely encourage out-of-the-box thinking among students leading to clarity in concepts, creativity, and innovative ideas. These courses are designed by Industry Leading Gurus who are experts in their respective fields and will guide you throughout the learning journey. Some of the enriching school courses that are available here are:
School Guide: Learning Roadmap For Young Geeks: Learning to code at an early age helps students in developing vital 21st-century skills, and allows them to understand the connected world better. That's why at GeeksforGeeks! We've curated a computer programming free self-paced course, specifically designed for all curious young coders ranging from class 1 to class 12, where they'll explore the world of Game Making, App Making, etc. using scratch and thrive themselves in the fascinating world of computer science.
Python Programming for School Students: Python is strongly recommended to beginners or school students to get started with coding due to its ease of learning. This Python course by GeeksforGeeks entails a variety of theories along with activities to let your child understand the foundations of Python.
Java for Beginners: It is a beginner-level course that has been designed to build and strengthen your programming basics using Java. This course introduces computer programming fundamentals using the JAVA programming language in the easiest possible manner and here, you'll learn the basics of Java so you can advance to tougher concepts and how to solve coding questions easily and efficiently.
C for Beginners: This course has especially been designed for absolute beginners who want to build their programming foundation through C. It doesn't matter if you are in high school or are in the first year of your college, if you have the curiosity to learn to code, then this course is for you. Also, as it is a self-paced course, you can learn all the concepts at your own pace and time.
School Ambassador Program
The GeeksforGeeks School Ambassador Program is a program consisting of Geeks from all over the country who are ready to lead their younger generation toward greatness. You will be part of a community of Geeks and will start a community of like-minded people within your schools. A good amount of guidance at an early stage goes a long way. So if you think you're somebody who can lead and extract greatness out of individuals, this opportunity is for you.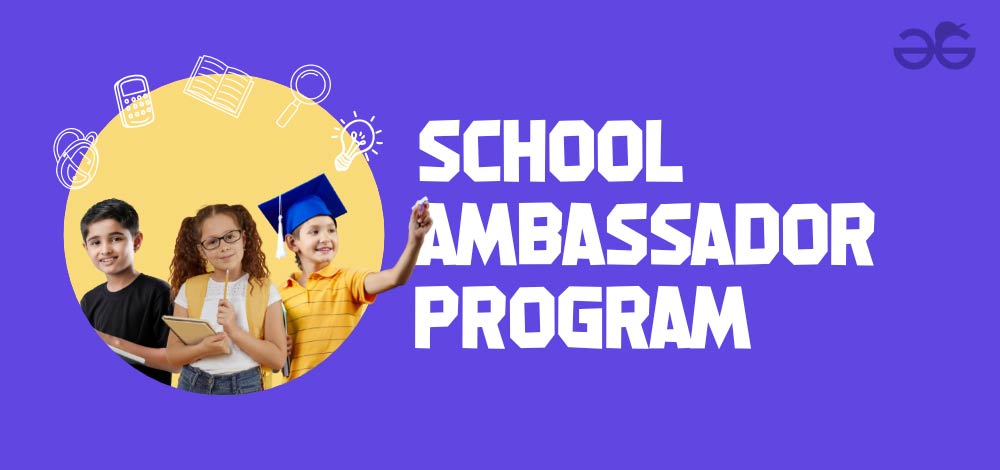 So what are you waiting for? Be the Wonder Woman or Superman of somebody's journey and apply for this program today!
My Personal Notes
arrow_drop_up