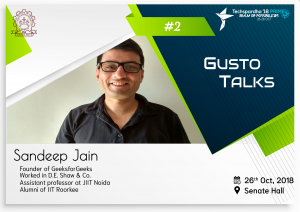 Techspardha is a three day techno-managerial festival of National Institute of Technology, Kurukshetra with more than 60 events. It witnesses an active participation from over 30 NITs, IITs, and other institutes of repute across the nation every year. The underlying philosophy of Techspardha is to promote creative thinking, showcase innovative technology and encourage students to explore new frontiers in technical as well as management thought.
With a plethora of events ranging from development and robo-wars, to hackathons and paper presentation, from quizzing events to coding, Techspardha is a perfect recipe for anyone who wishes to broaden their horizons and soar above the ordinary.
This year Techspardha 2018 Prime would be held from 26th October to 28th October. Every year it gets better than before. This year we are privileged to have Mr.Sandeep Jain, the Founder and CEO of GeeksforGeeks at our college for the Guest Lecture. We are obliged to have such an influential personality at our college, our student community would definitely learn a lot! It would provide a platform for several brains to meet, interact and learn!
Time: 3:30 PM onwards
Date: 26th October, 2018
Venue: Senate Hall, NIT Kurukshetra
Website: Techspardha'18 Prime
Contact:
Harshita Aggarwal
+91 8057090729 | harshita01398@gmail.com
Garima Yadav
+91 9582437927 | garimayadav.1998@gmail.com
Vineetha Maddipati
+91 8607420329 | vineethavinny1910@gmail.com
My Personal Notes
arrow_drop_up
---
---
If you like GeeksforGeeks and would like to contribute, you can also write an article using contribute.geeksforgeeks.org or mail your article to contribute@geeksforgeeks.org. See your article appearing on the GeeksforGeeks main page and help other Geeks.
Please Improve this article if you find anything incorrect by clicking on the "Improve Article" button below.