GeeksforGeeks Elite Batch – 1 Results
The GFG Elite Batch is concerned with an intensive 6-month program where the candidates will be taught various tech and non-tech skills required for the tech job roles. The candidates will be exposed to a well-planned learning curriculum and will get trained by industry experts. Not only this, but the candidates will get a Stipend as well during this learning tenure. Yes, you heard it right – LEARN & EARN!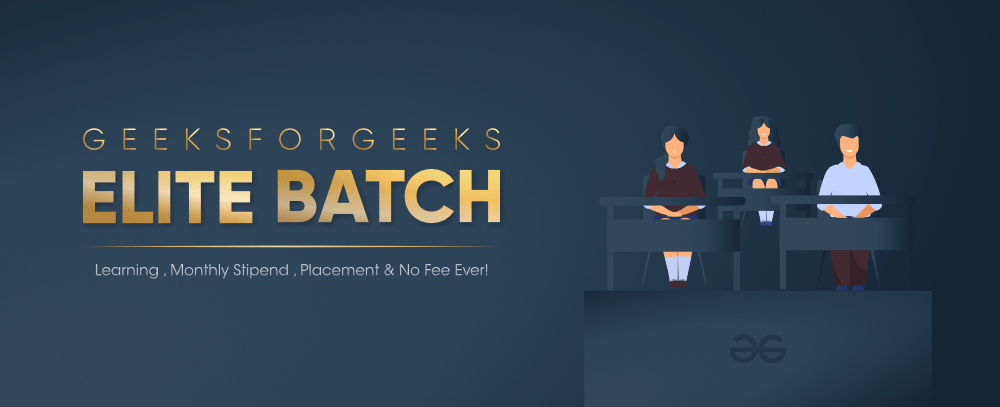 GeeksforGeeks Elite Batch – 1 entrance test is over. And finally we have shortlisted candidates on the basis of Elite Batch Entrance Test.
| S.No. | Userhandle | Name |
| --- | --- | --- |
| 1 | guru_shreyansh | Shreyansh Kumar Singh |
| 2 | abhiktri24 | Abhishek Tripathi |
| 3 | nihardoshi16 | Nihar |
| 4 | AzanulHaque | Azanul Haque |
| 5 | dewansh01 | Dewansh |
| 6 | aloksaxena755 | Alok Saxena |
| 7 | NandhaKumarG | Nandha Kumar G |
| 8 | rahulmaharajganj19 | Rahul Gupta |
| 9 | aditya619 | Aditya Sharma |
| 10 | subramanisrinivasan | Subramani Srinivasan |
| 11 | witchercomes | Nikhil Singh |
| 12 | mahak02111999 | mahak gupta |
| 13 | rajab1691 | Raaj |
| 14 | parupallysaivamshi | Sai Vamshi |
| 15 | sravanthi1998555 | Sravanthi Chakravarthi |
| 16 | rameshmalli464 | Ramesh Malli |
| 17 | amarpullepu | Pullepu Amerandhara Satya Santhosh |
| 18 | stackphish | JP |
| 19 | mayankkr0104 | Mayank Kumar |
| 20 | shakyaharshit303 | Harshit Shakya |
| 21 | hritikamishra1k98 | Hritika Mishra |
| 22 | anushkapandey7070 | ANUSHKA PANDEY |
| 23 | ArchitJain7 | Archit Jain |
| 24 | call2me786 | Sarfaraj |
| 25 | abhskmlk | Abhishek Malik |
| 26 | manantiwari39 | Manan Tiwari |
| 27 | amitkaushik337 | AMIT |
| 28 | Gorang | Gorang Khandelwal |
| 29 | vijevira | Vijendra Kumar |
| 30 | KunalSahay | Kunal Sahay |
| 31 | mail2ashwina | Ashwin |
| 32 | aaryanmahendra22835 | Aaryan |
| 33 | ddsmegh4 | Debaleen Das Spandan |
| 34 | ramyavijayakumar2000 | Ramya |
| 35 | janmjaygupta111 | Janmjay Gupta |
| 36 | vivekgudipudi | Vivek Gudipudi |
| 37 | hk4hritikjaiswal | Hritik Jaiswal |
| 38 | nirbhaybansal28 | Nirbhay Bansal |
| 39 | nikhildwivedi7 | Nikhil Dwivedi |
| 40 | magnetoflyer | Lalit Tiwari |
| 41 | nadeemuddin4595 | Nadeem uddin |
| 42 | subodhray5221 | Subodh Kumar Ray |
| 43 | siddhivijay2552 | Siddhi vijayvargia |
| 44 | codersachit | Sachit |
| 45 | shantanumoradabad | Kumar Shantnau |
| 46 | mohammedshariq581 | Mohammed Shariq |
| 47 | abhinavmasal | VALLABH MASAL |
| 48 | nanirajesh47 | Rajesh kumar |
| 49 | arifalam957656 | md arif alam |
| 50 | revaskarabhi | Abhishek Revaskar |
| 51 | abhishekparida14 | Abhishek Parida |
| 52 | PraveenKS | Praveen Singh |
| 53 | invinciblecoder | Saransh Sharma |
| 54 | AnanyaSingh10 | Ananya |
| 55 | PrashantSingh40 | Prashant |
| 56 | sagarbisht509 | Sagar Bisht |
| 57 | vanikakansal456 | Vanika |
| 58 | sanskarchoudhary640 | Sanskar Choudhary |
| 59 | satyamregex | Satyam Pandey |
| 60 | ypsingh1998 | YASH PRATAP SINGH |
| 61 | karanwork100 | Karan Patwardhan |
| 62 | gaganlambaharyana | Gagan Lamba |
| 63 | sharmanishant2399 | Nishant |
| 64 | kamalsagar316 | Kamal Sagar |
| 65 | gumitrathore | Gumit Rathore |
| 66 | gourab1998 | Gourab Mukherjee |
| 67 | preyansh749 | Preyansh Jain |
| 68 | shivam0409 | Shivam Chaudhary |
| 69 | ashwijag | Ashwija |
| 70 | srayesh5432 | Rahul |
| 71 | sp672898 | Shubham Pawar |
| 72 | yashi_agarwal | Yashi Agarwal |
| 73 | kavi456ta | Kavita Kumari |
| 74 | varun24795 | Varun |
| 75 | BhrutiDipta | Bhruti Dipta Behera |
| 76 | Nagendra addepalli | Addepalli Sri Teja V S R Nagendra Swamy |
| 77 | NehaYadav2 | Neha Yadav |
| 78 | jishant2006 | Jishant Patel |
| 79 | shivamtripathi214 | Shivam Mani Tripathi |
| 80 | nitinkaplas90643 | Nitin Kaplas |
| 81 | mohammedmushraf770 | Mohammed Mushraf |
| 82 | gobinknightryder098 | Gobinda Lugun |
| 83 | nikhil17patel | Nikhil |
| 84 | absolute99 | Sumit Lowanshi |
| 85 | abhinakvlps26 | Abhinav Mishra |
| 86 | yachikasardana7 | Yachika |
| 87 | AnujaAgarwal | Anuja Agarwal |
| 88 | YuvarajPradhan | Yuvaraj Pradhan |
| 89 | souravkkt04041999 | Sourav Chatterjee |
| 90 | eternalshrista | Shrista Baruah |
| 91 | yvishalprasad | vishal |
| 92 | sachinsh926 | Sachin Sharma |
| 93 | yellanikhil99 | Yella Nikhil |
| 94 | arunpratapmaster | arun |
| 95 | deekshithchinna2 | Deekshith |
| 96 | punittripathi100 | Punit |
| 97 | vikash98 | Vikash Kaordiya |
| 98 | kalluriprasanthi99 | Kalluri Prasanthi |
| 99 | anuragsduos | Anurag |
| 100 | Ujjwal1 | Ujjwal |
| 101 | AmitTiwari8 | Amit Tiwari |
| 102 | amitsingh848ms525 | Amit Kumar Singh |
| 103 | princwbhardwaj884884 | Prince |
| 104 | dev010799 | Devprakash Mishra |
| 105 | kumarirashmi805 | Kumari Rashmi |
| 106 | JadduJagadeesh | Jaddu Jithendra Jagadeesh |
| 107 | sp9028201364 | Sushant Patil |
| 108 | pankhiranagpure0 | Pankhira Dilip Nagpure |
| 109 | mohit786pine | Mohit Bhandari |
| 110 | rohitverma7754 | Rohit Kumar Verma |
| 111 | prashanth_gadipelli | Prashanth Gadipelli |
| 112 | jainhardik037 | Hardik Jain |
| 113 | eLn1n0_9 | Sarthak Chauhan |
| 114 | raikaushik2000 | kaushikrai |
| 115 | Abhishek_Malviya | Abhishek Malviya |
| 116 | chs512 | chandan saini |
| 117 | sinhaneha887 | Neha Sinha |
| 118 | imdeadman777 | Yash |
| 119 | UtkarshPatiyal | Utkarsh Patiyal |
| 120 | mayukhchand | Mayukh |
| 121 | paraspant09 | Paras Pant |
| 122 | amanjain2601 | Aman jain |
| 123 | MDASADPERWEZ | Md Asad Perwez |
| 124 | yakeshsahu100 | Sourabh Sahu |
| 125 | VaibhavGupta50 | Vaibhav Gupta |
| 126 | sameer10726 | Sameer Goel |
| 127 | imvikaskumar99 | Vikas Kumar |
| 128 | vaishakhd0306 | Vaishak H D |
| 129 | SatyakiChatterjee | Satyaki Chatterjee |
| 130 | ganesh79 | Ganesh Sakle |
| 131 | kanakkiraula29 | Kanak Kiraula |
| 132 | pragatisom123 | Pragati Somvanshi |
| 133 | saikatmitrasm7 | Saikat |
| 134 | tanmaykamble1998 | Tanmay Himmatrao Kamble |
| 135 | kshaw1325 | Komal Shaw |
| 136 | debadarsini2014 | Debadarsini Panda |
| 137 | ashokchouhan1015 | Ashok |
| 138 | rkravisingh890 | Ravi Kumar |
| 139 | ashwin10ram | G Ashwin Kumar |
| 140 | gaddemanu891999 | MANOJ SAI GADDE |
| 141 | av392172 | Aditya |
| 142 | sahushubham768 | Shubham Kumar Sahu |
| 143 | suhaislam202 | SUHA ISLAM |
| 144 | satishmahakalkar143 | SATISH BHUMESHWAR MAHAKALKAR |
| 145 | officially2808 | Hardik Kori |
| 146 | muskaansinghal1998 | MUSKAAN SINGHAL |
| 147 | jaynimbalkar38 | Suyash Nimbalkar |
| 148 | coderpawan1 | Pawan Kumar |
| 149 | zarkmiles | Kaustubh Suresh Gaikawd |
| 150 | Mala_kusum | Shreya Sinha |
| 151 | siddhuganesh2000 | Siddhu |
| 152 | bodaresagar1999 | Sagar Dnyandev Bodare |
| 153 | anupmodi2202 | Anup Burnwal |
| 154 | utkarshsaxena2016 | Utkarsh |
| 155 | click2sujay | Sujay De |
| 156 | azimkhance2020 | Md Azim Khan |
| 157 | amolrathod116 | Amol Devidas Rathod |
| 158 | shivanshi3012 | Shivanshi |
| 159 | abhiwahatule33 | Abhishek Bhausaheb Wahatule |
| 160 | mohammadaquib372 | Mohammad Aquib |
| 161 | adityad659 | Aditya Uday Desai |
| 162 | vickykumar7061 | Vivek Kumar |
| 163 | mdmohteshamazam6 | Md mohtesham azam |
| 164 | khantarik0415 | Tarik Khan |
| 165 | vikramvikrant5 | Vikram |
| 166 | guptasanskar99 | Sanskar Gupta |
| 167 | msd786143 | MOHTASIM AHEMAD |
| 168 | avneeshverma05032000 | Avneesh |
| 169 | sakshisinghal604 | Sakshi |
| 170 | aravindaravi58 | Aravind M |
| 171 | bhawanasingh8954 | Sadhana singh |
| 172 | richagupta8922 | Richa Gupta |
| 173 | bindashish315 | Ashish Bind |
| 174 | kojagorimaity | Kojagori Maity |
| 175 | husseyhaswin10 | Haswin babu |
| 176 | kseervi786 | kishor seervi |
| 177 | vikrantbhure1997 | Vikrant Bhure |
| 178 | bran_demon | Piyush |
| 179 | tushardhiman1999 | Tushar |
| 180 | niveshshukla66 | Nivesh shukla |
| 181 | nikhilkumar10jjha | Nikhil Kumar Jha |
| 182 | kanyalshubham84 | Shubham Kanyal |
| 183 | sprihaagrawal2000 | Spriha Agrawal |
| 184 | ns706387 | Nikhil Sharma |
| 185 | sejalbhardwaj2420 | Sejal Bhardwaj |
| 186 | soumojitchowdhury5 | Soumojit Chowdhury |
| 187 | arpitagarwal873 | Arpit Agarwal |
| 188 | lyrao0007 | Lalit Yadav |
| 189 | naveenjyothi001 | NAVEEN JYOTHI |
| 190 | aakanshadubey16 | Aakansha Dubey |
| 191 | suavethapa | Suave Thapa |
| 192 | bhardwajmihir51 | Mihir |
| 193 | amolambekar10aa | Amol Ambekar |
| 194 | anupgatkal | Anup Narendra Gatkal |
| 195 | snehalmhapankar1999 | Snehal Paresh Mhapankar |
| 196 | karanchoudhary1 | Karan Choudhary |
| 197 | nitishb278 | Nitish |
| 198 | kirankumarmelinamani | Kiran R Melinamani |
| 199 | nidhilakhanpal23 | Nidhi Lakhanpal |
| 200 | rahulsiet084 | Rahul Kumar Yadav |
| 201 | preet0707136 | Ramanpreet kaur |
| 202 | divyansh1750510016 | Divyansh Jha |
| 203 | kalpanareddyparapati | parapati kalpana reddy |
| 204 | SaurabhRana2 | Saurabh Rana |
| 205 | raghavankit100 | Ankit |
| 206 | ayugup18121999 | Ayushi Gupta |
| 207 | ajayaduri28600 | Ajay |
| 208 | singhalakshay47 | Akshay Singhal |
| 209 | akhtarshahzeb98 | Shahzeb Akhtar |
| 210 | ruchitabacchuwar21 | Ruchita Bacchuwar |
| 211 | war1234arsh | Waris Ansari |
| 212 | shantakarambhatt815 | shantakaram bhatt |
| 213 | Manu11 | Manu Raj Gehlot |
| 214 | dhobimanoj2091 | MANOJ Sunil Dhobi |
| 215 | varchla98 | Varchala Thakur |
| 216 | gurnuleabhijeet07 | Abhijeet Arun Gurnule |
| 217 | dhirendrasingh9348 | Dhirendra Kumar Singh |
| 218 | bhagyashreeb254971 | sharz |
| 219 | anupvish97 | Anup Kumar |
| 220 | lathaaugust | Sravanthi Y |
| 221 | sanghajassi985 | Jaspreet kaur |
| 222 | aroraaashima97 | Aashima |
| 223 | jbinduin | BINDU J |
| 224 | navjsr99 | NAVNEET SINGH |
| 225 | daddyloves97 | SULTHAN SRAVANKUMAR |
| 226 | Muzamilamin | Muzamil Amin |
| 227 | sujayparave | Sujay Shantaram Parave |
| 228 | ndkr2716 | Nerlapalli Dinesh Kumar Reddy |
| 229 | mjmahiin | Mohit |
| 230 | girirajsoni1999 | Giriraj Soni |
| 231 | sathweekreddy888 | Loka Sai Sathvik Reddy |
| 232 | shraddhanagrale2741 | Shraddha Gautam Nagrale |
| 233 | swatibaghele015 | Swati Dwarpal Baghele |
| 234 | kiranarkasali17 | Kiran I Arkasali |
| 235 | divyakeerthi403 | Divya Keerthi Patnala |
| 236 | mohantyjagan357 | Soumya Ranjan Mohanty |
| 237 | surajingale1020 | Suraj Ingale |
| 238 | mnarula942 | Muskan Narula |
| 239 | ashishverma01121999 | Ashish |
| 240 | csagnik472 | Sagnik Chatterjee |
| 241 | amarindradhar5 | Amarindra Mohan Dhar |
| 242 | hareharan23 | Hareharan R S |
| 243 | rahulromburn | Rahul |
| 244 | hmehra160 | Hemendra |
| 245 | wizardous | Abhijit Gadge |
| 246 | ashwinikothawade335 | Ashwini Manohar Kothawade |
| 247 | komalchaudhary1802 | Komal kumari |
| 248 | fahadsid8026 | Fahad Ali |
| 249 | dasdaipayan6659 | DAIPAYAN KR DAS |
| 250 | PraddhumnaSoni | Praddhumna Soni |
| 251 | thulluriswarupa | Swarupa |
| 252 | patidarhariom918 | Hariom patidar |
| 253 | praneshriotz | Pranesh R |
| 254 | SaiKrishna35 | Ravi Venkata Sai Krishna Maddula |
| 255 | surajmhsharma | Suraj Sharma |
| 256 | maanchoudhary400 | Maan Singh Choudhary |
| 257 | yr190719 | Yash Raj |
| 258 | satyamsagar136 | Satyam Sagar |
| 259 | anchalsaxena033 | Anchal Saxena |
| 260 | skisme4u | Sukhdev Kanjariya |
| 261 | kprathyunnan1998 | Prathyunnan k |
| 262 | ranerahul1212 | Rahul Rane |
| 263 | jromil51 | Romil jain |
| 264 | nehapadsala98 | Nehali Padsala |
| 265 | snbnowheer9 | Shaik Nowheer |
| 266 | sanjaypathakmzp | sanjay |
| 267 | gaurikapoorbca | Gauri kapoor |
| 268 | poojapandey18318 | Pooja Pandey |
| 269 | bhagwansahu110 | Bhagwan Sahu |
| 270 | umaprasaddas1999 | Uma Prasad Das |
| 271 | pdrohit674 | Rohit Prasad |
| 272 | rahulkumar16757 | Rahul Pal Singh |
| 273 | reddimallajay123 | Ajay Reddimalla |
| 274 | kmehra2017 | karan mehra |
| 275 | mayankpardhi03 | Mayank pardhi |
| 276 | patankarritu | DIPALI PATANKAR |
| 277 | subratshrivastava301 | Subrat |
| 278 | atulp441 | Atul Patil |
| 279 | pa29071998 | Piyush Agrawal |
| 280 | satyajitgupta53 | Satyajit gupta |
| 281 | veerabhimanyu1256 | Abhimanyu Modi |
| 282 | tanujarani743 | Tanuja Rani |
| 283 | santoshsiet91 | Santosh Kumar Pal |
| 284 | vrushabhvb28 | Vrushabh |
| 285 | NischalaGangeya | Gajula Nischala Gangeya |
| 286 | prajwalpd210 | girakala sai prajwal |
| 287 | KashidIslam | Kashid Islam |
| 288 | debandumakur041999 | debendu makur |
| 289 | swaran369 | Anjali Chauhan |
| 290 | sidducharanthimath | Siddesh Charanthimath |
| 291 | divyakatta006 | Divya Katta |
| 292 | faizalknr865 | Mohammed Faizal R |
| 293 | sonu143nagarkoti | Sundar Nagarkoti |
| 294 | udaydhull0 | uday singh |
| 295 | abedabraham98 | Abed Koshy Abraham |
| 296 | shabirahmad14217 | Shabir Ahmad |
| 297 | sudipbera103 | Sudip bera |
| 298 | malagijahnavi | Jahnavi Malagi |
| 299 | AkashBabuKushwah | Akash Babu Kushwah |
| 300 | pavanls19799 | Pavan L S |
| 301 | nihalwarrior02 | Nihal kumar das |
| 302 | jk6464715 | Jatin |
| 303 | prajapatipoojan007 | Poojan Prajapati |
| 304 | vinodparmar9231 | Vinod Parmar |
| 305 | mansi79064 | Mansi Gupta |
| 306 | anushaani677 | Anusha K J |
| 307 | kirtidulhani0208 | Kirti |
| 308 | infoahu1 | Ahsan Usmani |
| 309 | kaejaz60 | Aejaz Ahmed Khan |
| 310 | sharadbhise735 | sharad |
| 311 | rawataakash44 | Aakash |
| 312 | subhajitmondalmaishali | Subhajit Mondal |
| 313 | samiyashaik03 | SAMIYA TASNEEM SHAIK |
| 314 | neelamlakshmidevi49 | Lakshmidevi |
| 315 | nileshbaranwal319 | Nilesh Kumar Baranwal |
| 316 | dhanujar6 | Dhanujakshi R Mugulia |
| 317 | prajaktakadam1501 | Prajakta Dnyandeo Kadam |
| 318 | parijitchoudhury001 | Parijit Choudhury |
| 319 | 97soumyadipid | Soumyadip Kundu |
| 320 | krishneshkhalora98 | Krishnesh Khalora |
| 321 | aryajoshi103 | Arya Joshi |
| 322 | kamyakumari140 | Kamya Kumari |
| 323 | divyakambaria789 | Divya Kambaria |
| 324 | aseemanand0001 | Aseem Anand |
| 325 | f2016146p | ADITYA |
| 326 | mrunaljadhav131 | Mrunal Jadhav |
| 327 | pradeepa_kumar | Pradeepa |
| 328 | mnath | Maitreyee Nath |
| 329 | yash Sharma 10 | Yash Sharma |
| 330 | prashansa24 | Prashansa |
| 331 | TarunSai1 | Tarun Sai Marisetti |
| 332 | parsharamulum57 | Parsharamulu |
| 333 | kaviyaperiyasamy22 | Kaviya |
| 334 | hdspook | Himanshu Dubey |
| 335 | vishnuvardhanuppunuthula | Vishnuvardhan |
| 336 | ElaBhattacharya | Ela Bhattacharya |
My Personal Notes
arrow_drop_up