GeeksforGeeks Author Badges – Showcase Your Achievements to the World!
Good content writing also deserves recognition. There are numerous tech enthusiasts who want to share their learning and ideas through their writings with people across the world. And it is true as well that there are several platforms available that allow these individuals to showcase their technical and writing skills and share with their targeted audience. But the problem is that not any platform gives you the much-needed recognition or rewards for your writing – or at least not many of them.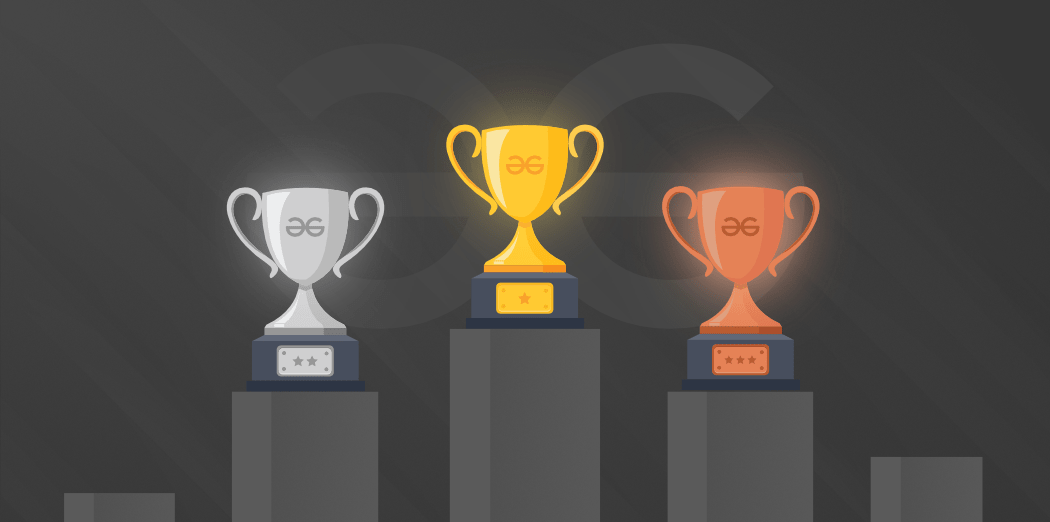 However, we at GeeksforGeeks identified this concern – and so we're going to entertain, recognize and reward all the geeks out there who hold a strong passion for writing or articulating their learning and ideas. We'll provide you with prestigious AUTHOR RANKING BADGES (Gold, Silver, and Bronze) along with various Cash Prizes, Heavy Discounts & Offers, Internship Opportunities, and much more…!!
What are these Author Ranking Badges…??
These GFG Author Ranking Badges are like the accreditation for your writing endeavors at GeeksforGeeks. These are classified into 3 categories based on the author's profile:
Gold Badge: Expert Level
Silver Badge: Intermediate Level
Bronze Badge: Beginner Level
What you have to do to earn these badges is to write the quality and valuable content consistently and get it published on the website – yes, it is as simple as that…!! Though you need to consider various parameters such as the article should be related to trending, enriching, and relevant topics such as Data Structures & Algorithms, Machine Learning, Competitive Programming, or many others, the content must be authentic and unique, etc.
These badges will be provided to you in physical form. In addition, you can mention these badges on your resume or LinkedIn profile – it will surely help you to get an edge over others and grab some remarkable career opportunities.
How to Get These Badges…??
Whether you're a student or a working professional, everyone can get started with writing at GeeksforGeeks. Though after getting at least 10 of yours article published, you become liable to get various monetary and non-monetary benefits at GeeksforGeeks including these Ranking Badges.
Your writing performance will be measured based on various individual parameters such as accuracy, content quality, feedback and reviews on the article, technical complexity, and several others.
Other than that, once you'll get an author badge (let's say a Bronze Badge), then the next evaluation of your profile will take place after 6 months from the badge allocation date where it will be decided by the GFG team that if you're eligible to get promoted to the next level (Silver and then Gold) or not based on your performance within this particular period.
Benefits of Author Ranking Badges…??
Some of the prominent benefits of contributing content at GeeksforGeeks and getting Author Ranking Badges are mentioned below:
It will validate your writing skills & work – and you eventually can show it to the recruiters or other people to get various career opportunities.
Your all shortlisted articles will appear on GFG social media handles like Twitter, Facebook (ONLY if the GeeksforGeeks team shortlist it for social media).
These badges can even land you up to full-time job opportunities at GeeksforGeeks.
How to Get Started with Article Writing…??
You can easily get started with article writing at GeeksforGeeks by following the below-mentioned steps:
Firstly, you need to visit the link https://write.geeksforgeeks.org/ and then write your article under the 'Write an Article' section. You can also opt to go with the 'Write on Suggested Topic' section in case if you're not having any topic in your mind to write upon.
After writing the article, please submit it for review, and the status of your article becomes Pending.
The team reviews your article and gives you feedback in comments under the article, and saves your article status to Awaiting Author.
Please improve your article according to the given feedback, and again submit the article for review. Now the status of your article becomes Pending again.
Finally, after you have made all the required improvements, your article status becomes In Review, which means it has been approved and is going to get published soon.
When your article gets published, the status of your article becomes Published.
Do remember the following points:
You're strongly recommended to add image/video created by you only.
The decision of accepting or rejecting any article by the GFG team will be final.
If you write the article on a topic that has already been covered on the website – then your article won't be accepted
The article should not be copied from anywhere – though you can take references from other resources.
You would be paid and get badges & other benefits only for your published articles.
You need to know that GFG Badges and Certifications are widely recognized – now what are you waiting for…?? Do Write, Earn Badges and Showcase your achievements to the world…!!
My Personal Notes
arrow_drop_up