Geek Week 2020 – The Biggest Festival for Programmers is Back
There is an International Games Week for all the Gaming Enthusiasts, there is a Musical Festival for every Music Admirer and even there is a Valentine Week for all the love birds out there. But what's for our Programmers? (Are they only supposed to deal with the source codes & APIs throughout the year!!) – Absolutely not as GeeksforGeeks is back with the biggest festive week for the programmers i.e., Geek Week!!
Alike last year, Geek Week is all set to encourage every programming maniac to improve their coding skills through ravishing discount offers on almost every premium course for the entire WEEK. And not only heavy discounts, but there are various other exciting events also such as coding contests, experts' webinar sessions, fun games, and much more to make it even more surprising and entertaining for you. And the best part is that you won't need to go anywhere to participate in this astonishing event, all you need to do is open your laptop, register yourself and enjoy the Geek Week. Indeed, all we can say is that this time Geek Week is going to be better than ever before!!
*The biggest festival for programmers is going to strike from 12th to 18th October 2020. Register Yourself!*
Now, let's take a detailed look at all the amazing & worthwhile events of the Geek Week:
1. New Discounts and Special Offers, EVERY DAY!!
Any festival week seems to be incomplete without the presence of ravishing sales and offers. And with the same concern, at Geek Week, there is a heavy discount on almost every GeeksforGeeks course for all 7 days (Isn't it exciting?). Yes, you can get all the renowned courses at the lowest prices ever and that too without going anywhere or any hassle. The main motive behind it is to make the knowledge & learning scenario more affordable for every individual out there. These remarkable courses will surely help you in enhancing your coding skills and achieving your career goals.
2. Learnings at Geek Week
As they said – The more you learn, the more you earn!! Hence, we at GeeksforGeeks wants to make this 7-Day Geek Week Festival one of the most productive and valuable fiestas for you. And for this, we're organizing various learning events to give you the utmost knowledge & learning exposure. The detail of these events are listed below: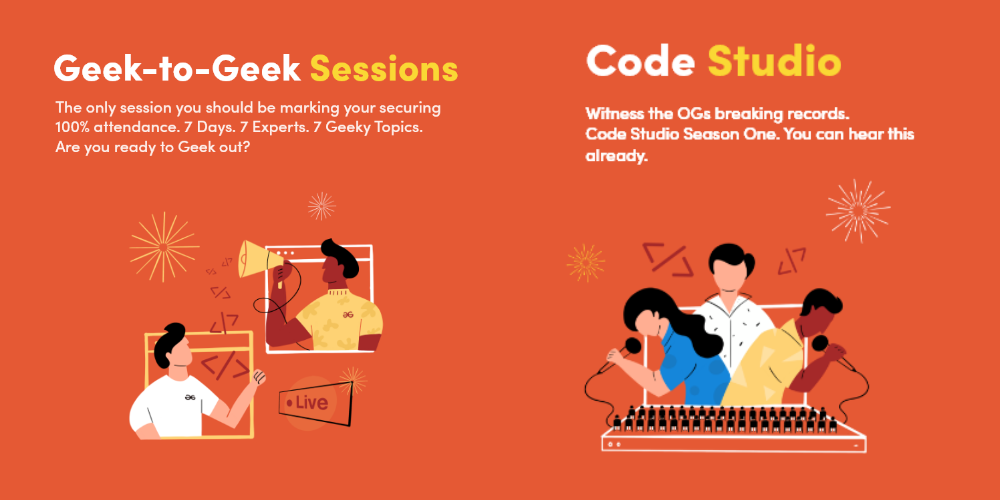 Geek to Geek Sessions: In this event, you'll be offered the opportunity to attend the webinars provided by various industry experts. There will be 7 webinars in 7 days (One day each) on different topics that'll help you to learn various concepts for your career advancement.
Code Studio: Another event in this list is Code Studio! This event is concerned with the Panel Discussion Session with Experts where you'll get a chance to discuss on various topics, queries, etc. to make your career pathway more clear. The Code Studio is scheduled for October 17, 2020.
Star Night: As the name suggests, here you'll get an opportunity to attend the webinar offered by the key person of a recognized startup. You'll get to know crucial industry insights from the man himself. The date of 18th Oct 2020 has been locked for the Star Night event!
Pretty much sure, you don't want to miss these learning, discussion & guidance sessions from the experts themselves!
3. Showcase your Skills
Indeed, there is no point in learning or upskilling yourself, if you don't get a chance to showcase your skills to the world. You must have understood now, right? Yes, Geek Week is coming up with several coding challenges and competitions as well to analyze your programming knowledge. The respective events are listed below: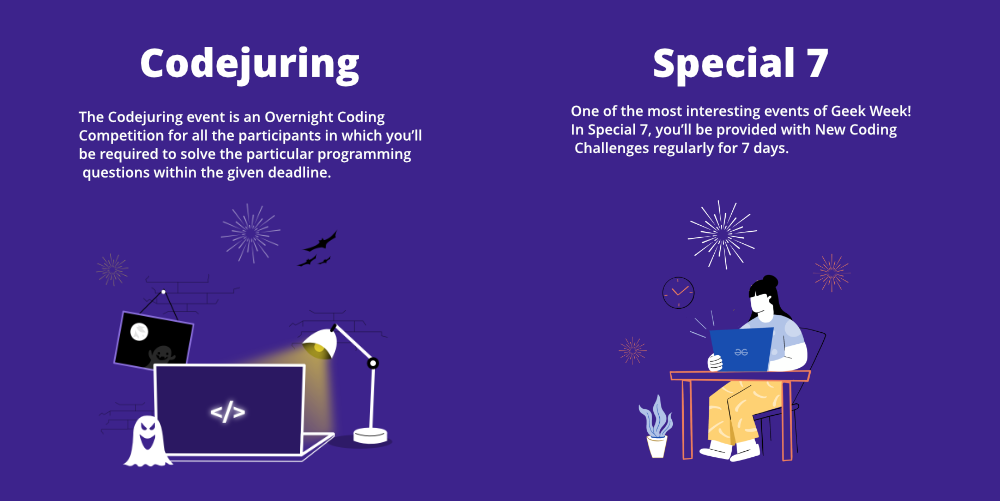 Codejuring: The Codejuring event is an Overnight Coding Competition for all the participants in which you'll be required to solve the particular programming questions within the given deadline. The Codejuring will be held on October 17, 2020, from 12:01 AM TO 3 AM.
Special 7: One of the most interesting events of Geek Week! In Special 7, you'll be provided with New Coding Challenges regularly for 7 days. It'll not only help you to test your coding skills but can also land you up with several exciting prizes such as discount coupons, etc. as well.
4. Fun Games
Last but not least – Fun Games! Can you imagine a festival without having the fun element in it? A big NO! No worries, at Geeks Week, you'll get a lot of exciting fun games and events for the entire week such as Debugging Contest, Crossword, Treasure Hunt, Merge it up, and many more that'll surely make this 7-day period the most memorable one for you! And yes, you won't have only the ultimate fun through these games but can get various exciting prizes as well.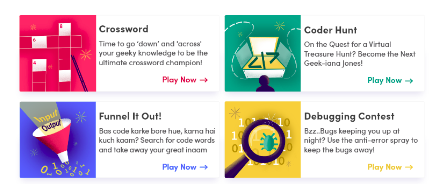 So, are you excited about this surprising 7-day Geek Week journey? If yes, then what are you waiting for? Postpone all your programs for the upcoming week and get ready to participate in the biggest programming festival!!
My Personal Notes
arrow_drop_up