GATE or GRE – Which One Should I Choose?
"A fascinating job in any Indian PSU" or "an M.Tech Degree from IIT" or "Master's Program from Stanford University", all looks good, right? And, to choose one career pathway among such various opportunities is the biggest dilemma of a student's life.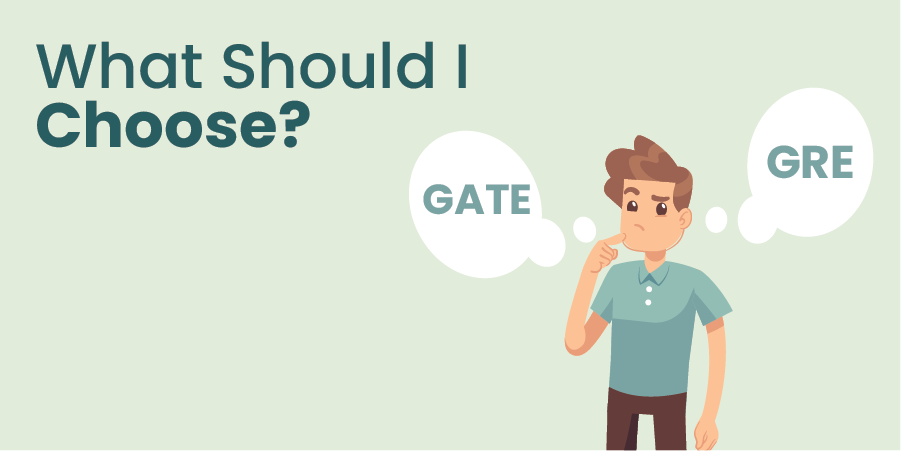 If you're looking for a significant career roadmap after graduation and stuck between the Graduate Aptitude Test in Engineering (GATE) and Graduate Record Examinations (GRE), then you are not the only one in this situation. Yes, for most of the engineering graduates, earning a master's degree is one of the remarkable pathways to secure a successful career. And to decide what is good for you – GATE or GRE? is quite a tough task. So here in this article, we will let you know about both the exams in detail so that you can opt for a better option.
Let's have a look at both the exams.
GATE
GATE, it is something every engineering graduate must have heard about. Graduate Aptitude Test in Engineering (GATE) is the entrance examination which is conducted jointly by the Indian Institute of Science (IISc) and seven IITs. It is one of the most competitive exams in India. The scorecard of the GATE Exam is accepted in esteemed Institutions of India such as IITs or IISc. Also, 2 Universities in Singapore and a few Universities in Germany accept the GATE Score for admission into their Master's programs.
The examination is based on those subjects which you have studied in your graduation program. The examination consists of Multiple Choice and Numerical Answer type questions. A total of 65 questions worth a maximum of 100 marks are asked in the examination with a duration of 3 hours. The result of the exam is generally declared within 30-40 days after the successful conduction of examination. The result is published in the form of a scorecard that consists of your GATE Score and the scorecard is valid for 3 years from the date of release of GATE Results. However, the scorecards are provided to qualified candidates only.
The advantages of cracking GATE Exam are listed below:
IT provides you the opportunity to pursue M.Tech from acclaimed colleges in India such as IIT, NIT, etc.
The scorecard of GATE can also provide you job opportunities in Public Sector Undertaking (PSUs) like – BHEL, SAIL, GAIL, etc. The average CTC in Indian PSUs is around 12-15 Lakhs Per Annum which is quite good!
You can go for prestigious Research and Development departments like Counsel of Scientific and Industrial Research for research fellowships by having a valid GATE Score.
You become eligible for certain scholarships to pursue postgraduate programs after qualifying the GATE Exam.
So as per the above description, if you want to pursue your post-graduation from some prestigious engineering college in India or you want to go for a reputed job in Indian PSUs direct after your graduation, you can opt for GATE. Also, you will get a scholarship to support your education. But there are some points which you have to keep in mind before opting for the GATE. Firstly, your score in the exam plays a major role in your college allotment, PSU job offer, etc. Around 15-16% among all appearing candidates qualify the exam, each year. And, as it is one of the most competitive exams in India, the high percentile is required to get admission in prestigious colleges like IIT or NIT for pursuing post-graduation or getting shortlisted for jobs Indian PSUs. Secondly, there are very fewer opportunities to pursue the Master's in Foreign Countries through GATE Score, so if you're majorly inclined towards pursuing the Master's from abroad then you are recommended to look out for other opportunities as well.
GRE
Okay, now comes to GRE! The Graduate Record Examination (GRE) is administered by the Educational Testing Service (ETS). GRE is a standardized examination that is conducted to offer admission into various graduate schools in many countries like – United States, Germany, Canada, etc. You can apply for various Engineering and Business & Management courses through your GRE scores. The validity of the GRE test score is for 5 years.
The GRE exam majorly consists of 3 sections – Verbal Reasoning, Quantitative Reasoning, and Analytical Writing Assessment. These sections are further divided into their sub-sections. The verbal section has 2 sub-sections and each section consists of 20 questions for a duration of 30 minutes each. The verbal section test is scored on a scale of 130–170. Each verbal section includes 4 Sentence Equivalence, 6 Text completion, and 10 Reading Comprehension Questions. The Quantitative Section also has 2 sub-sections with each consist of 20 questions (35 minutes each). The quantitative section test is scored on a scale of 130–170. Each quantitative section consists of quantitative comparisons, problem-solving and DI based questions. The Analytical Writing section consists of 2 essay tasks, the first one is analyzing an issue and the second one is analyzing an argument. The writing section test is graded on a scale of 0–6, in half-point increments. Also, other sections like – experimental or research section are also in consideration for the GRE Exam.
The benefits of having good GRE Score are listed below:
You can get opportunities to pursue your Master's from the best colleges across the globe.
There are also chances of getting scholarships for your education program.
A good GRE Score can also compensate for your averagely performed areas such as – low academic performance, lack of projects, etc.
After the above discussion maybe you'll look forward to going for GRE. And why not, going abroad for education is in everyone's wishlist. But there are few things which you have to remember before opting for the GRE Exam. Firstly, English plays a crucial role in GRE and to qualify GRE with a good score, it requires to have a good command over it. So if you're not good or average in English, you need to put some extra effort to conquer the battle. Secondly, after having GRE Score, you have to fulfill many other requirements to get admission into graduate schools like – Grade Point Average (GPA), Letter of Recommendation, statements of purpose, etc. which takes some ample amount of time. So if you're strongly determined to do your Master's from abroad, then don't be afraid of this lengthy procedure.
As we go through the details of both the exams, what we have concluded is that both GATE and GRE are the Graduate-level exams that provide further education and career opportunities with having their own significance. It depends on you what you want. If you want an opportunity to get admission into a top institution of India to pursue your Master's Program or want to be shortlisted for a job interview in Indian PSUs, you are recommended to go for GATE Exam. On the other hand, if the picture in your mind is of getting a Post-graduate degree from any foreign country and you do good in English, then obviously you can go for the GRE Exam. No one can exactly say that which one is better, GATE or GRE. The point is you have to analyze various factors regarding your career as it varies from person to person. For one person, pursuing M.Tech from the IIT could be the biggest satisfaction while for the second person, completing the Master's Program from Harvard Business School is the rewarding one. At last, do remember one thing that whatever you choose, give your best. Neither GRE nor GATE can guarantee success until and unless you will not work hard and try to achieve excellence.
My Personal Notes
arrow_drop_up