GATE | Gate IT 2008 | Question 74
A binary tree with n > 1 nodes has n1, n2 and n3 nodes of degree one, two and three respectively. The degree of a node is defined as the number of its neighbors.
Starting with the above tree, while there remains a node v of degree two in the tree, add an edge between the two neighbors of v and then remove v from the tree. How many edges will remain at the end of the process?
(A) 2 * n1 – 3
(B) n2 + 2 * n1 – 2
(C) n3 – n2
(D) n2 + n1 – 2

Answer: (A)
Explanation: With reference to figure of answer of previous question: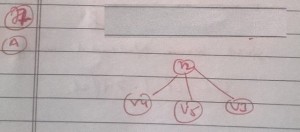 Quiz of this Question
Attention reader! Don't stop learning now. Practice GATE exam well before the actual exam with the subject-wise and overall quizzes available in GATE Test Series Course.
Learn all GATE CS concepts with Free Live Classes on our youtube channel.
My Personal Notes
arrow_drop_up