GATE | GATE CS 2021 | Set 1 | Question 62
Consider the following matrix.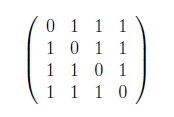 The largest eigenvalue of the above matrix is __________.
(A) 3
(B) 4
(C) 0
(D) 12

Answer: (A)
Explanation: Either you follow brute force approach Or
Shortcut-: When each row sum is equal that would be the maximum Eigen value of the matrix. In this case sum is 3 so answer will be 3.
Quiz of this Question
Attention reader! Don't stop learning now. Practice GATE exam well before the actual exam with the subject-wise and overall quizzes available in GATE Test Series Course.
Learn all GATE CS concepts with Free Live Classes on our youtube channel.
My Personal Notes
arrow_drop_up