GATE | GATE-CS-2015 (Set 3) | Question 65
Two processes X and Y need to access a critical section. Consider the following synchronization construct used by both the processes.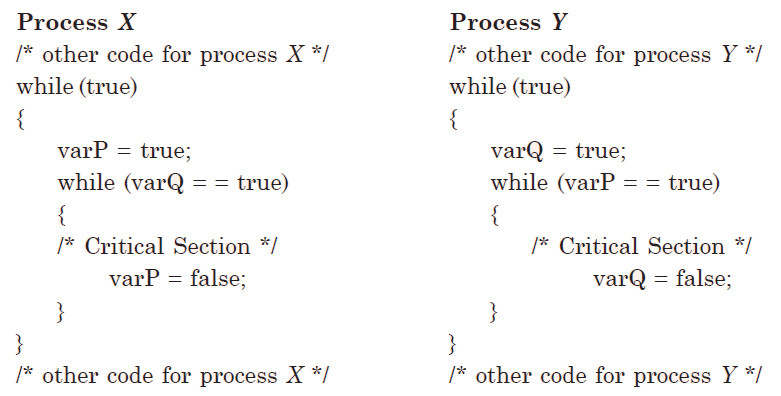 Here, varP and varQ are shared variables and both are initialized to false. Which one of the following statements is true?
(A) The proposed solution prevents deadlock but fails to guarantee mutual exclusion
(B) The proposed solution guarantees mutual exclusion but fails to prevent deadlock
(C) The proposed solution guarantees mutual exclusion and prevents deadlock
(D) The proposed solution fails to prevent deadlock and fails to guarantee mutual exclusion

Answer: (A)
Explanation: When both processes try to enter critical section simultaneously,both are allowed to do so since both shared variables varP and varQ are true.So, clearly there is NO mutual exclusion. Also, deadlock is prevented because mutual exclusion is one of the four conditions to be satisfied for deadlock to happen.Hence, answer is A.
Quiz of this Question
My Personal Notes
arrow_drop_up