GATE | GATE-CS-2014-(Set-1) | Question 65
Which of the regular expressions given below represent the following DFA?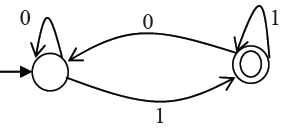 I) 0*1(1+00*1)*
II) 0*1*1+11*0*1
III) (0+1)*1 
(A) I and II only
(B) I and III only
(C) II and III only
(D) I, II, and III

Answer: (B)
Explanation:

I) 0*1(1+00*1)*
II) 0*1*1+11*0*1
III) (0+1)*1 

(I) and  (III) represent DFA.

(II) doesn't represent as the DFA accepts strings like 11011,
    but the regular expression doesn't accept. 
Attention reader! Don't stop learning now. Practice GATE exam well before the actual exam with the subject-wise and overall quizzes available in GATE Test Series Course.
Learn all GATE CS concepts with Free Live Classes on our youtube channel.
My Personal Notes
arrow_drop_up