From a Non-CSE Background to SDE Profile – Journey of Keerti Purswani
There's a very popular question that we often hear from individuals, especially college students – "How can a Non-Computer Science student get a job as a Software Engineer or Software Developer?" And needless to say, the accomplished answer to this question can only be given by the one who has already gone through this journey and achieved his/her destination. Keeping this in mind, in the April 2021 edition of Geeks Digest – we're having Expert Keerti Purswani with us, who has diligently made it from a non-CSE background to an SDE profile, to clear all your doubts and give you the much-needed guidance.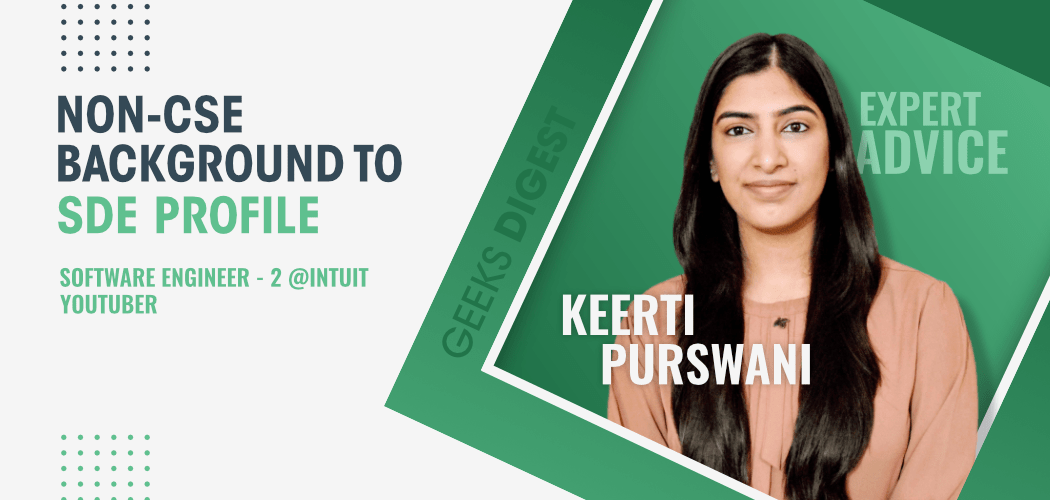 Keerti is currently designated as SDE at Intuit, and she has done her Bachelor of Technology in Electrical & Electronics Engineering from the National Institute of Technology, Calicut. Also, she is managing her YouTube channel with 12K+ subscribers where she shares her knowledge with the audience.
Now, without wasting much time, let's start the discussion:
Question-1: Being a non-CSE student, when did you decide that a career in programming was your calling?
Answer: All my friends planned to pursue an MBA and I honestly wasn't much aware of any other opportunities during college time. I knew that I didn't like my EEE stuff and that MBA wasn't my calling as well.
The only thing I was sure of was that I wanted to do something I love, and I was ready to explore and take any risks. Towards the end of my 3rd year at college, I found out that non-CSE students could also apply for some software companies. I tried coding during the holidays and I fell in love with it! There has been no going back since then. I learn every day and plan to do so throughout my career.
Question-2: We see you're a major advocate of mental health. What do you recommend one should do to take care of themselves in the tough and unprecedented times that COVID-19 has put us in?
Answer: COVID-19 is making everything just so much harder. I can only imagine the pressure of placements and examinations right now. However, these times also teach us how we together, as a society can help each other. I have seen countless examples of compassion and empathy in the past few months. It is important that we hold onto these emotions, stay close to our family and friends (mentally) and most importantly, we remember that this too shall pass and that there is light at the end of the tunnel!
Question-3: Could you tell us the one time you experienced a sense of failure and/or rejection and how you coped with it?
Answer: There have been so many times when I have experienced this. I believe it is somehow also important to confront these emotions to truly embrace our journey. The time when I felt most rejected and a complete failure was after a year of starting my first job. I worked very hard but was not recognized for it and was bluntly called incompetent for the same. I was determined to prove this wrong. So, I made an overnight decision to resign, I joined a startup (where I was the only employee) and I finally became a skilled full-stack developer! I worked on an entirely completely new technology that I had never heard of before & it has hardly been 2 years since then. Now, I am helping others!
Question-4: Our geeks out there themselves are going through a number of obstacles such as online exams for college, college classes, rejection letters, revokement of job offers, and much more. Is there any piece of advice you would like to give our Geeks?
Answer: It is important to realize that literally, anyone can excel in the software world – your college marks or degree don't define you. Your skill is what will decide your future. So, focus your energy on that. There is so much free content and so many mentors to guide nowadays – use this to understand the concepts and spend time practicing and improving every day!
Question-5: We're now living in a time when our interviews are mostly being held via voice/video calls. This is probably going to be the norm for the upcoming months. For a student who's also a programmer, what do you think is the most imperative thing to do with respect to one's preparation?
Answer: It is harder to communicate and connect with the interviewer during online calls and this can really be challenging for some people. It is important to have the interviewer's undivided attention and for that, we need to explain our thought process and also – talk while we code. One can develop these habits by doing mock interviews – with friends or with random people. I really think with practice, one can be more confident during online interviews and can give their best!
You can reach out to Keerti Purswani through LinkedIn and Youtube.
So, this is all from the Expert, Keerti Purswani herself. Thank You for Reading!!
My Personal Notes
arrow_drop_up