FREE Online Courses By GeeksforGeeks – Learn New Tech Skills!
Learning should never stop! And what can be better than quality Online Learning resources to keep continuing your learning endeavors especially amidst this covid outbreak. Truly, Online courses give you the flexibility to learn at your own pace and comfort place. Now, for every techie, here's an announcement – GeeksforGeeks is here with various exciting courses that cost you nothing more than your time and effort!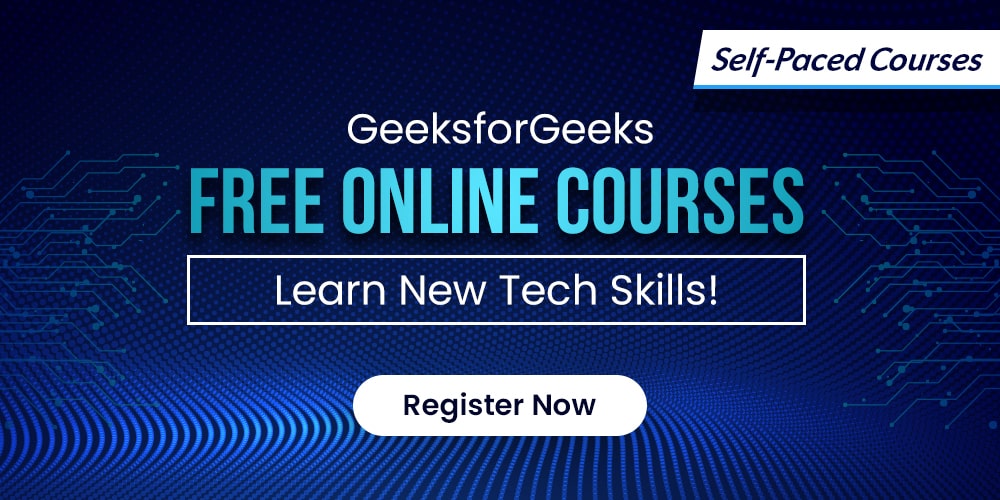 These courses provided by GeeksforGeeks are absolutely free and bring the best quality content be it video-based or theoretical. Each course is track-based, has assessments and practice sessions (to implement your learning), and is also updated. You can go through any one of these at your own pace. Here, the quality and quantity are the best on their own.
You're a guy from computer science, mechanical, civil, automobile, or any other streams, it doesn't matter. These are the courses that every individual will be needing to start a specialized career in the tech world. As these courses are free of cost, all are welcome to grab this opportunity and learn as much as they can. Go through each one of the courses which are relevant to you.
So, let's start.
If you want to build your career in web development you must definitely go through this. From scratch to end, everything is available here about the basic functions, events, and objects of JavaScript. This is purely free and consists of 10 series where after completing 7 series, you'll be asked to work on LIVE projects which will enhance your ability to learn it efficiently and make you industry-ready.
HTML (HyperText Markup Language) is the basic language to develop your own webpage. If you're one of those who are interested in how the web page is created, you must dive here. Even if you're not from the CSE/IT background, no worries. It's as simple as sipping a glass of water. It makes you clear on all the topics like how to create headings, paragraphs, add images, add links, create tables, and a lot more. There will also be Q&A sessions to get you rid of your doubts.
Python is the easiest language anyone can learn and trendy too. In this course, you'll get all the basics of Python which is the foundation to build a project. Using objects, classes, functions, constructors, understanding the difference between tuple, list, set, and dictionary to use it as per the requirement. The looping structure is also well explained here. Register for this course and try to gain as much as possible.
If you understand Java, you can learn any language easily. Since Java describes each operation particularly. This course elucidates(describes) the basics of Java on how to perform string operations, control functions, work on operators, arrays. To start your learning, this is a beginner-level course to have an idea about the stepping stones of Java. There'll also be assessments to check your progress.
C/C++ can be considered as the basic and root of all languages. Once you enter into this course, you'll enhance your technical skills by learning about pointers, arrays, strings, and many more things. You'll learn about C++, how to take input/output, data types, etc. Some topics like stacks, queues, which appear to be so tough, will seem easy once you learn through this course. To explore more, dive deep into the course.
All the above-mentioned courses are purely free and give you the best of it. Each topic is explained so clearly that even a beginner can grasp the knowledge so well. These courses provide assessments (to check how well you've learned things), theories (if you couldn't get it through the video), and many more things. Be the first to register and have fun with the courses!
My Personal Notes
arrow_drop_up