Extract Video Frames from Webcam and Save to Images using Python
OpenCV library can be used to perform multiple operations on videos. Let's try to do something interesting using CV2. Le's record a video as form webcam and break the video into the frame by frame and save those frames.
Installation
This module does not come built-in with Python. To install it type the below command in the terminal.
pip install opencv-python
Steps Required.
Open the Video file using cv2.VideoCapture(<path_of_video>) or If you do not have any video you can directly use your inbuilt camera using cv2.VideoCapture(0) command.
Read frame by frame
Save each frame using cv2.imwrite()
Release the VideoCapture and destroy all windows
Below is the implementation.
Python3
import cv2
# Opens the inbuilt camera of laptop to capture video.
cap = cv2.VideoCapture(0)
i = 0
while(cap.isOpened()):
ret, frame = cap.read()
# This condition prevents from infinte looping
# incase video ends.
if ret == False:
break
# Save Frame by Frame into disk using imwrite method
cv2.imwrite('Frame'+str(i)+'.jpg', frame)
i += 1
cap.release()
cv2.destroyAllWindows()
Output: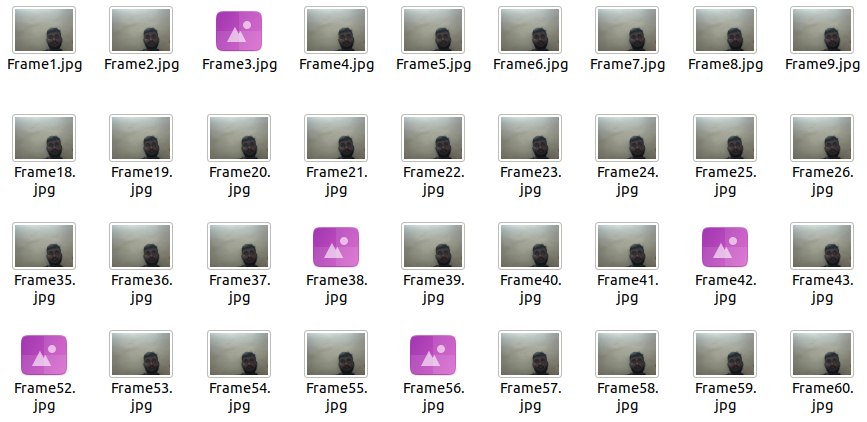 Attention geek! Strengthen your foundations with the Python Programming Foundation Course and learn the basics.
To begin with, your interview preparations Enhance your Data Structures concepts with the Python DS Course. And to begin with your Machine Learning Journey, join the Machine Learning – Basic Level Course
My Personal Notes
arrow_drop_up