Energy Efficiency in Cloud Computing
Cloud computing is an internet based computing which provides metering based services to consumers. It means accessing data from a centralized pool of compute resources that can be ordered and consumed on demand. It also provides computing resources through virtualization over internet.
Data center is the most prominent in cloud computing which contains collection of servers on which Business information is stored and applications run. Data center which includes servers, cables, air conditioner, network etc.. consumes more power and releases huge amount of Carbon-di-oxide (CO2) to the environment. One of the most important challenge faced in cloud computing is the optimization of Energy Utilization. Hence the concept of green cloud computing came into existence.
There are multiple techniques and algorithms used to minimize the energy consumption in cloud.
Techniques include:
Dynamic Voltage and Frequency Scaling (DVFS)
Virtual Machine (VM)
Migration and VM Consolidation
Algorithms are:
Maximum Bin Packing
Power Expand Min-Max and Minimization Migrations
Highest Potential growth
The main purpose of all these approaches is to optimize the energy utilization in cloud.
Cloud Computing as per NIST is, "Cloud Computing is a model for enabling ubiquitous, convenient, on-demand network access to a shared pool of configurable computing resources (e.g., networks, servers, storage, applications and services) that can be rapidly provisioned and released with minimal management effort or service provider interaction." Now-a-days most of the business enterprises and individual IT Companies are opting for cloud in order to share business information.
The main expectation of cloud service consumer is to have a reliable service. To satisfy consumer's expectation several Data centers are established all over the world and each Data center contains thousands of servers. Small amount of workload on server consumes 50% of the power supply. .Cloud service providers ensure that reliable and load balancing services to the consumers around the world by keeping servers ON all the time. To satisfy this SLA provider has to supply power continuously to data centers leads to huge amount of energy utilization by the data center and simultaneously increases the cost of investment.
The major challenge is utilization of energy efficiently and hence develops an eco-friendly cloud computing.
The idle servers and resources in data center wastes huge amount of energy. Energy also wasted when the server is overloaded.Few techniques such as load balancing, VM virtualization, VM migration, resource allocation and job scheduling etc. are used to solve the problem. It is also found that transporting data between data centers and home computers can consume even larger amounts of energy than storing it.
Green Computing
Green computing is the Eco-friendly use of computers and their resources. It is also defined as the study and practice of designing, engineering, manufacturing and disposing computing resources with minimal environmental damage.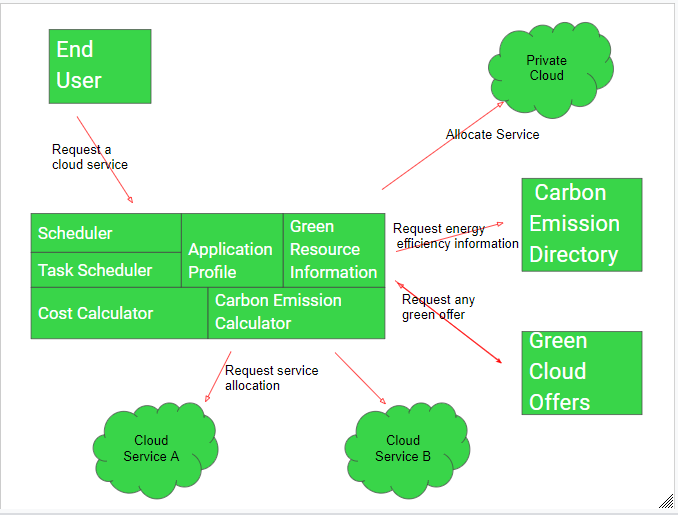 Figure – Green Cloud Architecture
Green cloud computing is using Internet computing services from a service provider that has taken measures to reduce their environmental effect and also green cloud computing is cloud computing with less environmental impact.
Some measures taken by the Internet service providers to make their services more green are:
Use renewable energy sources.
Make the data center more energy efficient, for example by maximizing power usage efficiency (PUE).
Reuse waste heat from computer servers (e.g. to heat nearby buildings).
Make sure that all hardware is properly recycled at the end of its life.
Use hardware that has a long lifespan and contains little to no toxic materials.
My Personal Notes
arrow_drop_up