Different Categories of Risk in Software Development
Risk simply represents the possibility of loss and injury. It is an event that might occurs unexpectedly and cause an impact on our project. It can either have positive or negative effect on project. It can affect anything including people, processes, technology, and even resources. It simply focuses on determining or identifying and assessing or evaluating risks to project. It also manages these risks to generally reduce impact on project.
In context of hierarchical software development model, we have got framework as shown below :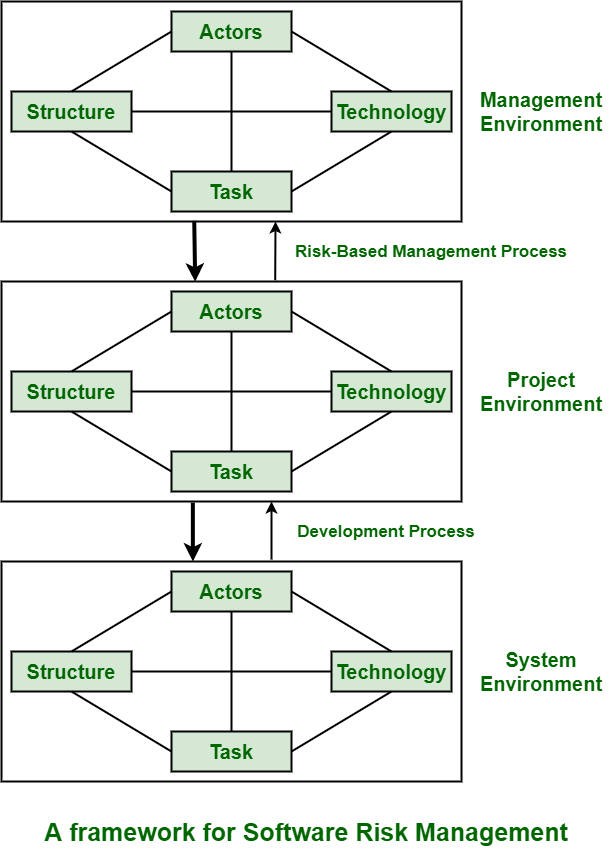 It is very simple, general, and comprehensive. It is socio-technical model of risk that is been proposed by Lyytinen et al. Risk has been categorized into other ways as shown below :
Actors :
Project actors cover all people or stakeholders that are involved in development process and even can set forward claims to or benefit from project. Therefore, all persons that are participating, even groups, and all other stakeholders along with customers, users, maintainers, development groups are needed and essential to be included in this set. The risk in this area is that high staff turnover that generally leads to information of value to project that is being lost. Actors have many features that have an impact on project risks like knowledge and skills, experience, expectations and commitments, and even beliefs and values. All of these features simply vary from one actor to another.
Technology :
The project technology generally contains or includes methods that are available, tools, and infrastructure to simply design software system and then to implement it. It usually around both technology that is used to implement application and that further fixed firmly in product being delivered. Example of such technology includes software development method, quality assurance systems, computers, etc. Here, risk is generally related to appropriateness of technologies and to possible fault this is present between them. All technological shortcomings and even dynamic nature of technology are true sources of risk.
Structure :
This component generally helps in describing and explaining management structure of software system. They also refer to systems of communication, authority, and also workflow. Risks come to be known and revealed when actors do not communicate in an effective way or manner. Another reason can be that appropriate actors are involved in communication or when scope of communication is often limited. The structure is needed to be organized to provide and give adequate and reliable information or data. The risk profile simply changes when workflow structure does not match with given task.
Task :
Task is simply related to work that is needed to be carried out. Each and every box is connected to all the remaining boxes. Everyone has to understand project task. Task is simply performed in relation to stakeholders or customer expectations that too within a given period of time and cost constraints. It is done to establish and implement a new software system just by changing essential and important components of software system.

My Personal Notes
arrow_drop_up