Difference between Token Bus and Token Ring Network
Token Bus:
The token bus network is a standard in which tokens are passed along a virtual ring. In the token bus network bus topology is used as physical media.
In this, the virtual ring is created with stations and therefore tokens are subsequently passed from a station during a sequence with this virtual ring. Every station or node in toke bus network knows the address of its predecessor station and its successor station. A node (station) can transmit the data if and only if it has a token. It's working rule is analogous to the token ring network.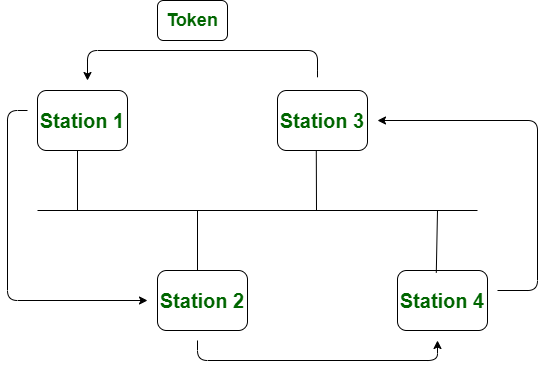 Token Ring:
It is defined by the IEEE 802.5 standard. In the token ring network the token is passed over a physical ring instead of virtual ring.
In this a token is a special frame and a station can transmit the data frame if and only if it has a token. And The tokens are issued on successful receipt of the data frame.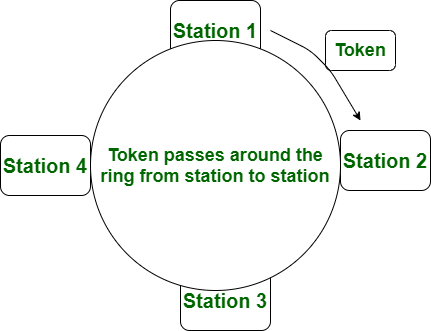 Let's see the difference between the token bus and the token ring:-
| S.NO | TOKEN BUS Network | TOKEN RING Network |
| --- | --- | --- |
| 1. | In the token bus network the token is passed along a virtual ring. | While in the token ring network the token is passed over a physical ring. |
| 2. | The token bus network is simply designed for the large factories. | While the token ring network is designed for the offices. |
| 3. | The token bus network is defined by the IEEE 802.4 standard. | While the token ring network is defined by the IEEE 802.5 standard. |
| 4. | Token bus network provides better bandwidth. | While the token ring network does not provide better bandwidth as compared to token bus. |
| 5. | In token bus network, Bus topology is used. | While in token ring network, Star topology is used. |
| 6. | The maximum time it takes to reach the last station in a token bus network cannot be calculated. | While the maximum time to reach the last station in the token ring network can be calculated. |
My Personal Notes
arrow_drop_up