Difference between Product and Process
Product:
In the context of software engineering, Product includes any software manufactured based on the customer's request. This can be a problem solving software or computer based system. It can also be said that this is the result of a project.
Process:
Process is a set of sequence steps that have to be followed to create a project. The main purpose of a process is to improve the quality of the project. The process serves as a template that can be used through the creation of its examples and is used to direct the project.
The main difference between a process and a product is that the process is a set of steps that guide the project to achieve a convenient product. while on the other hand, the product is the result of a project that is manufactured by a wide variety of people.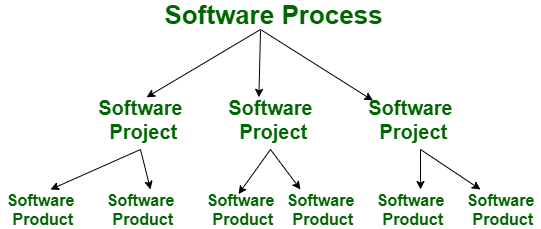 Let's see the difference between Product and Process:-
| S.NO | Product | Process |
| --- | --- | --- |
| 1. | Product is the final production of the project. | While the process is a set of sequence steps that have to be followed to create a project. |
| 2. | A product focuses on the final result. | Whereas the process is focused on completing each step being developed. |
| 3. | In the case of products, the firm guidelines are followed. | In contrast, the process consistently follows guidelines. |
| 4. | A product tends to be short-term. | Whereas the process tends to be long-term. |
| 5. | The main goal of the product is to complete the work successfully. | While the purpose of the process is to make the quality of the project better. |

My Personal Notes
arrow_drop_up