Difference between Multiplexer and Demultiplexer
1. Multiplexer :
Multiplexer is a data selector which takes several inputs and gives a single output.In multiplexer we have 2n input lines and 1 output lines where n is the number of selection lines.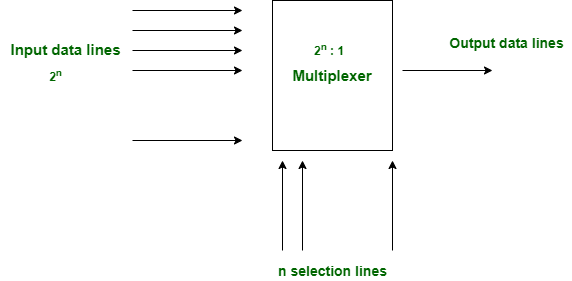 2. Demultiplexer :
Demultiplexer is a data distributor which takes a single input and gives several outputs.In demultiplexer we have 1 input and 2n output lines where n is the selection line.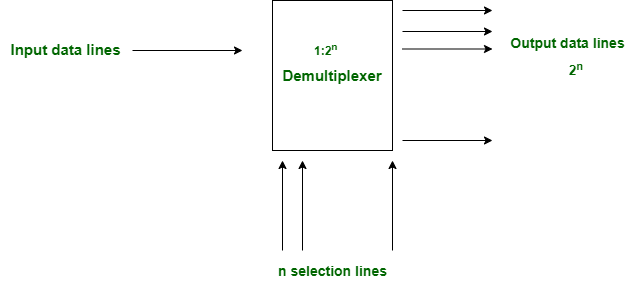 Difference between of Multiplexer and Demultiplexer :
| Multiplexer | Demultiplexer |
| --- | --- |
| Multiplexer processes the digital information from various sources into a single source. | Demultiplexer receives digital information from a single source and converts it into several sources |
| It is known as Data Selector | It is known as Data Distributor |
| Multiplexer is a digital switch | Demultiplexer is a digital circuit |
| It follows combinational logic type | It also follows combinational logic type |
| It has n data input | It has single data input |
| It has a single data output | It has n data outputs |
| It works on many to one operational principle | It works on one to many operational principle |
| In time division Multiplexing, multiplexer is used at the transmitter end | In time division Multiplexing, demultiplexer is used at the receiver end |
My Personal Notes
arrow_drop_up