Difference between Multiplexer and Decoder
1. Multiplexer :
Multiplexer is a data selector which takes several inputs and gives a single output.In multiplexer we have 2n input lines and 1 output lines where n is the number of selection lines.
2. Decoder :
Decoder is a logic circuit which n input lines into m output lines.Decoders are called as min-term and max-term generators because for each of the input combinations, exactly one output is true.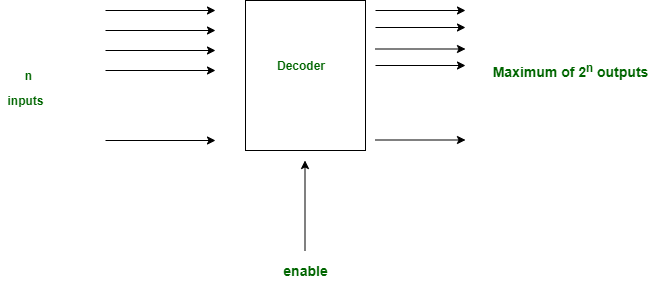 Difference between of Multiplexer and Decoder :

| S.NO. | Multiplexer | Decoder |
| --- | --- | --- |
| 1. | MUX accepts several inputs and allow only one data output. | It takes n input binary code and convert it into a corresponding outputs. |
| 2. | Select line are used to select data inputs and allow only one of them. | Enable inputs are used to control the operation of the decoder. |
| 3. | It can be used in data routing and waveform generation. | Application of decoder is in Decimal to BCD encoder. |
| 4. | Multiplexer converts the unary code into binary code | Decoder converts binary code into unary.. |
My Personal Notes
arrow_drop_up