Difference between Multi-tasking and Multi-threading
Prerequisite – Multiprogramming, multitasking, multithreading and multiprocessing Multitasking: Multitasking is when a CPU is provided to execute multiple tasks at a time. Multitasking involves often CPU switching between the tasks, so that users can collaborate with each program together. Unlike multithreading, In multitasking, the processes share separate memory and resources. As multitasking involves CPU switching between the tasks rapidly, So the little time is needed in order to switch from the one user to next.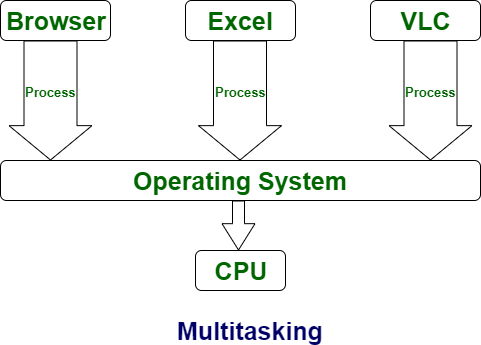 Multithreading: Multithreading is a system in which many threads are created from a process through which the computer power is increased. In multithreading, CPU is provided in order to execute many threads from a process at a time, and in multithreading, process creation is performed according to cost. Unlike multitasking, multithreading provides the same memory and resources to the processes for execution.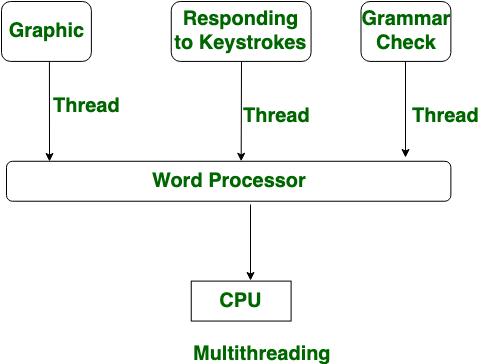 Let's see the difference between multitasking and multithreading:
| S.NO | Multitasking | Multithreading |
| --- | --- | --- |
| 1. | In multitasking, users are allowed to perform many tasks by CPU. | While in multithreading, many threads are created from a process through which computer power is increased. |
| 2. | Multitasking involves often CPU switching between the tasks. | While in multithreading also, CPU switching is often involved between the threads. |
| 3. | In multitasking, the processes share separate memory. | While in multithreading, processes are allocated the same memory. |
| 4. | The multitasking component involves multiprocessing. | While the multithreading component does not involve multiprocessing. |
| 5. | In multitasking, the CPU is provided in order to execute many tasks at a time. | While in multithreading also, a CPU is provided in order to execute many threads from a process at a time. |
| 6. | In multitasking, processes don't share the same resources, each process is allocated separate resources. | While in multithreading, each process shares the same resources. |
| 7. | Multitasking is slow compared to multithreading. | While multithreading is faster. |
| 8. | In multitasking, termination of a process takes more time. | While in multithreading, termination of thread takes less time. |
| 9. | Isolation and memory protection exist in multitasking. | Isolation and memory protection does not exist in multithreading. |
| 10. | It helps in developing efficient programs. | It helps in developing efficient operating systems. |
My Personal Notes
arrow_drop_up