Difference between Microsoft Teams and Cisco Webex
1. Microsoft Teams :
This is a very efficient videoconferencing software. It has both free and paid versions. Unlimited chat facility, video and audio calls, files and screen sharing are a part of this software. It runs on the Windows, Linux, Mac and Android operating System. Its clients are Mahindra and Mahindra, Hexaware, Pidillite, Alpha Travel, KPMG etc. It is integrated with Microsoft Office 365, Microsoft Word, Microsoft Excel, Microsoft Powerpoint, Microsoft One Drive and Sharepoint.
This is how the Microsoft website looks :
2. Cisco Webex :
Cisco Webex provides online meetings, online web conferences and video conferencing application. This is a software product by the company 'Cisco Webex'. This application is widely used in case of conducting webinars, conferences, online training, online classes, conducting sales demonstrations etc.
This is how the official website looks :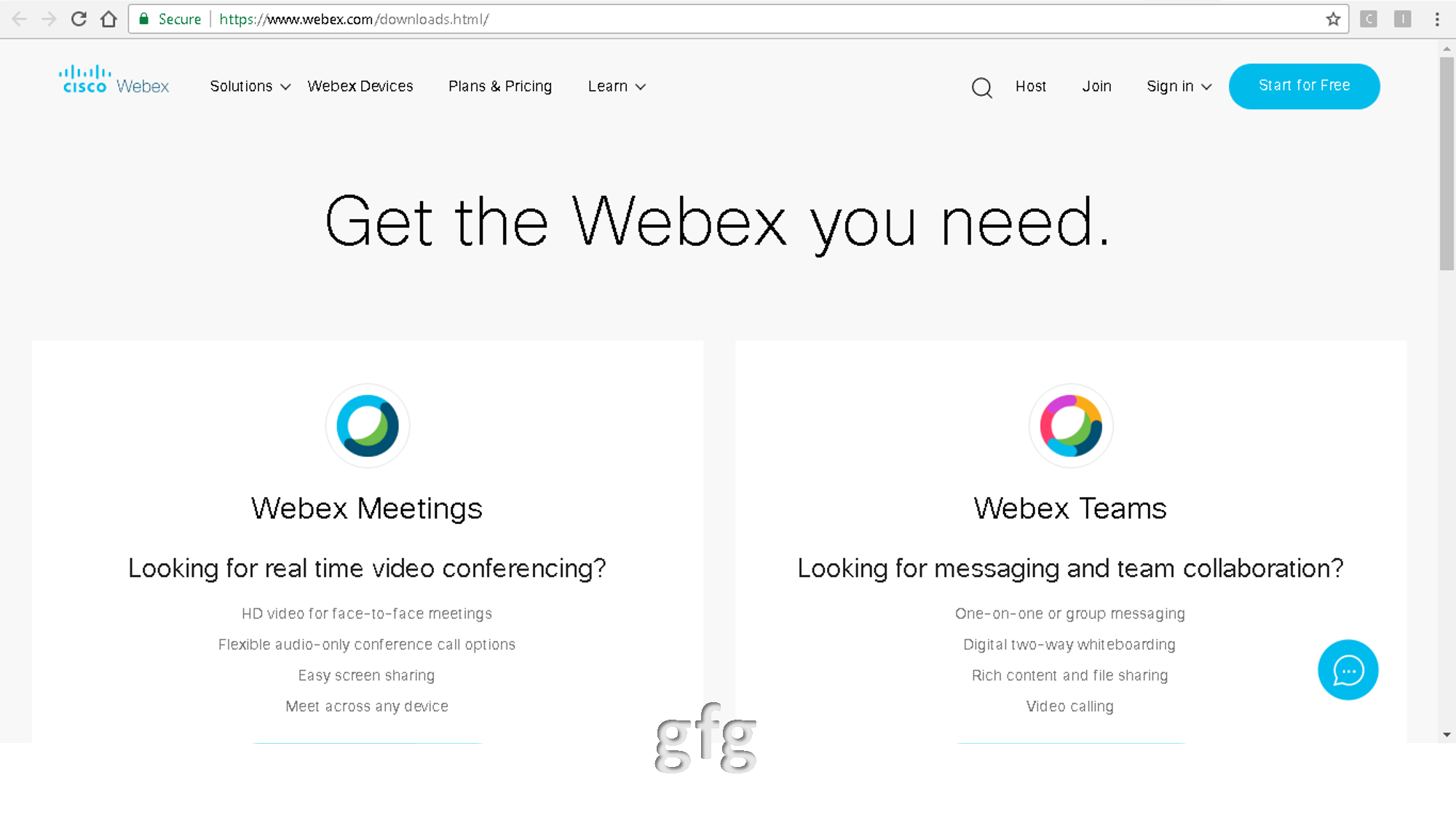 Difference between Microsoft Teams and Cisco Webex :
| S.No. | Microsoft Teams | Cisco Webex |
| --- | --- | --- |
| 1. | It can be accessible from website and app. | App download is necessary unless joining via phone (audio only) is preferred. |
| 2. | The face touch up feature is not available. | Appearance touch up feature is not available in this. |
| 3. | It has audio, video and phone call facility. | It has video call, phone calls and chatting functionality. |
| 4. | Desktop, PC, Android and Apple devices can be used to access it. | It can be accessed on PC and mobile. |
| 5. | The background can only be changed with specific stock images. Full customization is still not there. | Blur or replace background facility is available in it. |
| 6. | Privacy to the room can be provided (by changing background). | It does not provide additional privacy by adding virtual background. |
| 7. | It handles 300 participants at once. | It can handle up to 100000 participants. |
| 8. | It allows unlimited video calls. | 40 minutes video calls is available in it. |
| 9. | Paid versions of it cost between $5 and $20 per month. | It has paid versions with price tags of $13.50, $17.95 and $26.95 |
| 10. | It can have 9 participants on screen. | It has up to 16 people on screen at once. |
| 11. | It has integration with office 365 Word Excel and PowerPoint onedrive and SharePoint. | It can be integrated with Google Drive, Google tasks and several such applications. |
| 12. | It is more robust than zoom. | Webex is solid, reliable and overall secure. |
| 13. | It aims at business customers. | Its main focus is business entities. |
| 14. | People can share and collaborate on office documents in real time. | It cannot be used collaborate in terms of Microsoft office documents. |
| 15. | We cannot schedule calls from Google calendars, create or join calls directly from Gmail inbox. | Direct schedule from Gmail inbox is not supported by Webex. |
| 16. | It does not support background noise filtering. | It does not have any noise cancellation mechanism. |
| 17. | Microsoft is the developer of it. | It has been developed by Cisco Webex company. |
| 18. | It was developed in the year 2017. | Cisco Webex came into existence in 2007 when Cisco acquired Webex. |
My Personal Notes
arrow_drop_up