Difference between Hub and Bridge
Prerequisite – Network Devices
Hub:
Hub is a networking device that is used to transmit the signal to each port (except one port) to respond from which the signal was received. Hub is operated on the Physical layer. In this packet filtering is not available. It is of two types: Active Hub, Passive Hub.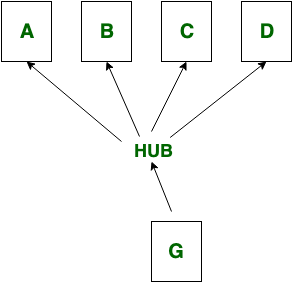 Bridge:
Bridge is also a network device that is used to connect two different LANs working on the same protocol. Types of the bridge are Source route, Transparent, and Translation. In bridge one port for incoming and another port for outgoing.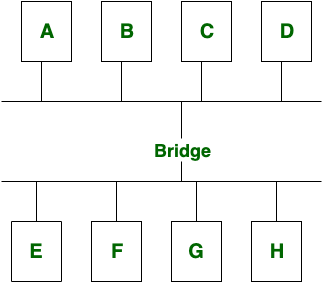 Difference between Hub and Bridge:
| S.NO | Hub | Bridge |
| --- | --- | --- |
| 1. | Hub is network device which is used for connecting number of devices. | Bridge is also a network device which is used to connect two different LAN working on same protocol. |
| 2. | Types of Hub are: Active and Passive. | Types of bridge are: Source route, Transparent and Translation. |
| 3. | Hub does not perform data filtration. | While bridge performs data filtration. |
| 4. | There are multiple ports are used in Hub. | But in bridge one port for incoming and another port for outgoing. |
| 5. | Hub connects the LAN's segment. | While bridge connects two different LAN working on same protocol. |
| 6. | Hub operates on the physical layer of the ISO-OSI Model. | While bridge operates on the data link layer of the ISO-OSI model. |

My Personal Notes
arrow_drop_up