Difference Between Ethernet and SDH
Ethernet and SDH are the technologies that are used for communication purposes. Ethernet and SDH are highly beneficial to their end-users. These both are very useful for network connection nowadays. These are used in many organizations, schools, and also at house.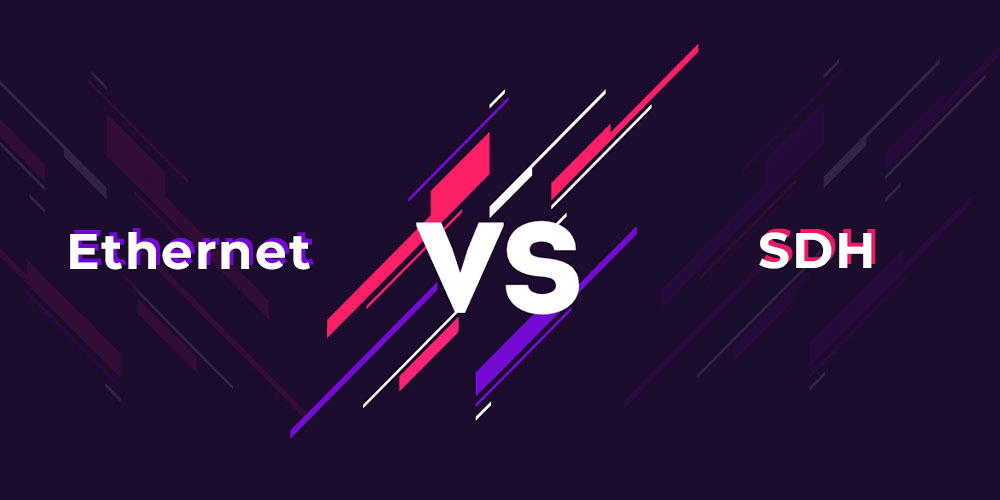 What is Ethernet?
Ethernet is the technology that is used for connecting devices in wired Local Area Network (LAN) and Wide Area Network (WAN).
Ethernet is used for enabling the devices to communicate with each other through a protocol in which it has a set of rules and communication network language. It can support operations up to 400 Gbps.
Applications
It is used to connect devices in a network.
It is used in local networks for organizations like colleges, schools, offices, and hospitals.
Advantages
It is a relatively low cost.
It has a good data transfer quality with high speed and reliability.
It has backward compatibility.
It is generally resistant to noise.
It has high data security.
It uses common firewalls.
Disadvantages
It only transfers for smaller and shorter distances of networks.
It does not work properly with real-time and interactive network applications.
Speed of the network decrease with the increase in traffic.
It has less mobility.
What is SDH?
The full form of SDH is Synchronous Digital Hierarchy. SDH is the time division multiplexing technology that is used in transport networks to provide bandwidth services.
SDH has a group of fiber-optic transmission rates that transports digital signals with different capacities. SDH is the technology that is used in telecommunications. It allows data with low bit rates that are combined with high bit rates data.
It is synchronous in which individual bits of data can be embedded into and extracted from high bit rates of data.
Advantages
It provides faster and cheaper network interconnections.
It is less expensive.
It is more extensive.
It uses simplified multiplexing and de-multiplexing techniques.
It can connect quickly with various networks.
Disadvantages
It provides a lower bandwidth utilization ratio.
It is more software-based.
It is more prone to cyber-attacks.
It is more complicated.
Applications
It is used in transmission systems for Integrated Services Digital Networks.
It can also be used for transporting Asynchronous transfer mode cells, and Ethernet aggregation.
Difference between Ethernet and SDH
| | | |
| --- | --- | --- |
| S.No | Ethernet | SDH |
| 1 | Ethernet is the technology that is used for connecting devices in wired Local Area networks (LAN) and Wide Area networks (WAN). | The full form of SDH is Synchronous Digital Hierarchy. SDH is the time-division multiplexing technology that is used in transport networks to provide bandwidth services. |
| 2 | Ethernet is the Customer Interface. | SDH is Network Interface. |
| 3 | Ethernet is a frame-based computer networking technology. | SDH is a standardized multiplexing protocol. |
| 4 | It is a fast spanning-tree range from 10ms to 1s. | It is capable of detecting sectionalized errors and defects through remote indication. |
| 5 | It is low cost compared to that of SDH | It is a high cost compared to that Ethernet. |
| 6 | CRC count is the performance monitoring. | BER is performance monitoring. |
| 7 | It has nested VLAN, MPLS label switched paths, and Pseudo Wire Emulation (PWE). | It has a virtual connection (VC). |
| 8 | It has a transport rate of up to 10Gbps. | It has a transport rate up to 40Gbps. |
| 9 | It is non deterministic. | It is deterministic. |
| 10 | It has no loopback. | It has loopback capability for our service tests. |
| 11 | It is capable of remote monitoring using the proprietary threshold. | It is capable of threshold crossing and fault surveillance through performance monitoring. |
My Personal Notes
arrow_drop_up