Difference Between Data Visualization and Data Analytics
Data Visualization: Data visualization is the graphical representation of information and data in a pictorial or graphical format(Example: charts, graphs, and maps). Data visualization tools provide an accessible way to see and understand trends, patterns in data and outliers. Data visualization tools and technologies are essential to analyze massive amounts of information and make data-driven decisions. The concept of using pictures is to understand data has been used since centuries. General types of data visualizations are Charts, Tables, Graphs, Maps, Dashboards.
Data Analytics: Data analytics is the process of analyzing data sets in order to make the decision about the information they have, increasingly with specialized software and system. Data analytics technologies are used in commercial industries that allow organizations to make business decisions. Data can help businesses better understand their customers, improve their advertising campaigns, personalize their content, and improve their bottom lines. The techniques and processes of data analytics have been automated into mechanical processes and algorithms that work over raw data for human consumption. Data analytics help a business optimize its performance.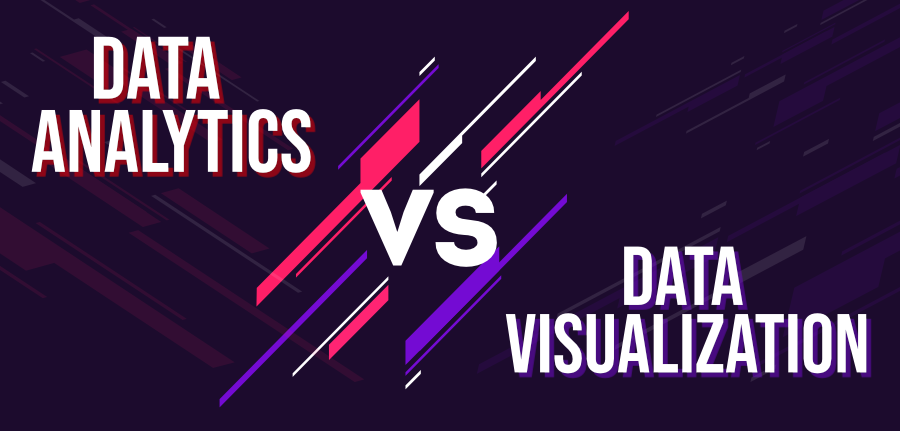 Below is a table of differences between Data Visualization and Data Analytics:

.Difference-table { border-collapse: collapse; width: 100%; } .Difference-table td { text-color: black !important; border: 1px solid #5fb962; text-align: left !important; padding: 8px; } .Difference-table th { border: 1px solid #5fb962; padding: 8px; } .Difference-table tr>th{ background-color: #c6ebd9; vertical-align: middle; } .Difference-table tr:nth-child(odd) { background-color: #ffffff; }  
Based on
Data Visualization
Data Analytics
Definition
Data visualization is the graphical representation of information and data in a pictorial or graphical format.
Data analytics is the process of analyzing data sets in order to make decision about the information they have, increasingly with specialized software and system.
Benefits
Identify areas that need attention or improvement

Clarity which factors influence customer behavior

Helps understand which products to places where

Predict sales volumes

Identify the underlying models and patterns

Acts as an input source for the Data Visualization,

Helps in improving the business by predicting the needs Conclusion

Used for
The goal of the data visualization is to communicate information clearly and efficiently to users by presenting them visually.
Every business collects data; data analytics will help the business to make more-informed business decisions by analyzing the data.
Relation
Data visualization helps to get better perception.
Together Data visualization and analytics will draw the conclusions about the datasets. In few scenarios, it might act as a source for visualization.
Industries
Data Visualization technologies and techniques are widely used in Finance, Banking, Healthcare, Retailing etc
Data Analytics technologies and techniques are widely used in Commercial, Finance, Healthcare, Crime detection, Travel agencies etc
Tools
Plotly, DataHero, Tableau, Dygraphs, QlikView, ZingCHhart etc.
Trifecta, Excel /Spreadsheet, Hive, Polybase, Presto, Trifecta, Excel /Spreadsheet, Clear Analytics, SAP Business Intelligence, etc.
Platforms
Big data processing, Service management dashboards, Analysis and design.
Big data processing, Data mining, Analysis and design
Techniques
Data visualization can be static or interactive.
Data Analytics can be Prescriptive analytics, Predictive analytics.
Performed by
Data Engineers
Data Analysts
My Personal Notes
arrow_drop_up