Difference between CAN and MAN
1. Campus Area Network (CAN) :
Campus Area Network (CAN) is a group of interconnected Local Area Networks (LAN) within a limited geographical area like school campus, university campus, military bases, or organizational campuses and corporate buildings etc. A Campus Area Network is larger than Local Area Network but smaller than Metropolitan Area Network (MAN) and Wide Area Network (WAN).
Attention reader! Don't stop learning now. Get hold of all the important CS Theory concepts for SDE interviews with the CS Theory Course at a student-friendly price and become industry ready.
2. Metropolitan Area Network (MAN) :
MAN covers the largest area than LAN such as: Small towns, City etc. MAN connects 2 or a lot of computers that area unit apart however resides within the same or completely different cities. MAN is expensive and should or might not be owned by one organization.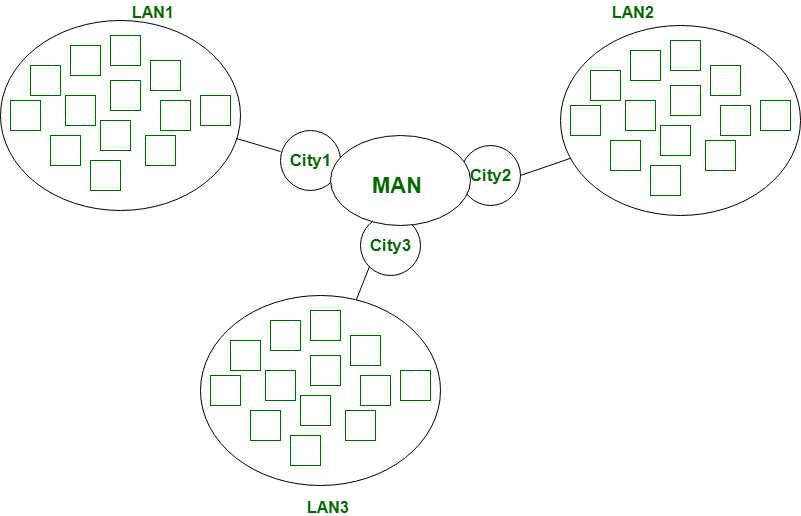 Difference between CAN and MAN :
| S.No. | CAN | MAN |
| --- | --- | --- |
| 1. | CAN stands for Campus Area Network. | MAN stands for Metropolitan Area Network. |
| 2. | Connects two or more LANs within a campus. | Interconnects network in a town or a city. |
| 3. | It covers a privately-owned campus with an area of 5 to 10 KM. | It covers larger areas than LAN but a small area than WAN with an area or 2 to 100 KM. |
| 4. | Expensive then LAN. | Expensive than LAN and CAN. |
| 5. | The data transmission rate is variable. | The data transmission rate is variable. |
| 6. | It doesn't Uses the IEEE 802 standard. | Uses the IEEE 802 standard. |
| 7. | The networking devices such as a hub, switch, Bridge, and gateway are used. | Networking devices such as a hub, switch, gateway, router, and router are used. |
| 8. | More congestion compare LAN. | More congestion compare LAN and MAN. |
My Personal Notes
arrow_drop_up