Difference between BPR and BPM
1. Business Process Re-engineering (BPR) :
Developed in early 1990s, Business Process Re-engineering (BPR) is a management approach aiming at improvements by means of elevating efficiency and effectiveness of the process that exists within and across the organizations. It is one of the eight techniques of ERP.
It has its own phases like begin organizational change, build the re-engineering organization, identify BPR opportunities, Understanding the existing process, Re-engineer the process, blueprint the new business system and perform the transformation.
Attention reader! Don't stop learning now. Get hold of all the important CS Theory concepts for SDE interviews with the CS Theory Course at a student-friendly price and become industry ready.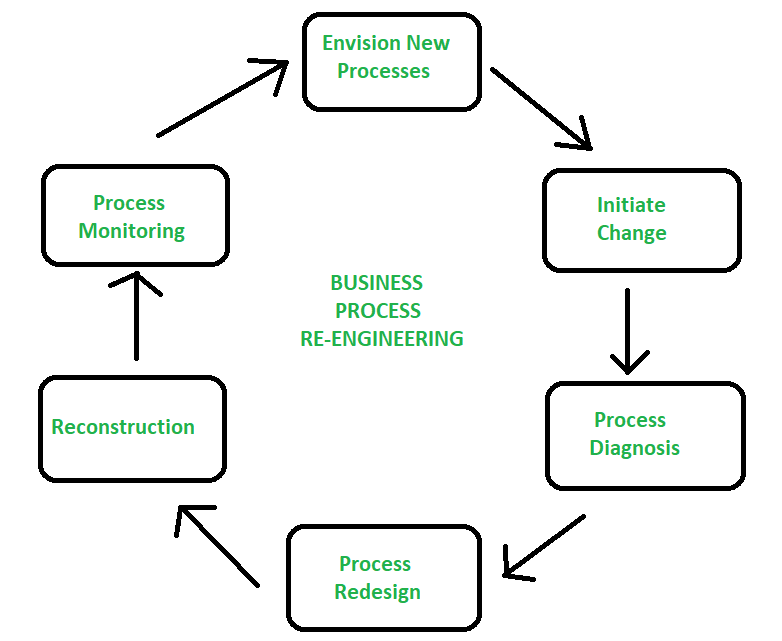 Advantages :
Satisfaction
Growth of Knowledge
Solidarity to the company
Demanding jobs
Authority
Disadvantages :
Resistance to the change
Higher demands to the workers
In some cases, business processes were not re-designed but merely automated.
Lack of management support
2. Business Process Management (BPM) :
Business Process Management (BPM) updates the processes in real-time. It is a process-centric approach for improving business performance that combines information technology with governance methodologies. It is a set of activities that helps the business to run smoothly. These processes begins from company's activities from the starting stage to the final sales.
The key processes involved in BPM is Risk Management, business process modelling, business process outsourcing, employee motivation and product inventory. It's main objective is to improve the effectiveness and efficiency of a company's business and to improve the operational performance.
Advantages :
Guides users through decisions.
Automatically prioritizes and routes work.
Real-time visibility and process-control.
Improve forecasting.
Improves productivity.
Lower Cost.
Disadvantages :
Does not allow processes to be repeated.
It has its limit.
Lack of communication.

Difference between BPR and BPM :
| BPR | BPM |
| --- | --- |
| Stands for Business Process Re-engineering. | Stands for Business Process Management. |
| Implementation is radical and one-step change. | Implementation is evolutionary and continuous. |
| Time taken for implementation is long. | Time taken for implementation is short and smooth takeover. |
| One major process at a time. | It is flexible. |
| It's involvement is in business and process expert. | It's involvement has process experts and all related people. |
| Risk is High. | Risk is Low. |
| Outcome sometimes comes out to be drastic. | Outcome is improved. |
| Cultural issues are major concern. | Cultural issues are not much concern. |
| Implementation stress and concern is high. | Implementation stress and concern is low. |
My Personal Notes
arrow_drop_up