Difference between Bluetooth and Zigbee
Bluetooth was developed under IEEE 802.15.1, which is used for providing wireless communication through radio signals. The frequency range supported in Bluetooth vary from 2.4 GHz to 2.483 GHz. It covers less distance than Zigbee. In bluetooth, GFSK modulation technique is used.
Whereas in Zigbee, BPSK and QPSK modulation techniques are used like UWB (Ultra-Wide Band). the frequency range supported in Zigbee mostly 2.4 GHz worldwide, it means 2.4 GHz is not supported all times. It covers more distance as compared with Bluetooth.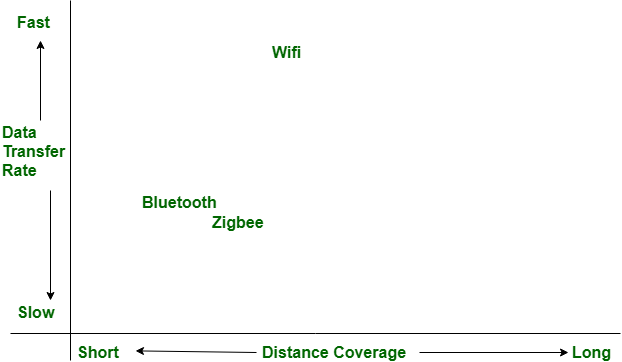 In above figure, we can see that the data transfer rate is faster in Bluetooth than zigbee whereas zigbee covers larger distance than Bluetooth.
Both Bluetooth and ZigBee have a lot in common which are, each area unit styles of IEEE 802.15 WPANs. each run within the a pair of.4-GHz unlicensed band, and each use tiny kind factors and low power. Besides these similarities, there are some differences which are given below in tabular form.
| S.NO | Bluetooth | Zigbee |
| --- | --- | --- |
| 1. | The frequency range supported in Bluetooth vary from 2.4 GHz to 2.483 GHz. | While the frequency range supported in Zigbee mostly 2.4 GHz worldwide. |
| 2. | There are seventy nine RF channels in Bluetooth. | There are sixteen RF channels in zigbee. |
| 3. | It uses GFSK modulation technique. | Whereas it also uses BPSK and QPSK modulation techniques like UWB. |
| 4. | There is maximum of 8 cell nodes in Bluetooth. | While there is more than sixty five thousand (65000) cell nodes in zigbee. |
| 5. | Bluetooth requires low bandwidth. | While zigbee also requires low bandwidth but greater than Bluetooth's bandwidth most of time. |
| 6. | The radio signal range of Bluetooth is ten meters. | While the radio signal range of zigbee is ten to hundred meters. |
| 7. | Bluetooth was developed under IEEE 802.15.1. | Whereas it was developed under IEEE 802.15.4. |
My Personal Notes
arrow_drop_up