Designing Finite Automata from Regular Expression (Set 1)
In this article, we will see some popular regular expressions and how we can convert them to finite automata.

Question : What will be the minimum number of states for strings with odd number of a's?
Solution : The regular expression for odd number of a is b*ab*(ab*ab*)* and corresponding automata is given in Figure 6 and minimum number of states are 2.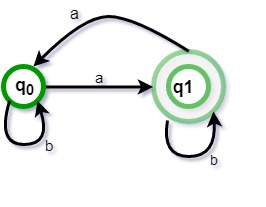 TOC | Designing Deterministic Finite Automata (Set 1)

This article has been contributed by Sonal Tuteja.

Please write comments if you find anything incorrect, or you want to share more information about the topic discussed above
Attention reader! Don't stop learning now. Get hold of all the important DSA concepts with the DSA Self Paced Course at a student-friendly price and become industry ready.
My Personal Notes
arrow_drop_up