CSS | Variables
The CSS variables are just like simple variable of any programming language. These variables are used to store values and have a scope in which the variables can be used. A variable is defined by using two dashes(–) at the beginning and then the name which is case-sensitive. The benefit of variables is that it allows the same values to be reused at multiple places and updated/modified from one place. Also, the variable names are easier to understand and use, compared to the values of colors.
Syntax:
var( --custom-name, value )
Parameters: The variable var() accepts two parameters which are listed below:
–custom-name It is a required parameter which accepts the custom property name.
value: It is an optional parameter. It accepts fallback value which is used when custom property is invalid.
Example 1:
<!DOCTYPE html>
<html>
<head>
<title>CSS Variables</title>
<style>
:root {
--bg-color: green;
--txt-color: white;
}
/* var() function used here */
body {
background-color: var(--bg-color);
}
h1 {
color: var(--txt-color);
}
div {
color: var(--txt-color);
}
</style>
</head>
<body>
<h1>GeeksforGeeks</h1>
<div>
A computer science portal for geeks
</div>
</body>
</html>
Output: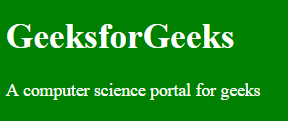 Example 2:
<!DOCTYPE html>
<html>
<head>
<title>CSS Variables</title>
<style>
:root {
--bg-color: green;
}
/* var() function used here */
body {
background-color: var(--bg-color);
}
h1 {
color: var(--txt-color, white);
}
div {
color: var(--txt-color, white);
}
</style>
</head>
<body>
<h1>GeeksforGeeks</h1>
<div>
A computer science portal for geeks
</div>
</body>
</html>
Output: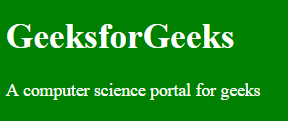 Supported Browsers: The browser supported by CSS variables are listed below:
Google Chrome 49.0
Internet Explorer 15.0
Firefox 31.0
Safari 9.1
opera 36.0
My Personal Notes
arrow_drop_up