CSS | table-layout Property
The table-layout property in CSS is used to display the layout of table.
Syntax:
table-layout: auto|fixed|initial|inherit;
Property Value:
auto: It is used to set the automatic table layout on the browser. This property set the column width by unbreakable content in the cells.
fixed: It is used to set a fixed table layout. The table and column widths are set by the widths of table and col or by the width of the first row of cells. Cells in other rows do not affect column widths. If no widths are present on the first row, the column widths are divided equally across the table according to content of table.
initial: It is used to set its default value.
inherit: It is used to inherit the property from its parent.
Example:
<!DOCTYPE html>
<html>
<head>
<title>table-layout property</title>
<style>
table {
border-collapse: collapse;
border: 1px solid black;
}
th, td {
border: 1px solid black;
}
table#table1 {
table-layout: auto;
width: 200px;
}
table#table2 {
table-layout: fixed;
width: 200px;
}
div {
max-width:200px;
padding:10px;
border:1px solid black;
}
h1 {
color:green;
}
</style>
</head>
<body>
<center>
<h1>GeeksforGeeks</h1>
<h2>table-layout property</h2>
<div>
<h3>table-layout:auto;</h3>
<table id = "table1">
<tr>
<th>Author Name</th>
<th>Age</th>
<th>College</th>
</tr>
<tr>
<td>RaviPratap Singh</td>
<td>24</td>
<td>GFG</td>
</tr>
<tr>
<td>Rakesh Singh</td>
<td>25</td>
<td>GEEKS</td>
</tr>
</table></div><br>
<div>
<h3>table-layout:fixed;</h3>
<table id = "table2">
<tr>
<th>Author Name</th>
<th>Age</th>
<th>College</th>
</tr>
<tr>
<td>RaviPratap Singh</td>
<td>24</td>
<td>GFG</td>
</tr>
<tr>
<td>Rakesh Singh</td>
<td>25</td>
<td>GEEKS</td>
</tr>
</table>
</div>
</center>
</body>
</html>
Output: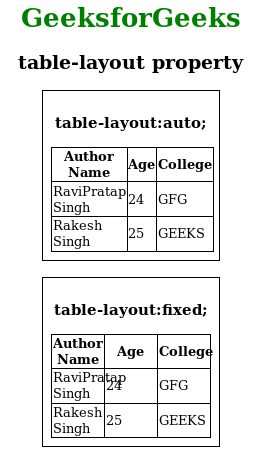 Supported Browsers: The browser supported by table-layout property are listed below:
Google Chrome 14.0
Internet Explorer 5.0
Firefox 1.0
Safari 1.0
Opera 7.0
My Personal Notes
arrow_drop_up