CSS | @charset Rule
The @charset rule specifies the character encoding used in the style sheet. The @charset must be the first element in the style sheet and if several @charset rules are defined then the only first one is used. It can not be used in the <style> element where the character set of the HTML page is relevant.
Syntax:

@charset "utf-8";

Property value: This parameter accept single value "charset".
It is useful when some NON-ASCII characters are used in the content. There are so many ways to define the character encoding of a style sheet. All the browser follow the following methods in the given orders.
The value of Unicode byte-order character has to placed at the beginning of the file.
The value is given by the charset attribute of the Content-Type: HTTP header or the equivalent in the protocol used to serve the style sheet.
Use the character encoding defined by the referring document. This method does not used in HTML 5.
Assume that the document is UTF-8
Note: Below list describes the correct and incorrect charset encoding:
@charset 'iso-8859-15'; [Wrong quoting style used, it's invalid]
@charset "UTF-8"; [More than one space invalid]
@charset "UTF-8"; [Invalid, there is a character (space) before the at-rule]
@charset "UTF-8"; [It Sets the encoding of the style sheet to the Unicode UTF-8]
Example:
<!DOCTYPE html>
<html>
<head>
<meta charset="UTF-8">
<title>CSS @charset Rule</title>
<style>
h1 {
color: green;
}
</style>
</head>
<body>
<center>
<h1>Geeksforgeeks</h1>
<p>Learn</p>
<p>Contribute</p>
<p>Explore</p>
<center>
</body>
</html>
Output: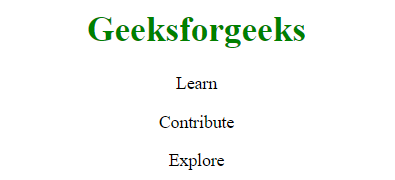 Supported Browsers: The browser supported by @charset rule are listed below:
Google Chrome 2.0
Internet Explorer 5.5 above
Firefox 1.4
Safari 4.0
Opera 9.0
My Personal Notes
arrow_drop_up